Looking for a new appetizer or side salad? This dish wakes up the taste buds with spicy, mouth-watering, and juicy flavors. Apples, beets, ginger, and lemon all contain properties that are beneficial for the digestion, and provide a delicious way to start a meal. This salad is a spin-off from our recipe for transitional, steamed beets. (One of the beauties of raw food preparation is that the same ingredients can be used to create new and different recipes.) Serve on pretty plates or in small bowls.

Ingredients: Makes 4 small side dishes (or 2 larger salads)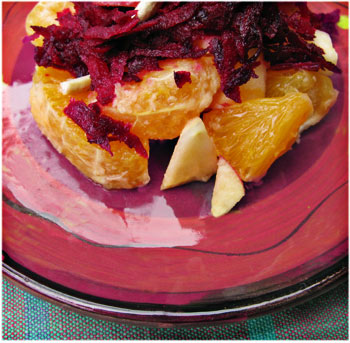 1 cup apples, chopped
1 Navel Orange, peeled and chopped
1/2 to 3/4 cup beets, grated
1-2 tablespoons fresh ginger root, grated
Juice of fresh lemon
Garnish: a handful of cashews and raisins

Directions
Wash apple. Scrub beet, and remove any bad spots. Peel orange.
Chop apple, separate orange into sections and chop, and grate ginger root.
Put in bowl, and mix well.
Grate beet, and squeeze a little fresh lemon juice on top. Taste, and add a little more juice if desired. Mix well.
Put a spoonful of apple-orange mix onto each serving dish.
Spoon a tablespoon or two of beets on top.
Garnish with cashews and raisins.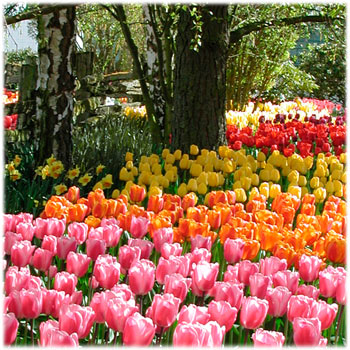 Renewal
Restoration
Rebirth
Rejuvenation
Revitalization

These are just a few words that convey the promise of optimal health, and for me, carry a feeling like rays of sunshine that penetrate the darkness. With the sun's warmth, and brighter days that gladden our hearts, Spring is definitely the time of renewal.

According to practitioners of Chinese medicine, as well as naturopaths, Spring is the perfect season to work with the body to eliminate the build-up of toxins that have been gathered throughout the year.

This is done by eating lighter foods (such as this salad), plenty of greens, and freshly extracted fruit and veggie juices. These foods, plus water, help to cleanse the liver and the body in general.

We can take advantage of Spring's seasonal energy that rises like waves of vitality, and eat newly sun-charged foods. This brings a palpable sensation of life flowing in, rebuilding and restoring all that is good and sacred and whole.

Flowers Grow

The flowers grow
just because
.
Friendships in this colored meadow
scatter all around,
find rock and earth
to drop their seed
in seasons yet to come.