Before we know it the holidays will be upon us, and finding healthy desserts can be a challenge. Applesauce-Blueberry Crumble is a delightfully delicious, rich and filling, sugar-free, guilt-free, wholesome dessert to serve your family, or bring to festive events. Fresh apples are made into a chunky applesauce with Black Mission figs, then covered with a thick layer of blueberry sauce, with a final topping of crunchy date-nut crumble.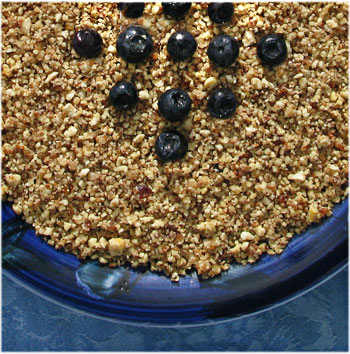 We increased the amount of ingredients for the crumble so you can use as much you like for the topping, and with what's leftover make a half dozen or so of the most delicious little cookie balls. You get two desserts from one recipe!

Ingredients: Serves 6
2 Fuji apples, peeled and chopped
4 Black Mission figs, finely chopped
3 cups blueberries (we're using frozen this time of year)
1/2 cup walnuts
1/2 cup cashews
1/2 cup pecans
3 Medjool dates, pitted
1 tablespoon honey
Juice of 1/2 lemon
1/8 teaspoon Himalayan salt
Sprinkle of cinnamon
Tiny sprinkle of clove

Directions
Put nuts, dates, honey, and salt into food processor and pulse to desired texture. Transfer to a bowl. Set aside.
Rinse apples with cool running water. Peel, quarter, core, and chop. (Save peels for making juice, or give to the birds.) Squeeze juice from lemon on top to prevent oxidation. (The lemon also adds a wonderful flavor.) Put into food processor and pulse to desired texture.
Chop figs, add to apples in food processor, and pulse to mix.
Transfer applesauce to a pretty, large serving bowl. Sprinkle on cinnamon and clove powder.
Put blueberries into a Vita Mix or blender. (To defrost berries quickly, put in a colander and run under warm water. Finish off with a pure water rinse, and drain well.)
Blend until velvety smooth. Pour over apples.
Spoon crumble over blueberries, pressing in gently.
Allow ten minutes for crumble to set. Slice with a knife, then scoop out onto plates. It holds together surprisingly well, much like pie.
Store in fridge unless you're eating it within an hour.

For Cookies:
squeeze crumble in palm of hand until a ball is formed. Gently shape. They are a little on the dry side, but have a wonderful texture. They remind me of the Russian tea cakes my mother used to make at Christmas, but without the sugar and white flour. If they won't hold their shape, add a teaspoon of water.

Perhaps you have a body similar to mine, which changes often and requires monitoring and frequent adjustments.

When the weather cooled last month Rex and I started to eat a lot more of our yummy sprouted buckwheat porridge. But alas, I overdid it, and suddenly found that five unwanted pounds were sitting around my middle! Oh dear. Porridge is one of the best foods for weight gain—if you want it! (I gain easily and lose slowly.) Over time I've been able to determine just how much buckwheat I can eat to maintain a normal, steady weight.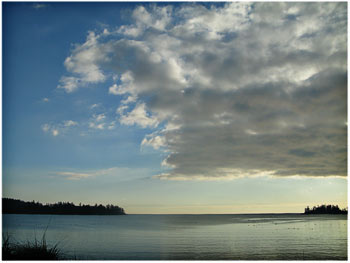 A couple of weeks ago we talked about seasonal changes, which I think most people are in tune with.

There's other shifts that take place for us, and these often come through spiritual influences. We may get a feeling that it's time to start a cleanse as an aid to some inner process that's taking place, or to drop certain foods from the diet for awhile, or to bring in new foods. Sometimes we feel the need to increase our protein intake for a few days, or we get a craving for warming foods from soups and tea.

One new tea we've started to enjoy is made with 1 rounded teaspoon of ashwaganda powder, 1 teaspoon cinnamon chips, and 6 star anise pods, steeped for 5 minutes in 2 cups water brought almost to a boil, strained, and topped with a little almond milk and 1/2 teaspoon honey per cup. Ashwaganda is one of those amazing tonic herbs which can help so many aspects of our health and well being. And to counter the dryness of fall, we've started using shea butter on the skin. It deeply moisturizes, and keeps the skin soft and happy all day. (
Click on this link
to learn more about ashwaganda. We get our herbs, spices, and shea butter from
Mountain Rose Herbs
.)

Small changes like these make everything feel just right and keep our body in a state of balanced contentment. The seasonal, monthly, or even weekly fluctuations have helped us to develop intuitive eating skills. To facilitate this practice, we keep a well stocked kitchen so we can make all kinds of dishes any time we get a nudge. Without staple foods in the house (vegetables, greens, nuts, seeds, sprouting seeds, seaweeds, fruits, and some dried fruit) it would be much harder to eat like we do. This is where advance planning makes a big difference. It facilitates the changing seasons of the earth and our consciousness in a way where body, mind, emotions, and spirit can work together in peace, harmony, and love.