We've been making a new raw bread, and it's ever so "breadlike" with a sourdough flavor. It tastes great with our latest
seed cheese
recipe, or with tahini and honey. Or with a little garlic oil drizzled on top—yum! It's hearty, and has a wonderful chewy texture that we can really sink our teeth into. (Barley contains gluten, so Rex and I have to monitor how much we can eat.) Enjoy!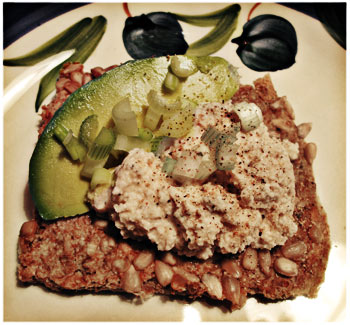 Ingredients: Makes two 10-12 inch rounds
1 and 1/2 cups whole
Barley
(it will make 2 and 1/2 cups when sprouted)
1 and 1/4+ cups pure water
1/2 cup combination leeks and green onions, rinsed and sliced
1/2 cup sunflower seeds (for topping)
4 tablespoons Spectrum Walnut oil (flavor is most compatible with barley)
3 tablespoons chia seeds (optional)
1/2-3/4 teaspoon Himalayan, or Celtic salt
1/3 teaspoon fresh ground black pepper
*
A note about barley:
We've had barley that sprouts quickly, and some that doesn't sprout that well. Both will work for the bread. The flavor is best if the barley is barely sprouted with tiny shoots just emerging. For the kind that doesn't seem to want to sprout, keep rinsing and draining twice daily. It's actually fermenting a bit, which adds to the taste and digestibility. Barley can be stored in the fridge for several days, and if you can't get around to making it into bread, use it for a delicious
Tabouli
.

Directions:
It takes 2 days to soak and sprout barley, but the preparation time is only 15 minutes.
To sprout barley:
Begin by soaking barley overnight in a glass jar with ample amount of pure water.
Rinse and drain in the morning. Allow to sprout all day, and rinse and drain in the evening. Continue sprouting overnight.
Do the same thing on the 2nd day. It will be ready on the morning of the third day. (Store in fridge if you can't make the bread, and keep barley moist.) Before making bread, give a final rinse, and drain thoroughly.

To make bread:
Put 1 and 1/2 cups barley into a VitaMix or blender with water, green onions, leeks, oil, salt, and pepper, and grind to a smooth texture. It will be like a very thick pancake batter. Add a few more tablespoons of water if necessary.
Transfer to a food processor and add the remaining barley, and run machine for about 1-2 minutes to desired texture.
Transfer to Teflex sheets on dehydrator trays with mesh, spreading out evenly to a thickness of about 1/3 inch thick.
Sprinkle sunflower seeds on top. Give a final sprinkle of salt, and freshly ground pepper. Press toppings in lightly. (To do this, I lay a plastic bag on top, then press lightly by hand.)
Put in dehydrator for 2 hours, with temperature set to 110 degrees. (It will darken in color as it dehydrates.)
Turn bread over*, and dehydrate for another 30 minutes until top is just dry. We prefer it chewy and soft.

Barley bread can be stored in the fridge for up to five days. With living foods, always check for freshness before eating.
*To turn over: lay a mesh layer and then a tray on top of bread. Turn over. Remove tray, mesh, and Teflex sheet.

It's hard to write in the wake of the recent earthquakes and tsunami's that have been devastating the world. I can only imagine what it must have been like for those who were so instantly taken, or had property destroyed. We send our deepest compassion to the people in distress, to honor their lives, and to honor the countless loss of lives that have occurred.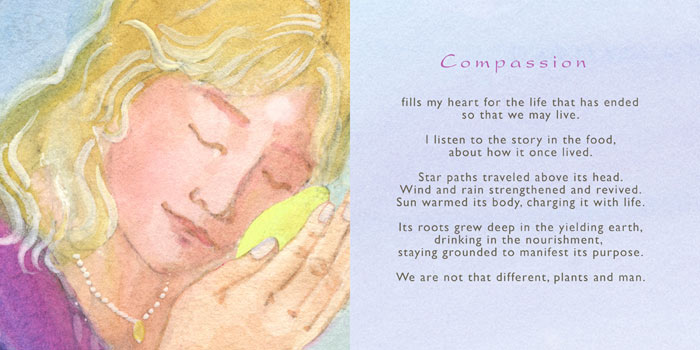 In this quiet part of the world, we're able to maintain a relatively stable environment. Despite the whole month of February, which brought our own share of personal tsunami's, we feel fortunate. There's always something we can do, even if it's just to be a channel for peace and love, or to give a hug to someone in the midst of their heartbreak.

We recently received a message from Dr. Gabriel Cousens in one of his emails: "Food is a love note from God." We feel this is so true: food is life energy brimming with beauty and healthful vibrations, given to us so that we may live. To us, this is a gift from the Creator. This painting and poem, taken from my book,
Temple Food
, expresses our profound gratitude for that which sustains us.

Giving appreciation to the food, putting our hearts into the food preparation, loving ourselves, and extending care to our families, friends, and people near and far, are ways to honor and celebrate this precious gift that we've been given—our lives and Life Itself.