These fruit puddings are so incredibly easy to make, and taste amazingly delicious. Simply blend the blueberries, and add in whole fruits for glorious color and texture. Serve for breakfast, a snack, a cooling summer meal, or as a dazzling, sugar-free, ever so natural dessert.

Ingredients: Serves 2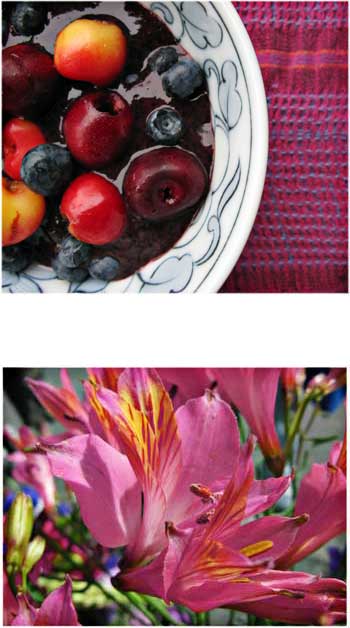 2+ cups blueberries
24 red Bing cherries and white Rainier cherries (if available), pitted

Directions:
Rinse fruit with pure water. Remove stems from cherries.
Put 1/4 cup blueberries into each bowl. Put remainder into blender. Blend on high speed until velvety smooth and pour on top of whole blueberries.
Remove stones from the cherries. This goes really fast with a
cherry pitter
.
Add whole cherries and a few extra blueberries, and savor the taste of summer!

We're making a lot of progress with the packing for our upcoming move. Funny thing is, now that we've packed about 70% of our possessions (not including furniture), we're not missing the items at all. Does this tell us something? You bet, big time!

When we get moved and settled in, we're planning to leave most of these things boxed up, and only unpack something if we really need or want it. The emptiness is feeling really good—there's so much less to take care of, which gives us more freedom. It's like I can breathe easier now. We didn't realize how much the clutter was affecting us.

For the last two years, on a soul level, I've been wanting this kind of simplicity, a real zen approach. Being forced to move (the house we've been renting for five years was recently foreclosed), has brought added benefits. Besides a new life that awaits us on the mainland, we'll have the wonderful gift of seeing our family much more often, a dream come true. All of this spells, good, good, and more good!

Simplicity is the way to go—simplicity in possessions, simplicity in food preparation, like this berry and cherry pudding which carries the pure essence of the fruits. This equates to having more time for doing what we really want, and spending more time with people we love.

Hopefully over the next month, we'll be able to keep up with our bi-weekly schedule—if The Healing Feast comes late, you'll know why. So until we meet again across the lands and seas, we send our love and light to you!