Delight in this utterly scrumptious smoothie that's loaded with powerful antioxidants from health-boosting strawberries, marionberries, cherries, and raspberries. Simply throw everything together with some bananas into the blender, and in sixty seconds you'll have a mouth-watering, fat-free, delicious, energizing meal or snack.

Ingredients: Makes 2 quarts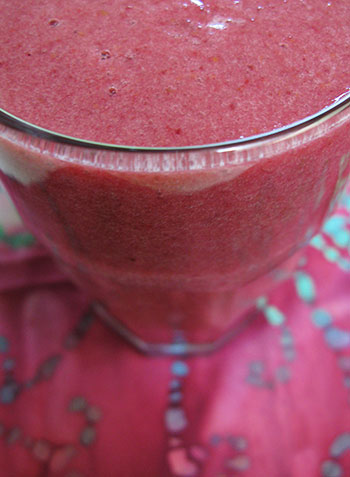 3+ cups pure water
3+ cups mixed berries, fresh or frozen (and cherries, if available)
4 bananas, peeled
2 dates, pitted

Directions
Defrost berries if needed.
Put into Vitamix or blender with water.
Add bananas and dates.
Blend on highest speed for 60 seconds to grind up berry seeds.
Note: A Vitamix is powerful enough to grind up the hard, tiny seeds in berries, which contain wonderful health benefits!.
If you are using a standard blender, strain through a fine sieve to remove seeds.
There are so many amazing contributors in the raw food world that we thought it would be fun to spotlight some of our favorite people to share with you in case you haven't yet discovered them. Click on the links and be inspired by the awesome, creative energy of people who are truly living a cutting edge life, pushing the envelope of health into new dimensions of anti-aging, renewal, fitness, beauty, and love!

Raw Food Rehab:
Created by Penni Shelton. "Adding LIFE to your years, and years to your life." I feel this may be the most all inclusive raw food website that covers everything you'd ever want to know about raw food, with many forums and chat rooms. The site is set up like a real rehab center, where you'll find "rooms" such as The Kitchen Recipe Center, The Wellness Center, The Liquid Lounge, The Greenhouse, The Weight Room, and much more. Penni has done such a fabulous job with how the site is set up, so that it's supportive, non-critical, and stays current with all the buzz and excitement in the raw food world.

Cleanse America:
Created by Paul Risse. "What is Cleanse America? Cleanse America is a calling and intention. The calling is to share the message of transforming the state of health in our nation—body, mind and spirit. Then intention is to inspire 1,000,000 Americans to participate in a 10-day raw food cleanse and to also help support their communities in getting on board. The veil is being lifted and now is the time to cleanse, heal and rejuvenate. Join us and let's have an amazing time as we each play a part in the transformation of a nation.

The guidelines are simple. For 10 days we invite you to eat a 100% raw foods diet (Level 1) and/or follow a liquid diet (Level 2) of juices, smoothies, tonics, teas and soups. Our cleanse includes over 60 recipes; inspiring, educational daily video support from the Core Team and our Wellness Warriors; and the wonderfulness of a supportive community of like-minded people from across the nation (and the globe). Also stay plugged into our Facebook Page for all our latest updates!"

I've participated in three cleanses, (one is happening right now, and it's okay to join a few days late), and I had some emotional breakthroughs that had been holding me back, made some great connections with people, and enjoyed the ten days very much.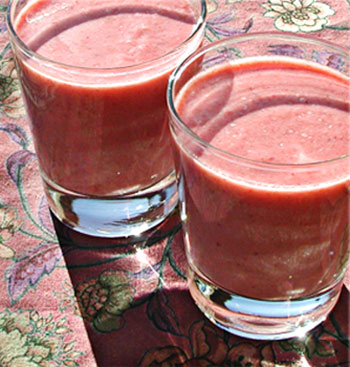 The Raw Family:
Created by Victoria Boutenko. She writes: "This is the official site of Victoria, Sergei, and Valya Boutenko, otherwise known as The Raw Family. In 1994, we experienced an intense decline in health. Faced with our numerous health problems, (juvenile diabetes, obesity, hyper thyroid, chronic fatigue, arrhythmia, arthritis, asthma, and allergies) we began researching nutrition. After switching over to a healthful way of eating we were able to fully reverse our symptoms and regain vibrant health. Since that time our family has been dedicated to helping people around the globe learn about natural healing and nutrition by writing books, making films, and presenting health lectures. We are here to inspire you to take your health into your own hands." Victoria is also the pioneer of green smoothies! Her ground breaking, medically documented work continues to redefine health and change the world. I am so grateful for Victoria's work. She also runs green smoothie retreats in various locations. This summer it will be in Sweden, where Sergei and Valya, will also participate.

Sergei Boutenko:
Raw foodist who healed himself at an early age of diabetes, the 28 year old author, filmmaker, wild plant foraging expert, green smoothie enthusiast, and adventurer, is expanding our knowledge on how to identify wild edible plants. He's currently in the process of making a documentary film about the effects that green smoothies have on endurance athletes in terms of their health, energy, performance, and strength. On his films, he writes: "As I travel the world, I often come in contact with inspirational people and interesting things. I film my adventures and share them with the world on my website. I am also very passionate about health and wild edibles. Many of my posts reflect this passion, as you can see. I hope you enjoy my efforts and find them educational." He also has his own Youtube channel.

Fully Raw:
Created by Kristina Carrillo-Bucaram who is a font of pure joy and energy. She follows Dr. Doug Graham's 80-10-10 diet, and created the nation's largest raw fruits and veggie coop, Rawfully Organic, in Texas which had its humble origin in her garage. She runs six to eight miles a day (14 on the weekends), has boundless non-stop energy and enthusiasm, and a passion for life. "Everyone knows how it feels to be unhealthy. At this moment in time, you may be searching for health inspiration rather than giving it. The best way that I know how to describe what someone feels like when they go "FullyRaw" or adapt to a 100% raw foods lifestyle is that they simply want to jump on top of the world and yell, "I am free! I found happiness!" This is what it means to be FullyRaw. You want to give inspiration rather than search for it."

Juliano's Planet Raw:
Created by Juliano. His book, RAW, the Uncook Book, changed my life, and Rex's too. His book was the first major "aha", that we could, and would want to completely live on raw food. The delicious recipes and gorgeous photos won us over in a heartbeat. His restaurant, Planet Raw, in Santa Monica, California, draws locals and Hollywood superstars, where they enjoy the creations of this master chef. Rex and I had the pleasure of eating there with our son and daughter-in-law, and got to shake Juliano's hand, and chatted briefly. He's always on the scene, giving talks, and preparing life-enhancing, nourishing, delicious foods. Chef certification is also available.

Reboot with Joe:
Created by Joe Cross who was "at the end of his rope and the end of his hope. In the mirror he saw a 310 lb man whose gut was bigger than a beach ball and a path laid out before him that wouldn't end well—with one foot already in the grave, the other wasn't far behind. Fat, Sick and Nearly Dead is an inspiring film that chronicles Joe's personal mission to regain his health." This movie is pure inspiration on the benefits of juice fasting. Joe decided to do something truly radical about his health and began a sixty day juice fast, with the blessing of his medical doctor. This decision forever changed his life, and now he is helping millions to change their lives too.

These are people who rose to great acts of service. People just like you and me, sharing their lives, living their dreams.