Ingredients for Crust:
Make the crust first. The reason being that once the blueberries have been blended to make the filling, they sometimes start to set up in less than 60 seconds!

1 1/2 cup raw pecans
1/4 cup shredded coconut
1/4 cup raw almonds
2 Medjool dates
4 teaspoons agave nectar
1/4 teaspoon Himalayan or Celtic salt
Directions for Crust: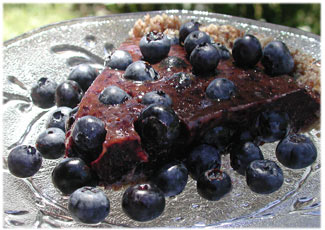 Grind coconut and almonds in blender until as powdery as possible.
Transfer to food processor.
Add pecans, salt, and dates.
Mix until texture is like very coarse corn meal.
Add agave and mix.
Pour into pie dish, spreading as evenly as possible.
Press into place. That's it! Set aside.
Ingredients for Filling:
For the best pie, use fresh blueberries. This pie can be made with frozen berries, but the texture and flavor will not be as good. In a pinch we've used frozen, and it's a decent substitute.

4 cups fresh blueberries
1 teaspoon cinnamon powder
Directions for Filling
Wash blueberries. Drain completely (Excess water can affect the setting up.)
Discard any moldy or squishy one, and remove any stems.
Take 1 cup whole berries and place in pie shell.
Place remaining 3 cups berries in blender with cinnamon.
Blend on highest speed for about 30 seconds.
Pour over whole berries and into pie shell, spreading evenly.
If you have extra berries, these can be sprinkled on the top.
Allow to set, usually from 10 minutes to 1 hour.
Serve, and enjoy! (The crust is crunchiest if eaten within an hour after pie sets.)
Refrigerate leftovers, if any, covered, up to several days.