It's hard to believe it's not cooked—it's so crunchy
, Rex exclaimed. We were both raving about our latest batch of raw granola, inspired by a recipe from our island friend, Julie Ross. Crunchy is one texture that is hard to get with raw foods, and one that we've missed, but no more!

Sprouted buckwheat is combined with a date sauce, and various nuts, seeds, dried fruits, and then dehydrated. The result is a breakfast treat that's as good or better than any of the best granolas on the market. The only trouble with our granola is that it's so delicious that we can't stop eating it, so waistlines be forewarned!

Serve plain, or with almond milk (the granola doesn't get soggy), or shape into rectangles or squares for a raw PowerBar-type snack. Granola will last a week, maybe longer, but we don't actually know how long, because every batch has been eaten in a few days!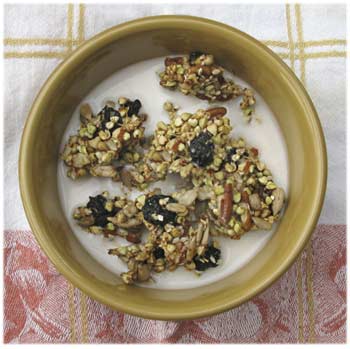 Ingredients:
1 1/2 cups dry buckwheat.
(This will make 4 cups sprouted buckwheat—
Click Here
for directions on how to sprout.)
1/2 cup walnuts or pecans, loosely chopped
1/2 cup almonds, loosely chopped
1/2 cup raisins
1/2 cup sunflower seeds
1/4 cup sesame seeds
1/4 cup coconut, optional
2 dates, chopped, optional

Directions:
Put buckwheat, walnuts or pecans, almonds, raisins, sunflower seeds, sesame seeds, and optional coconut and chopped dates into large mixing bowl. Make the date sauce.

Date Sauce:
6 Medjool dates
1/2 cup water
1/2 teaspoon Himalayan salt
1 tablespoon oil

Directions:
Blend dates with water, oil, and salt in blender until smooth.
Add to bowl and gently stir with a spoon until all ingredients are evenly coated.
Evenly spread onto 2 Teflex sheets to about 3/4 inch thick.
Don't press granola down—leave lots of holes and gaps. (The date sauce will hold everything together.)
Dehydrate for 3-5 hours at 110 degrees, flipping over after 2-3 hours.
Store in covered containers for later use.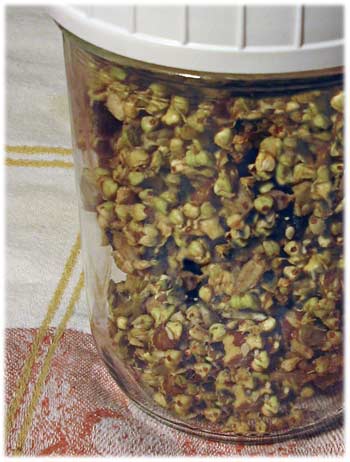 Almond milk:
1/2 cup raw almonds
3 cups water
1 teaspoon vanilla extract (optional)

Directions:
Blend in Vitamix on super high speed for one minute. Strain through a nut milk bag or a strainer, to remove skins. Refrigerate.

Some value cannot be weighed in terms of monetary costs, although we believe that our granola and almond milk are no more expensive than what's available in the stores for organic milk and granola—they may actually be cheaper. These foods are also nutrient dense, so a little goes a long way.

In addition, factor in the shelf life of ready-made foods, the materials used for packaging, unwanted vitamin, chemical, and preservative additives, and other things that can slip in without showing up on labels. What we make ourselves is fresh, sprouted, vibrant, organic, delicious, and additive free.

Perhaps one of the most important qualities of value is the gift of taking time to prepare food for ourselves and our families with our own hands, in this way connecting with the food and knowing it will serve everyone well.

All the love that goes into the preparation fills us deeply, nurtures and satisfies our deepest hungers, and brings an unmistakable feeling of contentment and well being.