When the days turn chilly, as they can here on the island during summer (especially in the mornings if it's foggy or raining), a bowl of hearty, high energy, buckwheat porridge with almond milk will keep us going for hours. This is a total "living food" breakfast—the sprouted buckwheat and soaked almonds are teeming with life-giving enzymes and nutrients.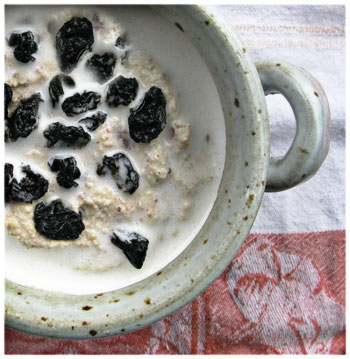 After sprouting, the porridge is whipped up in minutes. It's smoothly textured with delicate flavors. We like it so much better than the cooked hot cereals we used to eat that always made us feel weighted down and tired. Raw buckwheat porridge sits so well in the tummy. We feel full and light at the same time—a winning combination!

Ingredients (Serves 2):
3 cups sprouted buckwheat (click on link on how to sprout)
3-4 Black Mission figs, soaked overnight, chopped
2 Medjool dates, chopped
4 tablespoons raisins
2 tablespoons Spectrum walnut oil (optional)
1 tablespoon honey
1/4 teaspoon Himalayan salt
2-3 cups almond milk (click on link on how to make)

Directions
Start two days before you want to make the porridge by sprouting 4 cups dry buckwheat. (This will be enough for two or more batches.)
Put buckwheat, dates, figs, honey, optional oil, and salt into food processor.
Process until smooth, about one minute.
Dish up into bowls.
Sprinkle with raisins. Pour almond milk on top.
Enjoy!

The Little Story: Vitamix Blender or Green Star Juicer?

Which is better, a Green Star juicer or a Vitamix? We wondered about this when we first went raw, and ended up buying both. Now that we know which works the best for our lifestyle, if we had to choose one or the other, it would be a Vitamix.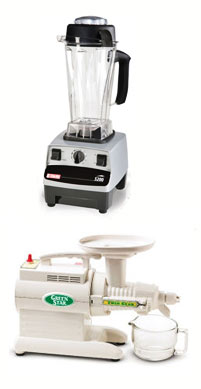 Every time we make juice in the Vitamix, I'm amazed to see how fine the pulp is, and how little of it there is after straining. We will often have the Vitamix stuffed to the brim with produce (that's eight cups of any combination of chopped veggies, sprouts, or fruits) with about one cup of water. What remains after straining through the nut milk bag is usually about 1 cup of pulp! (Carrots will make more pulp than this.) This is far less than the amount of pulp we get using our juicer. And when it comes to juice the Vitamix is working beautifully for us since we actually prefer the juice diluted, because water must be added to get the machine started.

The remaining pulp is so fine in the Vitamix that one time I pressed the pulp from making celery and apple juice into a thin sheet to see if I could make paper out of it. And I did! It was a lovely shade of pale green, and although it was a bit thick and bumpy after it dried, I could write or paint on it.

It's logical to me to think that the Vitamix is extracting more nutrients from the produce than our juicer does, simply because the remaining fibers are so silky fine. To me this suggests that more of the plant's or fruit's bioavailability of nutrients have been released. In the past whenever we've juiced greens using our juicer, they usually turned into a froth. And pineapple just clogged the machine it up. However, the Green Star's slow speed twin rotators and low sound are a big plus, but cleanup is a lot more time consuming than rinsing out a Vitamix.

But beware! The noise of a Vitamix is intense! (We make sure we use earplugs every time we turn it on. Mothers may wish to protect their children's delicate ears.) Plus we keep ours in a separate room (the laundry room) adjacent to the kitchen, where we can shut the door to minimize sound. A designated space in a kitchen cupboard or pantry would work well too.

The Vitamix is our main food preparation workhorse. With this powerful tool we are able to thrive on juices, nut and seed milks, soups, dressings, and smoothies, and reap the rewards of greater health, day by day. These are little healing feasts to be sure.