Who would have thought that those gnarly, strange looking roots would actually taste great, and, when ground up in a food processor would have a pilaf-like consistency? This was a wonderful surprise to us. We adapted a recent recipe for celeriac root that came from
The Daily Raw Inspiration
, by adding West Indies Rub, and we spooned on our "pilaf" as a spicy filling for romaine wraps. Serve as a whole meal, mini side salads, or as appetizers.

We find celeriac to be "grounding" and satisfying. Since we're just discovering celeriac, there will probably be more recipes to come, such as Spanish "rice". Drizzle these wraps with your favorite salad dressing... a tangy-sweet dressing like honey-mustard (or oil with lime or lemon juice) complements the spicy flavors from the West Indies Rub.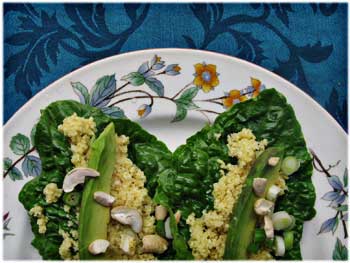 Ingredients: (Makes 6-8 wraps)
6-8 leaves of romaine (the inside leaves are the sweetest)
1 celeriac root (roots vary a little in size. This recipe calls for a medium sized one, peeled and chopped
1 small Haas avocado, sliced
3-4 tablespoons green onions, finely sliced
2-3 tablespoons raisins
2-3 tablespoons cashews
12 cilantro leaves, pulled from stem
1 teaspoon
West Indies Rub
(if unavailable, try using Curry Powder)
1 small clove garlic, pressed, optional
1/4 teaspoon Himalayan, or Celtic salt

Directions
Prepare celeriac, put into food processor with salt and West Indies Rub.
Process to pilaf consistency. Transfer to a mixing bowl.
Add green onions, cilantro, raisins, cashews, and garlic. Mix.
Quarter avocado, remove pit and skin. Slice.
Lay a romaine leaf on a serving plate.
Spoon celeriac down the middle, and add slices of avocado.
Sprinkle with a few extra cashews or raisins for garnish, if desired. Drizzle with dressing.
Roll up to make a wrap, fold in half to eat like a sandwich, or eat with a fork and knife.

Food entices us with its beauty and because of this Rex and I enjoy making each meal even more delicious by feeding our eyes, emotions, and spirit, through the use of colors, shapes, textures and patterns. In the wraps above, the main colors are deep green from the romaine, and pale gold from the spiced celeriac. Both of these colors are to me calming, balancing, and heart-opening. The food sits upon a pretty plate (given to us by our friend Ellie in Friday Harbor, making it all the more special since we've moved away), which rests upon a deep turquoise tapestry napkin. The synergistic wholeness creates a visual feast, and this information reaches us even before we have started to eat.

Some of the tastes and textures of the food include: a satisfying crunch from the lettuce, spicy and aromatic from the West Indies Rub and cilantro, smooth and luscious from the avocado, sweet and chewy from the raisins, a hard crunch from the cashews, and tangy from the dressing. All of these carry us into a sensual, delicious world.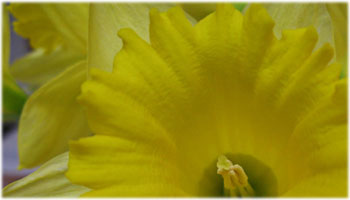 There's a hidden language in colors and shapes, like this flower. When I first saw the photo, it looked like a daffodil which I've seen hundreds of times. Then I discovered the tiny three petaled mini "flower" that grew out of the tips of the stamens, and it felt like the flower was offering up a kiss. I never even knew that daffodils had a tiny three petaled "flower" until I looked at this photo! The circular ruffled "bowl", or corona, reminded me of a trumpet song proclaiming spring, and the brilliant yellow color, the return of the sun's light.

Breathe in flower joy, and partake in the bright transfusion of light when gazing at a daffodil, or when cutting a lemon, or slicing a golden mango—not to mention the fragrances that come to greet us, oh my. The essence of the food is reaching us in so many ways! If we think of color when preparing meals, as well as utilizing the beauty in the foods that will construct a recipe, this will ensure memorable creations to nourish the ones we love on many levels of the body, heart, and soul.