We were recently introduced to an inspiring woman, Bequin, whom we discovered, much to our delight, lives just a few houses away. We have known about each other, sent emails back and forth on occasion, but had never actually met. Word also gets around on the island—friends ask,
Do you know Bequin? She's into raw food!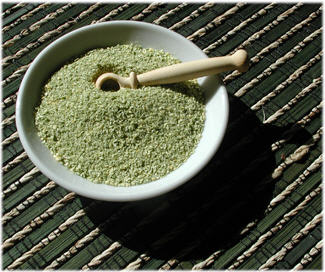 Rex and I spent two hours on her property this week, munching on sorrel, tomatoes, blackberries, and goji berries as we strolled through her extensive vegetable gardens. There was so much food—inspiration to grow on, both literally and metaphorically!

She shared with us a recipe using celery and lemon to create a delicious salt substitute. Celery has an abundance of natural sodium. This is good for me, because I don't do well with too much salt. Rex and I tried Bequin's recipe and we loved it. We keep this mix on the table to liberally sprinkle on our salads and veggies. Here's how to make it and save some money in the process!
Celery-Lemon Salt:
Ingredients:
3 stalks organic celery
2 organic lemons
Directions:
Wash celery in cool water. Remove any bad spots at base. Pat dry.
Wash lemons well. Pat dry.
Chop celery into 1 inch pieces, and put into food processor. Run machine until celery is chopped into small pieces. (It will dehydrate faster this way.)
Put celery pieces on a plate, spreading out evenly.
Squeeze juice from lemons, reserving for salad dressing.
Cut into one inch pieces and put into food processor.
Pulse machine until lemon peels are chopped into small pieces.
Put lemon pieces on a plate, spreading out evenly.
Place both plates into dehydrator, with temperature set to about 100-110 degrees.
In several hours, the celery and lemon should be dry.
Remove celery and lemon and grind in a coffee mill or blender until powdery.
Place in spice jar and cover with lid. Will keep for several weeks.
Orange Zest Powder:
You can make this from the peels after you have eaten a couple of oranges, or peel first and reserve the inner fruit for eating later.
Ingredients: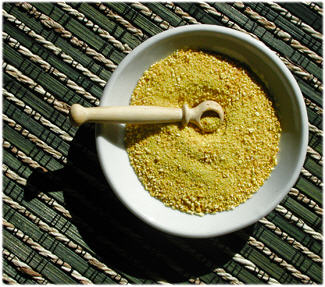 Peel from 2 organic oranges
Directions:
Wash the oranges, and pat dry.
Peel oranges.
Cut peels into one inch pieces, and put into food processor.
Pulse machine until orange peels are chopped into very small pieces.
Spread orange pieces onto a plate, spreading out evenly.
Put into dehydrator, with temperature set to about 100-110 degrees for several hours.

Orange zest powder adds an unusual flavor to dressings or smoothies. Next week we'll spotlight a transition recipe that's made with steamed beets, pine nuts, and orange zest powder!

A Little Story: Help from Our Friends...

In the course of just one day, we are touched by many people who work to make our lives better. Take for example the salt of the earth growers who till the soil day in, day out, weather being no excuse for not going out into the fields, and whose produce shows up weekly at the farmers market. Through their hard work and sacrifice we are able to eat the healthiest foods.

This makes us wonder, not being farmers (even though we are growing some of our own food), how we can best serve life using our talents to assist others, and help to lessen the collective burden that mankind has placed upon this planet.

We think of the plants, fruits, herbs, nuts, seeds, grains, berries, and more. Everything that is alive lives to give—to serve so that life may continue. We honor the rich array of life that sustains us.

Rex and I are often amazed at how layered our lives are, and how everything we need is in the present moment, unfolding like petals of a rose. The fullness and purpose of the rose is already held in its pure design, long before the flower reaches completion.

Each of us are like petals opening up, and collectively, the gifts of our flowering, of giving to serve each other, will bring beauty and healing into the world.