In our kitchen, one thing usually leads to another. Our success with Chia Chipatis got me thinking. Why not try to make a tortilla or chipati with ground veggies? So I started experimenting. I made them with just chia seeds and ground veggies which created a very thin and interesting chipati that reminded me of an Indian papadum. Then I tried using chia seeds and soaked pumpkin and sunflower seeds which resulted in a softer chipati. Next I tried the soaked seeds with veggies. I had some beets in that recipe, which I later decided to delete, although it added a beautiful color.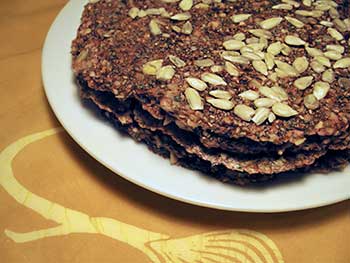 This latest version uses unsoaked seeds with ground veggies, and we think it has the best overall texture. These are firm and flexible like the old favorite corn tortillas! Yet every variation was good, and we enjoyed eating them very much. One time I made little crackers, and they were delightful and could be used for appetizers with some spices and a garlicy oil drizzed on top, or with a veggie topping of some kind.

Chipatis and tortillas are low in fat, nutrient rich (a great source of Omega 3's), and just beg us to get our creative juices going in terms of what to put on top. It could be avocado slices, guacamole, tomatoes, lettuces or greens, seed cheese, marinated dehydrated mushrooms, grated carrots, soaked wild rice, jicima, and so forth, piled high, or placed in the middle with the tortilla folded over.

You name it, the possibilities are endless: use tortillas to make tostadas, burritos, or enchiladas (if you're transitioning), or eat with soups, salads, or veggies. Enjoy the process of discovery, have fun, and see how one things leads to another. This is the art of intuitive eating!

Ingredients: Makes twelve 5 to 6 inch tortillas
2 cups pure water
1/4 cup chia seeds
1/2 cup pumpkin seeds, soaked 4 hours, optional
1/2 cup sunflower seeds, soaked 4 hours, optional
1/2 cup carrot, chopped
1/2 cup celery, chopped
1/3-1/2 scant cup green onions with a few leeks, sliced
1/4 cup parsley leaves, packed
3 tablespoons red bell pepper, chopped
1/2 teaspoon Himalayan salt
1/4 teaspoon fresh cracked black pepper
Extra salt and pepper to taste
Additional sunflower seeds for topping

Directions
Soak chia seeds in water overnight. Stir several times during the first 5 minutes. They swell very fast.
The next day don't rinse them off. You want the mucilaginous quality of chia because this is what will bind with the other ingredients and make the tortillas hold together so well.
Drain sunflower and pumpkin seeds. Rinse, and drain again.
Put veggies into food processor and chop until well ground.
Add pumpkin, sunflower, and chia seeds, and process for about 30 seconds, or to desired texture.
Place 4 tablespoons of dough for each tortilla on Teflex sheet (on top of a mesh sheet and dehydrator tray).
Spread, using a spatula, making slight circular motions, to about 1/8 inch thick. Tortilla size should be about 5-6 inches in diameter.
Repeat process until you have 4 tortillas on the tray.
Repeat process with three additional trays.
Sprinkle on a few sunflower seeds, gently press into place, and add some extra salt and pepper if desired.
Place in dehydrator at 115 degrees for 90 minutes.
Flip over, and dry for another 45-50 minutes. Drying time may vary. They need to be dry enough to not feel soggy, but moist enough to be pliable to fold or wrap easily. If you want them crisper, like for the little crackers, dry longer.
Assemble your favorite toppings. Drizzle on a little olive oil with pressed garlic, or your favorite salsa or dressing, or spread a little miso on top of tortilla.
Store leftovers in the fridge, covered, for 3-5 days.
I love this whole holiday season, and my heart fills with gratitude for the bounty that we have in our lives. I'm grateful to my mother for creating a magical season when my brother and I were kids, with memories that have warmed my heart for years. The house was filled with music, smells and aromas of holiday cookies being baked, and many special dishes that were only made at that time of year, like roast goose with dressing, wild rice with chestnuts, and Danish red cabbage. Decorating the tree, the house, and shopping were a big part of our days in December. Christmas Eve found us listening to Handle's Messiah, sipping on glögg (a traditional Scandinavian hot drink made with wine, port, spices, and almonds), and eating yulekaga (a sweet, Scandinavian Christmas bread) in front of a crackling fire. Many a time after hours of Christmas shopping, Mom and I would flop down in a restaurant, laden with bags, half starved, sighing with relief, counting the minutes until our lunch arrived.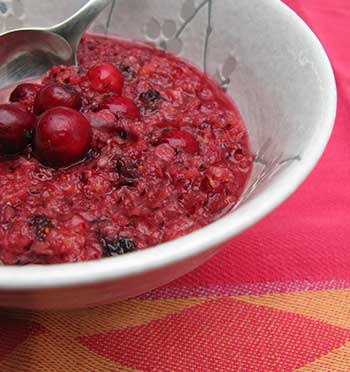 After leaving home and becoming a vegetarian, I slowly created new traditions for our family. This eventually became a delicious marinated baked tofu that replaced the roast goose, served with a mushroom gravy made with sauteed mushrooms, green onions, garlic, tamari or miso, thickened with a little water and arrowroot powder. I maintained my mother's traditions of Danish red cabbage, wild rice and chestnuts, and added in a salad. I also made small apple or pumpkin pies. For Christmas Eve we began another new tradition of making homemade pizza, with the family joining in to prepare. We served it with a salad, and the colors of red and green made it a perfect holiday dinner that was eaten by candlelight with seasonal music playing in the background. Our children loved it.

Times have changed for so many of us, and simplification has taken the lead. We can rejoice by having a few candles burning, some pretty lights, a few boughs of evergreens adorned with treasured decorations or pine cones. This is enough for us now to feel festive. Not to mention the relief that comes from having healthful raw food, easily prepared meals, no weight gain, and spending less money on gifts, too.

An
attitude of abundance
with food and gifts, no matter how much or how many, being together (even if it's just Rex and me), is enough. We can share a simple celebration that carries us to places of joy and appreciation.

This year for our Thanksgiving dinner we had a tostada with toppings, sunflower seed cheese, some sugar-free, tangy raw cranberry sauce, thanks to our friend, Charm, who gave me the idea! (Recipe coming next week.) And for the simplest, easiest dessert, I whipped up a small bowl of blended persimmons topped with a handful of walnuts and a few dates that were ground up in the food processor to make a crumble. In the coming month, these and other foods, along with our humble decorations will help us to honor the Winter Solstice, Christmas, and the year that we've just lived. All the while creating health as we usher in the new.

When I look at the world with gratitude, everything flows in the right direction, and surprises of goodness pop up everywhere: an unexpected smile from a stranger, the kiss of a friend, a new recipe or story to share. These are the simple gifts of giving that circulate through the world and come back to us in a warm embrace, where the circle of love becomes ever deeper and wide, gladdening the heart, which then spills over and spontaneously gives more.

Coming next: A Cranberry Festival! Cranberry-Apple-Pear Juice; Cranberry Sauce, and a delicious, light Pear Dessert with Cranberry Sauce!