Spring is still warming up here in the northwest and because of the cold we look for filling salads to keep our body heat up. We're often drawn to choosing ingredients like cabbage or seaweed to make such a salad—to which you might say yuck!—but please read on!

Since delving into the living food diet we regularly scarf down plates of super-finely grated, mild tasting, organic green cabbage, often laced with a liberal dose of seaweed. Our favorite variety at this time is Arame, because it's non-salty, mild tasting, and has a pleasing texture. Arame plumps up to long thin pieces that work nicely with the texture and flavor of the grated cabbage.

Dr. Norman Walker writes in
The Vegetarian Guide to Diet & Salad
, that seaweed and cabbage both contain 59 vital elements, making them some of the most nutrient dense vegetables. These two foods combine to create a mineral rich, healthful salad. Jicama adds sweetness, and the lettuce adds iron and makes the salad less heavy.

Cool Weather Salad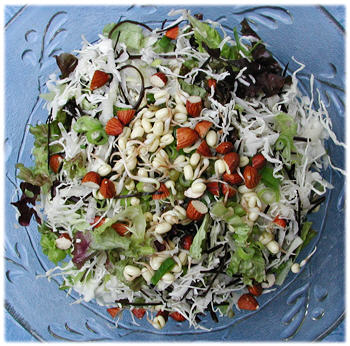 2 cups super-finely shredded green cabbage
1&1/2 cups bite-size pieces red leaf lettuce
1/2 cup jicama, grated
1/4 cup dried Arame seaweed (or your personal favorite)
3-4 tablespoons finely chopped green onions
3 tablespoons almonds, cut in half
3 tablespoons mung bean sprouts
Garnish: Avocado slices
A Note About Cabbage:
We've found that organic cabbage is less likely to make us "bubbly", and super finely grating also helps. If you have trouble eating cabbage, reduce the amount in the recipe to 1/2 cup, and replace the remaining amount with 1 and 1/2 cups loosely packed greens, such as baby spinach.
A Note About Seaweed:
If you're not sure about seaweed, try soaking one tablespoon so that there is very little ocean-like flavor in the salad.
Add more for your next salad if you decide that you like it.
Directions:
Serves 2 as a whole meal, or 4 as a side salad
Soak seaweed in a bowl, covered with filtered water for about 10 minutes.
When ready it will double in size, and be soft.
Pour into seive. Rinse briefly. Drain.
Rinse cabbage. Drain.
Super finely grate using a Mandoline, or grating attachment in food processor.
Peel jicama, and grate by hand, or use a food processor.
Rinse green onions and finely chop. (We use the green part of the onion too.)
Put all ingredients into large bowl. Toss well.

Tangy-Sweet Mustard Dressing:
Delicious with this salad.
1/4 cup olive oil
1/4 cup water
2 tablespoons balsamic vinegar
1 tablespoon fresh pure water
1 and 1/2 tablespoons stoneground mustard
1 or 2 medjool dates
1 clove garlic, peeled
Directions:
Blend until creamy.

A Little Story: Gifts of the Sea

Who would have thought, when as a child, during the short summers in the northwest, paddling through frigid waters filled with tickling, grabbing seaweed, that I would eventually come to eat sea greens!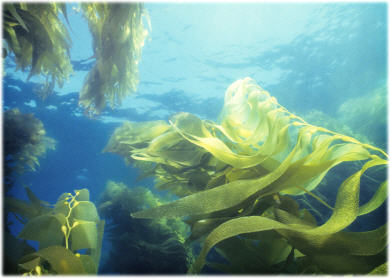 I remember being about six and swimming one day, just after I'd learned how to dog-paddle, and had the following spiritual experience: I caught a long, smooth swell, feeling the awesome sensation of being totally buoyant. In that moment I connected to the depth and breadth of all the water that was. Everything in Puget Sound, including the land, the distant islands, the sea creatures, and myself, became as One, joined by the living sea. Despite my attempts at catching one wave after another, hoping to make it happen again, the experience never repeated itself—it had been a singular gift.

My brother and I were little sun-worshipers and spent every day that we could from noon to five playing, sunning, and swimming at Alkai beach in West Seattle, soaking up enough sunlight to last us through another winter. We didn't know then that the iodine in seaweed helps to keep the thyroid gland functioning well, hence, maintaining the body's inner heat. I was always cold and probably would have benefited from seaweed, if my parents could have gotten me to eat it!

Most days the sand was littered with tangled heaps of snake-like bull kelp and other unknown types of slippery stuff. Some of the seaweed looked like octopus arms, covered with bumps. The smell of drying seaweed was a part of beach life, and we had fun popping the little bubbles of trapped water in the "tentacles", enjoying the noise—much like popping bubble wrap.

I'll always remember that moment of heightened awareness when I experienced for the first time how the oceans connect us all, with water and consciousness flowing around the world, embracing the family of man.

As a tribute to the billions of souls who deeply love life, and a dedication to the many people recently lost in the devastation in Myanmar, my heart wishes to share with you, "
Namaste, the spirit in me honors the spirit in you
".
1

Keep being who you
truly
are! Keep living your truth! Be of gentle courage and help to change the world!

1
Meaning of "Namaste" by Deepak Chopra