When travelling on the ferry, or on cold days, we enjoy a warming, fortifying, filling bowl of soup. This delicately flavored, pureed soup, is a soothing blend of veggies and miso, with unusual flavor from a Moroccan seasoning. Read about our hilarious adventure with this same soup that fermented wildly in The Little Story section!

Ingredients:
Serves 2-3.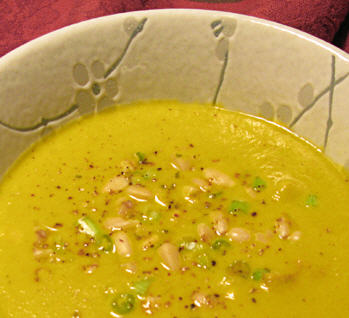 2 & 1/4 cups pure water
1 & 1/4 cup carrots, chopped
3/4 cup zucchini, chopped
1/2 cup celery, chopped
3-4 tablespoons green onions, or leeks, chopped
2 tablespoons Spectrum walnut oil
1 tablespoon
South River Azuki Bean Miso
1 tablespoon parsley, chopped
1/2 teaspoon fennel
1/4 teaspoon Himalayan salt
1 & 1/2 teaspoon
Moroccan Spice
(India Spice brand
Ras El Hanout
, classic blend: allspice, black pepper, mace, nutmeg, cardamom, gingerroot, cinnamon, turmeric, dried rosebuds, and clove)
1/4 teaspoon black pepper, freshly ground
1 small clove garlic, pressed, optional
Garnish: pine nuts, green onions, spices, pepper

Directions:
Place all ingredients (except garnishes) into blender.
Blend until creamy smooth. (A Vitamix does a fantastic job.)
Pour into cooking pot and warm to 115 degrees,
no more!
We use a cooking thermometer, but a finger will do... when it starts to feel hot, it's ready.
Pour soup into bowls, or a thermos to enjoy later in the day—but not too much later!

The story goes like this: We took the ferry to go to Bellingham for the day and made the veggie soup for the cold trip home. We were innocent then, not knowing that a thermos filled with warm soup containing miso will ferment beyond belief if left unattended for eight hours!

We enjoyed a lovely day visiting with friends, and looked forward to filling up on warm soup on the ferry ride home. As we dropped off our friend, Sally, at her house, we heard some strange noises coming from the back of the car, and were mystified to what it could be. Sally later told us she'd been hearing the sounds too, but didn't say anything.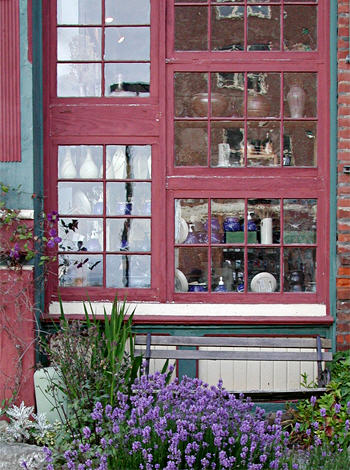 We decided to do a little last minute shopping in our favorite Fairhaven district of Bellingham before heading home. As we pulled over to park on the cobblestone street (photo of local shop near the garden store), there was a loud fizzing and sputtering sound coming from the back seat. I turned around to see what was happening and was horrified to see that soup was oozing and bubbling from the top of the thermos, and running down the sides!

I got out quickly and opened the back door to reach in to unscrew the top of the thermos. As I did, an explosion of projectile soup sprayed all over the back seat, the top of the car, the windows, even my clothes! It took us both a few seconds to figure out how we could clean up the mess, and, what we were going to do with the leftover soup!

Fortunately we had some kitchen towels in the basket, and that helped with the cleanup. And since half of the soup had already exited the thermos, we figured it would be safe to reclose the lid, and leave for a little jaunt into a trendy garden store. We were only gone for 15 minutes, yet when we came back to the car, the thermos was bubbling and sputtering and spewing—again! We couldn't believe it, oh my!

Dreading another explosion, I looked up and down the street to find a place to dump the soup—there was no other solution—it was fermenting wildly. I spotted a huge pampas grass plant set back from the sidewalk next to the garden store, and, thank goodness, nobody was around. Grabbing that moment of opportunity, I got out, holding the sputtering thermos as far away from myself as possible, dashed to the bush where I poured the remaining soup into the earth, muttered a blessing, thanking the plant for receiving the soup, and hoped that it wouldn't do any harm.

To this day we've never again underestimated the powerful fermenting properties of South River Azuki Bean Miso! Be warned—don't' leave your soup in the thermos longer than 4-6 hours, or you'll have a story to tell
your
friends!