An Arctic blast of cold weather is coming our way, and my intuition's been telling me that we'd best stock up on greens. I was wondering about that when an email came late at night from our friend and neighbor, Bequin, asking if we could use some assorted greens from her garden. Yes, yes, thank you, we said!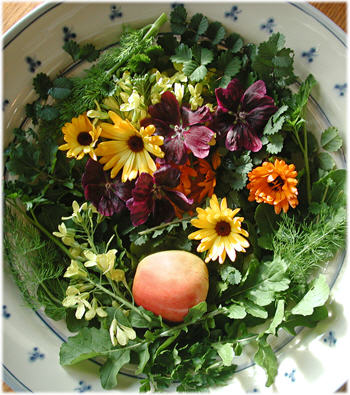 Looking at this photo it's hard to believe that this salad from Bequin's garden came from an amazing December harvest of edible flowers—yellow and orange calendula, deep magenta mallow, and yellow kale—along with greens of arugula, feathery fennel, fernlike burnet, spicy parsley, and a sweet baby apple from her tree.

Unless you have your own garden, it may not be possible to find the same ingredients to duplicate this salad, but whatever kind you decide to make, you can serve it with this luscious and rich avocado dressing:
Recipe for Avocado Dressing
Ingredients:
1 large Hass avocado
1/2 cup pure water
2 green onions
2 tablespoons raw apple cider vinegar
2 tablespoons Spectrum walnut oil
2 teaspoons raw agave nectar (optional)
2 teaspoons fines herbs blend
Real Salt (or Celtic, or Himalayan) to taste

Directions:
Rinse and peel avocado. Remove seed.
Slice and put into food processor.
Rinse green onions, removing any wilted parts.
Cut into large pieces and put into food processor.
Add apple cider vinegar, agave, oil, fines herbs, and salt.
Run machine until ingredients are smooth and creamy.
For a thinner dressing, add a little bit more water.

A Little Story: Feeding Our Friends

The day that Bequin brought the food over was one of those days when we hadn't cleaned the kitchen, and it was a royal mess—three days deep from food preparation. We just hadn't had the energy to deal with it—life had been pulling on our heartstrings strongly for days, with a dear friend who was dying, and an beloved uncle in his final weeks.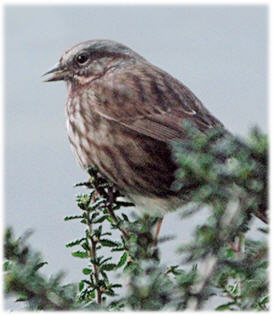 Now Bequin's food was filling our kitchen and dining room with radiant colors! I couldn't resist pushing everything aside to make room on the countertop so that I could make an arrangement of the flowers, greens, and fruit, in the big bowl that our son, Sam, gave us many years ago at Christmas. The food itself seemed like an artform, utter perfection, and it called to me to display its beauty for all to see. As I laid out the salad, one leaf or flower at a time, Bequin, Rex and I chatted about raw food, and how wonderful it is to live as we do, making choices every day for health.

One good gift deserves another, and like the food that Bequin gave to us, we extend this to our feathered friends. A little brown bird that may be a sparrow, comes to our window many days, singing her heart out for some sunflower seeds. If I haven't put anything out for her by ten in the morning, she lets me know!

After patiently waiting for her arrival today, I was able to snap this photo of her through our kitchen window, and it shows her singing!

I sprinkle a few seeds on the sill for her to eat, and put some under the bush she perches on before hopping to the window for treats. Often, she loves singing more than the food, and drops the seed that's just been secured in her beak, as she begins to cheep and trill her joyful songs.

Later I saw another little bird nestled into the bush, and as we watched each other, it was as if I could see its soul. A feeling of pure trust penetrated deep into my heart, and helped to ease my sorrow.

We can take comfort in knowing that even if the winds are howling, or the snow is falling, or when dear loved ones are leaving this earth, we'll put out sunflower seeds for the sparrow and juncos, or bring gifts of food to each other, sharing the bounty of life.

And Rex and I will be eating flowers and greens, bright rainbow colors to fill our bodies with beauty and living food, reminding us with every bite how we nourish each other with goodness, sustenance, and above all, with love.