Almond Flatbread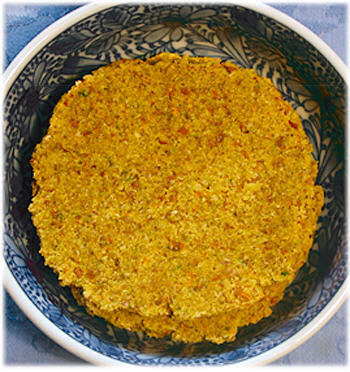 Makes about 10 flatbreads, each about five inches across, and no more than 1/4 inch thick. You will need a dehydrator for this recipe. The breads can be taken out after a few hours, and will be soft and warm. Otherwise, leave them in longer for a more flakier bread. Either way they are delicious!
Note:
If you don't have a dehydrator, the recipe can be used as a pate served with fresh veggies. Cut recipe ingredients in half, and add lots of herbs or spices—see the end of "A Little Story"—for tantalizing ideas for seasonings.
Ingredients: Serves 2
1 1/4 cup soaked almonds - directions follow
3/4 cup loosely chopped carrots
1/4 cup hemp seed nuts
3-4 tablespoons chopped green onions
2 tablespoons raw tahini
1 large tablespoon sweet miso
1 tablespoon chia seeds, finely ground (makes breads more flexible)
1/2 teaspoon Himalayan salt (if your miso is salty, you may not need salt)
1/4 teaspoon black pepper
Directions: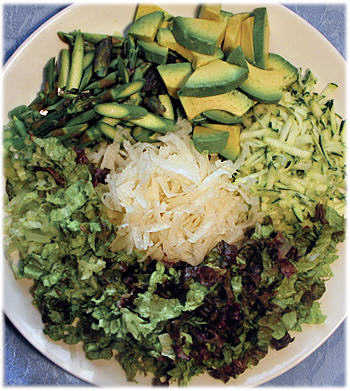 Soak 1 cup of raw almonds, covered with 3 cups water, overnight.
In morning, drain water, rinse.
Prepare veggies.
Put all ingredients through juicer, twice. A Champion or Green Star will work well, using the "blank" attachment.
Note: If you don't have a juicer, use a food processor. Process in batches, running machine until ingredients are as smooth as possible.
Take about two tablespoons of the mix and roll between palms to form a ball.
Place ball on dehydrator's Teflex sheet.
Press ball down. Pat with fingers, flattening until they are desired size.
Repeat flattening process for remaining balls.
Put flatbreads into dehydrator with temperature set for 105
degrees.
After two hours, turn breads over, drying on a mesh sheet. Dry for two more hours, or longer, for a crisper bread.

Aromatic Miso Dressing
2 tablespoons South River Azuki soy-free miso
1 and 1/2 tablespoons water
1 tablespoon sweet oil, such as Spectrum walnut
1 tablespoon agave nectar
1 and 1/2 tablespoons balsamic vinegar
1/4 teaspoon Chinese 5 Spice powder (MSG-free!). Or 1/4 teaspoon anise powder
1 clove garlic, peeled, and pressed
Directions:
Put all ingredients into bowl. Whisk until velvety smooth.

A Little Story: Living Without Wheat

I once had a dream where I was shown a large revolving drum. Various veggies were dropped in, like broccoli and cauliflower, and as they flipped and tumbled, with little smiles on their faces (no kidding) they were shining, bright, happy, and bursting with sparkling colors. Then I watched as a hand dropped in a piece of bread and the color dimmed just a little. More pieces of bread were added one by one, and soon the veggies got considerably duller until they looked like brown sludge. I was appalled. Surely this was a message for me to stop eating bread. I did notice that whenever I had any I would feel heavier—but that didn't seem to stop me completely!

That dream came in 1972—needless to say, attachments can run deep! Even so, if anyone would ever have told us that both Rex and I were allergic to wheat, we probably wouldn't have believed it since wheat formed the basis for much of our daily fare. But five years ago it happened to Rex—he was told flat out in a dream that he was allergic to wheat!

Although we still had an occasional piece of bread, we lived with the consequences. When we started to eat a lot of raw food, we really missed sandwiches, particularly avocado and tomato with lots of good things piled on top, like cheese, sprouts, and salsa.

We were thrilled when we came up with our own recipe to make "bread" from nuts, seeds, and a few veggies, and to find that the flatbreads held together considerably well. Granted, these weren't in the same league with sourdough or olive bread, but our new version was a runner up—and in its own right was every bit as delicious. And we were free to drizzle on as much olive oil as we wanted, adding garlic and chopped olives on top. With this new recipe we were back in the "bread zone" but without having any of the unpleasant side effects—swelling (as in hives), face breakouts, brain fog, tiredness, or digestive problems.

Try all kinds of yummy raw toppings with the flatbreads: grated jicima or carrots, sliced asparagus, avocado, shredded zucchini, finely chopped celery or cucumbers, freshly sliced tomatoes or rehydrated and chopped sundried tomatoes, finely sliced lettuce or spinach, alfalfa sprouts, pickles, thinly sliced marinated onions, olives, seed cheese, salsa, a dash of fresh lemon juice, stoneground mustard, or garlic oil!

Tip the flavors towards any of the following: Herbs, fresh if possible—basil, chives, rosemary, thyme, dill, tarragon, or oregano; Eastern—try garam masala, Chinese 5 Spice (make sure it's MSG-free!), cardamom, or coriander; Mexican—experiment with cilantro, cayenne, chipotle, or other hot chilies, and so forth.

This is playful food. Have fun, and enjoy!