We like to make at least one new pie a year, and our frozen banana nutmeg pie is now added to our collection of easy to make fruit pies with fail proof nut crust. This pie has an eggnog-like flavor, and it can be whipped up in about ten minutes—a big plus. Make sure you leave several hours for it to freeze. It holds together so beautifully that it can be cut into thin slivers for those wanting to keep their weight in check, or their glycemic count low, yet still indulge in a little taste of deliciousness.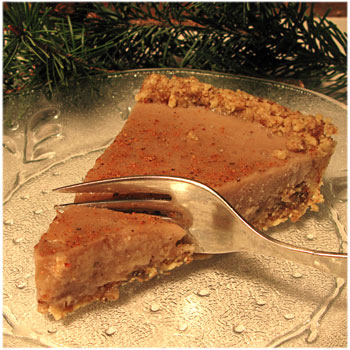 Ingredients: Makes one 9 inch pie
Filling
3 and 1/2 to 4 cups ripe bananas, sliced (about 4-5 bananas, depending on size)
1/2-3/4 teaspoon nutmeg

Crust
1/2 cup walnuts
1/2 cup cashews
1/2 cup pecans
3 Medjool dates, pitted
1 tablespoon honey
1/4 teaspoon Himalayan salt

Directions
We suggest making this pie once before serving it to company so you can see how your freezer works, and determine the amount of freezing time you like the best.

Put nuts, dates, honey, and salt into food processor and pulse to desired texture. Press into a 9 inch pie plate.
Peel bananas and slice. Put into blender or VitaMix with nutmeg. Blend until very creamy and smooth.
Pour into nut crust. Sprinkle with a little additional nutmeg.
Set in freezer for about 3-4 hours. Our freezer temperature gauge is set to 4. When the pie is left in the freezer overnight, the flavors are not as strong. Defrost for 15 minutes after longer freezing before serving to bring flavors back up, and to soften a little, making it easier to slice.
Slice and serve with a demitasse of tea, such as Yogi brand Lemon and Ginger Green tea, or with fresh sliced ginger root and cinnamon.

Optional Cashew Cream Topping:
1/4 cup cashews, 1/4 cup + 2 tablespoons pure water, and 1 date. Blend until creamy. Spoon a little on top of pie at the table.

When I was a little girl, my family would go out into the wilds of Washington State to find the perfect tree for Christmas. We would always find a tree that looked beautiful to me, my brother, and Mom, growing close to where we parked the car on the side of a deserted road. But Dad was on the hunt for something special. I would trudge with him into the woods, climbing across fallen logs, navigating through huge ferns and salal bushes. My short legs were barely able to keep up with his big strides, and breathing in the cold frosty air made me think I'd freeze, but I never did.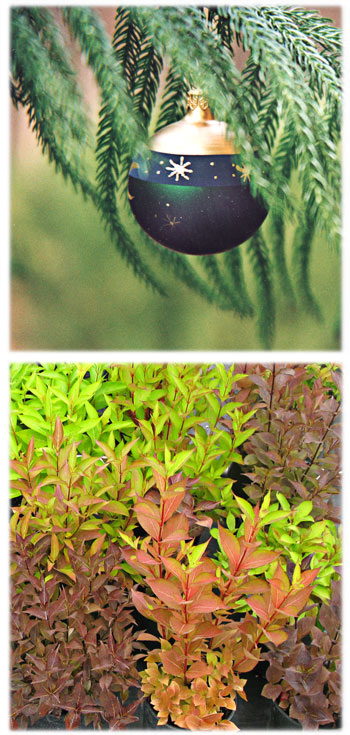 He would search until he found the tree he'd envisioned, and of course, it was always perfect. And of course, it was always too big for the house. So it had to be trimmed down, and the extra branches were placed above the doors, windows, and on the mantle of the fireplace. Then that aroma would start to fill every nook and cranny. We would decorate the tree, and one year I made a little paper airplane and pretended I was flying in a spaceship around the blue, green, red, and gold "planet" lights. All the while breathing in that heavenly scent that made me feel things I couldn't explain.

For the last ten years, we've rarely had a cut tree. Norfolk pines, which we used to grow until they became too big for the house, made lovely indoor holiday trees. And here on the island we find many branches that have fallen during storms which we gather and use for decorations. We also have a very small artificial tree that looks convincingly real, but it doesn't have that awesome smell.

Tree growing is a big part of our family. Our son Sam, and his wife, Sarah, have been involved in the tree growing business for the last fifteen years. Over this time, Sam has helped his company, J. Frank Schmidt & Son, Co., to grow and ship over
50 million
bare root trees, working in various positions of farm manager, research horticulturalist, and production. Sarah has single handedly managed an experimental tree farm,
Landscape Plant Development Center
, a national non-profit research institute founded by Dr. Harold Pellett, dedicated to developing durable plants. She works to find ways to make the trees stronger and more resilient to insects and weather conditions for the entire United States. Their combined dedication to working in the environmental field inspires us deeply. (Photo right: Christmas ball on Norfolk pine, and containers of experimental trees at LPDC.)

A couple of years ago on The Healing Feast we mentioned that the
Arbor Day Foundation
promises to plant a tree when we make purchases through them online. Lovely botanical images are one such gift that we've enjoyed in their
Give-A-Tree-Card
section—each card ensures that a tree is planted in honor of the recipient.

From my earliest childhood on, trees have found their way into my heart. I am deeply happy when smelling the scent of fir and pine. Forests nourish my soul in winter and in summer, when resins rise to the air and are carried on the winds. Trees, the breath of life for man, are to us sacred and eternal bearers of beauty, healing energy, and deep peace.