If you were going to bring a gift to a temple, or a sanctuary, what would you bring? My first impulse would be to bring fresh fruit and flowers. Many believe that the body is a temple for Soul. We agree, and often ask, how do we treat our body, how to we tend to its needs, how do we make a nest for Soul?
Our thoughts, emotions, and actions are important. What we put into our bodies makes a difference. Whole food, bursting with life, helps to create a healthful glow: the lightness of natural living foods, fresh juices, water, sunshine, deep breathing and laughter, bring purification so that the emotions and mind do not have to work so hard to maintain balance.
Fresh Fruit Salads: Here are some simple salad recipes using ingredients that are normally available, seasonally, throughout the year. There are so many more fruits than what are being suggested here, so use these as guides. Any of these fruits can become a stand-alone meal. These salads are refreshing, delicious, purifying, and make a delightful breakfast, simple meal, or late-night snack.
Vary amounts to serve one person, or to feed family and friends. Buy organic fruits (or pick fresh locally), wash under cool running water, peel if necessary, cut into chunks, put into pretty bowls. You can blend one of the fruits with a few tablespoons of water to make a delectable sauce that is poured over the salad—yummy!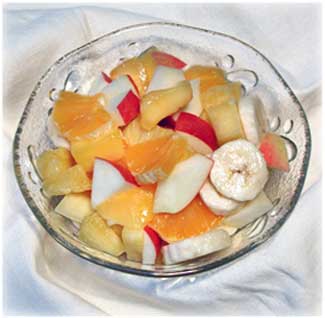 Mixed Fruit Salad
Apples
Bananas
Mangos
Pineapples
Oranges, or papaya
Shredded coconut
Lime juice squeezed over fruits
Berry Fruit Salad
Strawberries
Raspberries
Blackberries
Blueberries—use whole, or blend into sauce
Agave nectar splashed over berries
Winter Salad
Bananas
Apples
Dates—soaked for 1 hour
Dried apricots—soaked until soft
Dried figs—soaked until soft
Cashew nut cream sauce: blend raw cashews with a little water until velvety
Cinnamon or nutmeg spice sprinkled over salad
Summer Salad 1
Watermelon
Canteloupe
Honeydew melon
Summer Salad 2
Nectarines—use for a blended sauce with a little agave nectar if needed
Pears
Peaches
Apricots
Plums
Cherries