When the temperatures start to soar, there's nothing quite like a bowl of cooling, gently cleansing, fresh fruit. Right on schedule, the berries hit the markets today. We bought blueberries, strawberries, raspberries, and cherries, and made the simplest, most delectable salad just by rinsing them and placing them in a bowl. What could be an easier, lazy summertime dish? Enjoy for breakfast, a snack, or a light meal any time. Perfect for the beach, too!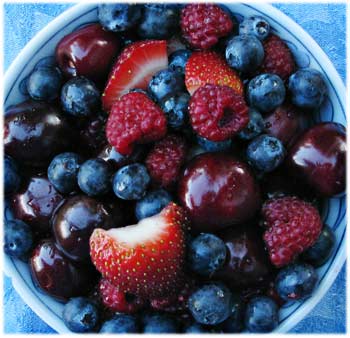 Ingredients (makes 2 cups*):
1/2 cup blueberries
1/2 cup strawberries, sliced
1/2 cup raspberries
1/2 cup cherries
*Increase the amounts of berries if desired.

Directions
Rinse berries under cool running water. Do a final rinse with pure water, and gently pat dry.
Remove green leaves from strawberries, and slice.
Leave stones in cherries, or remove if desired.
Put into bowl and add the other berries.
Gently mix, and serve.

For more ideas for fruit salads, see
Soulful Food: Fresh Fruit Salads
in the archive section.

With the coming of summer, we're spending more time out on the west side of our island, watching for orcas, munching on snacks, taking photos, writing, or taking a nap in the grass. We enjoy bringing a bit of this beauty to our readers! The day we took this photo, whales did come, but they were too far in the distance for my camera to take a good picture.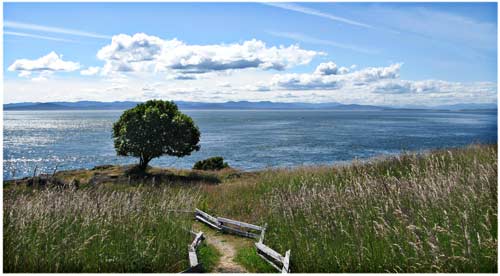 There is a spiritual quality to the west side, hard to capture in its entirely. It nourishes us on so many levels, and it's one of the reasons we live here. The beauty and scope take one's breath away—it's a stunning, 180 degree view. This photo shows just a fraction of what you would see should you visit San Juan Island. The orcas come down the channel of the Haro Strait looking for salmon or shrimp.

On the west side we are held in the embrace of nature. The air is so clean. Eagles, seagulls and shore birds soar above the cliffs that rise from these bluffs. Dall's porpoises are almost always visible, languidly swimming down the channel. They have a gentle sweetness to them, and they always lift my spirits.

If we are fortunate to arrive when the orcas are passing through, the energy amplifies dramatically. We feel it may have something to do with their high state of consciousness that impregnates the crystalline structure of the water. The whales actually change the way the water looks—it takes on a velvety quality that's more noticeable when the water is calm and smooth. We always know when orcas are near because our energy changes—we feel a heightened state of awareness and love.

Woods Hole researcher, Peter Tyack, at the
TED Conference
, talks about marine mammal sounds that are detected through deep water microphones. We can listen to a blue whale's low sound that was recorded over a distance of five hundred miles! (This part is about 11 minutes into the program.) Peter clearly shows the impact that shipping and human machine noises have on reducing the whale's ability to communicate. It can lower their range of hearing from
one thousand kilometers to ten
!

However, there is much that can be done to remedy the situation, through public awareness and by putting pressure on companies to insulate engines and propellers (which would reduce the noise by 99%), and by having shipping lanes altered slightly to avoid being in whale migration paths.

We must each find the right way in how we respond to these situations. For me, one way is to just love, and let Spirit do the healing. Another way is to support groups that I trust who are working diligently to bring relief to oil spill areas.

Water, like sound, moves with fluidity and ease. Loving our water systems—even the oil spill in the Gulf—will help to impregnate the water with love.

Waters in the world are like the oceans of our minds and hearts, and rivers are like the blood that runs through our veins.

And all of this reminds me of the lyrics from a Beatles song that shows our interconnectedness: "
I am he as you are he as you are me and we are all together
." Whether man or animal or plant, we truly are coexisting together.