Enjoy this delicious gazpacho-like salsa—it's thick, filling, and chunky, and is eaten as a whole meal. To make, use the sweetest, ripest tomatoes, celery, zucchini, oil cured sundried tomatoes, garlic, and green onions. Serve with a side of avocado, or mash the avocado and add garlic, lime juice, and hot peppers or cayenne—then place a dollop on top for an added fiery kick.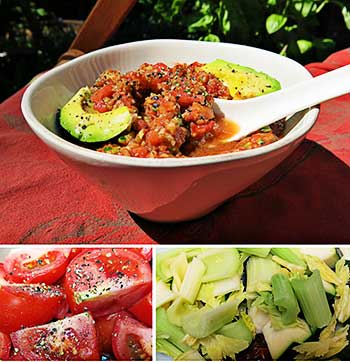 You can also use Gazpacho Salsa as a dip for crudités or crackers, or spoon on top of your favorite salads. Another idea: blend it up to make a smooth, thick bisque to heat up or chill, whichever feels right.

Ingredients: Serves 2
1 1/4 cups zucchini, loosely chopped
1 cup celery, loosely chopped
5 medium sized tomatoes, quartered
12 oil cured sundried tomatoes (we like
Jeff's Naturals
)
6 tablespoons green onions, thinly sliced
1 clove garlic
1/4 teaspoon freshly cracked black pepper
1/8-1/4 teaspoon Himalayan salt
Tiny shake of cayenne
Garnish: avocado slices

Directions
Quarter tomatoes and set aside.
Chop celery, zucchini, and green onions. Peel skin off garlic clove.
Place zucchini, celery, sundried tomatoes, green onions, pepper, cayenne, and salt into food processor.
Press garlic clove directly into food processor.
Pulse to a very chunky texture.
Now add in the fresh tomatoes, and pulse to desired texture. Go easy with just a few pulses at a time, as it can quickly become more like a sauce!
Serve with avocado slices.
Grind fresh black pepper on top.
I was blessed to have inherited a love of creative cooking from my father, as this was one of his passions. He was always trying out new recipes and had every kitchen gadget imaginable! As a child I was happiest in the kitchen, and I couldn't wait until I was allowed to chop up fresh produce. I have a vivid memory of cutting carrots for the very first time in our little bungalow house overlooking Puget Sound and the Olympic Mountains, in Washington state where I grew up. I knew I was utterly capable of holding the knife carefully and that I wouldn't hurt myself, although my mother watched with a careful eye.
Being in the kitchen brings me much joy and satisfaction. And knowing exactly what is going into our bodies is a relief too, especially with the food industry being what it is. Everything for us is organic, fresh, and as local as possible!
Honestly, I can't get enough of the colors of fruits, veggies, and greens. They make my heart sing every day just looking at their beauty—and foods in their natural state give me ideas that bring forth new and delicious recipes that nourish us on so many levels. And it's such a pleasure to serve live food dishes to friends who come for dinner—to hear them exclaim how beautiful everything looks, and to hear their comments on how they feel as the raw food energy and the love that went into the preparation floods their bodies and being.
Rex and I deeply appreciate the tremendous impact that live food brings, and this inspires me every day to make each meal count so that we may enjoy the healing balm of vital foods. This fills me with joy, and our kitchen hums and vibrates with gratitude for all the gifts we are given each and every day.