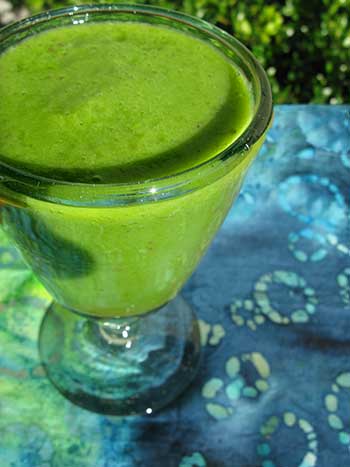 Beautiful emerald green smoothies are luscious, tasty, and so easy to drink and digest. They're fun to make and simple to create all kinds of variations using your favorite greens and fruits for nutritious, light meals or snacks. We often drink green smoothies throughout the day, and enjoy a steady level of energy and clarity of mind.

We recently discovered the delights of baby kale from watching a Youtube by Paul Risse, founder of
Cleanse America
, who was using it for his green smoothies. Our local grocery store carries it and we began to use it too. It tastes really mild, much more so than fully grown kale, and it makes a wonderful addition to our daily intake of greens.

Ingredients: Makes about 2 quarts
Adjust the amounts of fruits and greens to fit your body's needs.

3 cups pure water
3 cups baby kale, or spinach, or your favorite greens
2-3 bananas, depending on size
1 cup mango, peeled and cut off pit
1 peach, pitted

Optional Ingredients: choose one
2-3 tablespoons hemp seeds (for Omega 3's)
1/2 small Hass avocado, for some easy to digest fats

Directions
Put all ingredients into blender or Vitamix, and blend until creamy smooth.
Refrigerate any leftovers to drink later in the day.

Click Here
for more Smoothie recipes!
Rex and I continue to reap the benefits of eating, blending, and juicing fresh fruits, greens, and veggies. The high vibrations of these foods resonate deeply within our bodies. We notice positive results immediately as palpable energy surges through.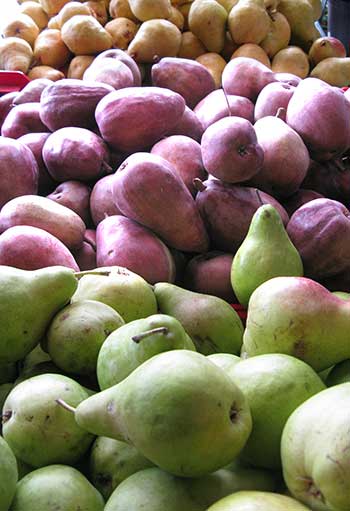 Because of
Victoria Boutenko
, author and visionary, as well as her children, Sergei and Valya, millions of people in the world now know about the amazing health benefits of green smoothies. We drank them for years, then cycled off for awhile. After our juice fast they've become a mainstay in our diet. We love them because they're nutritious, filling, hydrating, and gently cleansing.

If you're new to raw foods, green smoothies are a simple and easy way to proceed with taking in more living foods and liquid nutrition. Their ease of digestion ensures that vital, living elements are absorbed into the body with little effort, and that wastes are also eliminated, which helps to reduce the amount of toxic buildup. One green smoothie and a salad a day brings the raw food intake up to 60-70%. It's that easy to include raw foods into the diet! The remaining amount of food eaten is determined by each person's needs for more raw or cooked foods.

The body will tell us so much if we listen. Staying open to receiving information from within our being or from outside sources will greatly assist in the intuitive process of choosing and enjoying just the right foods. Rex and I look for what lights up before our eyes, foods that are wholesome and desirable, foods that the body reaches for that we know will bring a feeling of well being.

There's a place within each of us that longs to evolve to higher states of consciousness and being, and this place can be found. This is a process of being mindful of the practice of intuitive eating and living that can foster the kind of life our dreams are made of!