Winter gardening couldn't get any easier than growing sprouts in the kitchen. A twice daily watering brings the miracle of growth into our home with the freshest ingredients we'd ever want to eat, and the sprouting jars take up so little room. (We've designated about a foot of space on the kitchen counter.) We enjoy making hearty winter salads with layers of greens and sprouts, and other tasty veggies, with our favorite dressings drizzled on top. Right now we're crazy for iron-rich green leaf lettuce. It's crisp and holds up well for making salads or wraps.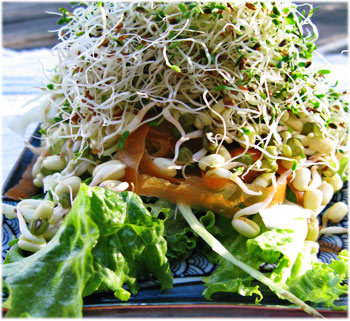 Ingredients: Makes 2 big salads, or 4 side salads
4 cups favorite greens, chopped or torn
1/2 cup cabbage super finely sliced
1/2 avocado, peeled, pitted, and sliced
1/4 cup mung bean sprouts
1/4 cup alfalfa sprouts, or alfalfa/clover/broccoli mix
1/4 cup carrot ribbons
1/4 cup celery, chopped
4 tablespoons green onion, finely sliced
4 tablespoons raisins, optional
2 tablespoons hemp seeds, or a small handful of walnuts
Bubbies pickle for garnish, chopped or sliced, optional

Directions
Soak 2 tablespoons alfalfa seeds (or your favorite alfalfa seed mix) in a 1 quart jar filled with pure water for 8-10 hours.
In a 2nd 1 quart jar, put in 1/2 cup mung beans, and fill jar with pure water. Soak for 8-10 hours.
Secure sprouting lids on jars, drain soaking water. Fill jar with pure water to rinse, and drain again.
Set jars on counter upside down. (Since we started doing this, our sprouts have come out beautifully.)
Rinse and drain twice daily until sprouts are ready. (Feel free to water sprouts more often if intuition nudges you to do so.)
Mung beans will take 3-5 days, and alfalfa will take up to 7 days.
Place alfalfa in sun for the last 2-3 days to increase chlorophyll.
At this point, keep sprouts in fridge. Rinse and drain once a day. They will keep for a week, and will continue to grow.

Directions for Salad
Rinse all veggies and chop as described.
To make carrot ribbons run a veggie peeler up and down the carrot lengthwise without stopping.
To assemble salad, start with a base layer of greens, then add the carrot ribbons, celery, green onions, and then the sprouts.
Garnish with avocado slices, a sprinkle of hemp seeds, raisins, and a Bubbies pickle or one of our
raw pickles
, or one of our raw pickles.
Serve with your favorite dressing, or fresh lemon juice and oil, and a sprinkle of Himalayan salt and fresh ground pepper if desired.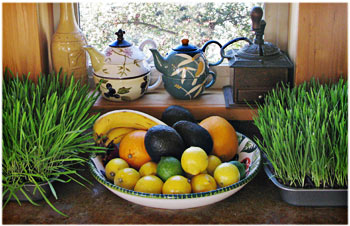 Looking for inspiration to help get over the hump of starting to grow food indoors? Check out these youtube videos of
The Wheatgrass Trucker
. He was in poor health, and began to grow sprouts and wheatgrass in his rig, and worked out an ingenious system for obtaining a continuous supply of living greens. As a result, he completely regained his health!

We first learned about how to create an indoor garden in
The Sprouting Book
by Ann Wigmore. We love growing food in the kitchen—our hearts open when we see all the nourishment our bodies will receive. It's so easy too, once the set-up has been done.

It takes about 3 minutes twice a day to grow an abundance of sprouts for all our needs. Right now our staple sprouts are buckwheat for porridge, bread, and banana smoothies; alfalfa and mung beans for salads, juice, or sandwiches; wheat and oatgrass for juice; and barley for making bread or growing for juice. And then there's baby lettuces and sunflower greens that we want to try... the list goes on. (See the archive section under Sprouts for more sprouting ideas).

There's something deeply satisfying about growing our own food. We're doing really well with our indoor gardening, and are still evolving with our outdoor garden. Indoor gardening is easier because the growing conditions remain constant—there's no crazy weather to contend with. And harvests happen in days, or just a week. We would recommend to anyone who has limited space, time, or energy, to start a kitchen garden. The amount of effort involved is very small, and the rewards are truly great.