We just love these delicious little wraps that are great to make for a quick lunch. They're filling and fun to eat. Small leaves of Napa cabbage act like a piece of bread for the toppings of avocado, tomatoes, green onions, and a sprinkle of walnuts and raisins. Serve with this unusual orange dressing, or use your favorite.

Wraps take only minutes to assemble, and can be eaten as a whole meal, or made into a side dish to enjoy with additional foods like soup, or transitional steamed veggies. See more ideas for wraps in the archive section.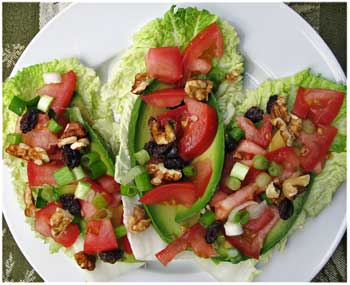 Ingredients: (Serves 2)
4 leaves Napa Cabbage, approximately 5 inches long
1 ripe tomato, sliced or chopped
1 small Hass avocado, or 1/2 large, sliced
Handful of raisins and walnuts
Green onion to taste, finely chopped
Himalayan salt and fresh ground black pepper to taste

Directions
Remove leaves from head of Napa cabbage. Rinse and pat dry.
Rinse tomato. Slice in half. Slice again, or chop.
Peel skin and remove pit from avocado, and slice.
Finely slice green onions.
Assemble by layering: start with avocado, add the tomato, then top with green onions, walnuts, and raisins, and a sprinkle of salt and pepper.
Spoon on dressing.

Orange Dressing
Juice of 1 naval orange
4 tablespoons favorite oil
Combine orange juice and oil in a bowl. Whisk until velvety smooth.

We can't think of a better way to honor the beauty and essence of our planet for Earth Day, as well as the spirit of Gaia, than by sharing this video "
Spiritual Reminders Through Visual Experience
", made by our friends Denise Thomasin and Armando Nunes from Orcas Island. (Be sure to disengage the Enya music at the very bottom of the page so that you can enjoy the full healing power of the music by Lisa Gerrard and Hans Zimmer, with their song, "Now We Are Free".)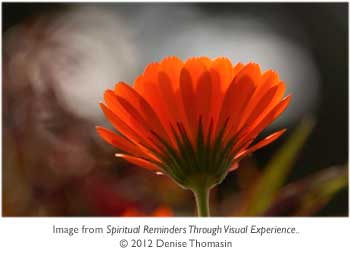 When I first started to watch this video, I cried and cried. It hit so many chords within me, and I watched it every day for a couple of weeks during a very difficult time. Thanks Denise and Armando, for making this beautiful gift that you are sharing with the world from the Lalima Love website.

We're also very excited about our new juicer, a Hurom, and we just love it! We'd given up on the Green Star juicer—it was so hard to use and to clean. Because the Hurom is easy to use and clean, and it makes the most delicious juice, we're really enjoying our juicing experiences. Plus it's quiet... no ear splitting noise to contend with, like with the Vitamix blender.

As we were getting closer to buying a new juicer, we were looking into a Breville. They're amazingly fast, but also quite loud, and we'd heard it didn't juice greens that well. Since greens are a huge part of our juicing needs, "something" kept us looking. Wouldn't you know, Rex found these engaging
YouTube videos
(Part One and Two) made by raw food chef, Kristin. She goes into detail about the pluses and minuses of the Green Star, Breville, and the Hurom (which we'd never even heard of), and based on what we saw and heard her say, we had our answer. Thanks Kristin for helping us out so much! We're thrilled with the new juicer.

The Hurom is gentle on the produce, the pulp comes out dry, and the machine handles soft fruits like oranges, tomatoes, grapes, and pineapples just as beautifully as it does greens, cucumbers, carrots, ginger, apples, radishes, beets, and so on. And, it will juice wheat grass! This is a definite plus, and we're going to be juicing our first batch that's been growing in a few days.

Our weeks have been saturated with beauty and grace from Denise's site, Lalima Love, and our bodies are being saturated with ultra-nutrition from the juices. For these gifts and so many more, we're incredibly grateful. Both of these experiences demonstrate the principle that when you truly need something, the universe brings it to you in the most loving and timely way, to heal, to nourish, to inspire, and to help us grow.