We're taking advantage of living on the mainland, with lovely papaya and fresh summer figs. These sweet fruits make a delicious complement to any salad. The day we ate this, I used lettuce, celery, and a little bit of green and red cabbage. (These ingredients could easily be changed.) The sweetness of the fruit, and the salty crunchiness of the celery, creates a lovely balance to the bitterness in the greens and stronger flavors of cabbage.

Ingredients: Serves 2-4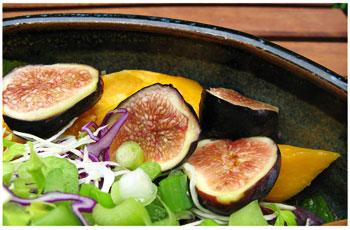 4 cups mixed salad greens in any amounts (lettuce, spinach, cabbage, prepared spring green mixes from grocery store, etc.)
1/4 cup celery, sliced
3 or 4 ripe figs
1/4 ripe papaya, seeds removed, peeled, and sliced
2-4 tablespoons green onions, finely chopped
Garnish: a sprinkle of cashews

Directions:
Rinse all greens, veggies, and fruit. Prepare as directed.
Assemble with greens first, then add celery and green onions.
Slice fruits and put on top, or on the side, as shown.
Serve with your favorite dressing, or a little oil and fresh orange juice squeezed on top.

I think everything we've been writing about, all the recipes and stories that we've done over the last four years, can be condensed into these opening lines from my book,
Temple Food
.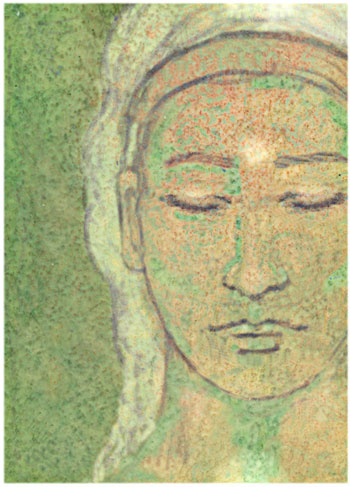 "To seek and find the perfect diet is to know oneself! This search is an exploration of the deepest roots in the garden of our being. Food. Love. Life. Such small words with enormous implications, applications, and practices—words that are often intertwined and synonymous with how they make us feel."


Food preparation is a key experience for me, because it calls forth so many elements of my being: Listening, watching the process (mindfulness), intuition, love, service, sharing, beauty in the food and beauty in that which is created, and an awe for the gifts of life.

We'll close this week with a poem and image from the book.

Preparation
Hidden secrets: the food is whispering to us,
imparting its wisdom, sharing its song.
Can you hear it?
Are you listening to the messages it brings?
This is just the beginning.
There is so much to discover.
It's not just about the energy,
or nutrients inherent in the structure of the food —
it's the story about that which once lived, grew,
and was harvested.
This silent information is what enters into us.
And through the mystical union
of one's life essence merging with another,
the food in all its beauty becomes a part of us.