Two of our favorite recipes combine to make something new—Patties Nouveau. Our pumpkin seed patties join with buckwheat bread, and the result is a yummy little pattie that's more bread-like than plain pumpkin seed patties. Tantalize your tastebuds with a tamarind-miso dressing. Enjoy patties with a salad or in a wrap. Great for special occasions.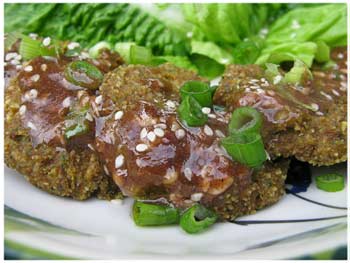 Ingredients (Makes 2 dozen 2 inch patties)
1 & 1/2 cups sprouted buckwheat (2 days)
1 cup pumpkin seeds, soaked
3/4 cup carrots, chopped
1/4 cup leeks, chopped
1/4 cup parsley, loosely chopped
3 tablespoons walnuts, chopped
2-3 tablespoons fresh lemon juice
2 tablespoons fresh sage leaves, finely chopped
2 tablespoons
South River Azuki Bean Miso
2 tablespoons Spectrum walnut oil
1 & 1/2 teaspoons garam masala
1/2 teaspoon Himalayan salt
1/4 teaspoon black pepper, or a few shakes cayenne
1 clove garlic

Directions:
Start by soaking 1/2 to 3/4 cup dry buckwheat in 4 cups of water for 6-10 hours. Drain through a strainer (a must!). Rinse and drain twice daily. After draining, cover with plastic bag. Ready when tails are 1/4" to 3/4".
This usually takes two days, so you'll want to plan when you're going to want to eat them. Example: to eat for dinner on Sunday night, start soaking on Friday night.
Soak pumpkin seeds for 2-4 hours.
Put all ingredients into food processor, and process until smooth. Add walnuts at very end, for a bit on crunch.
Spoon small dollops of pattie mix onto Teflex dehydrator sheet, shaping as you go.
Dehydrate at 105-115 degrees for 3-4 hours, flipping tray over after the first 2 hours.

Tamarind Miso Dressing:
the tangy spicy flavors complement the patties beautifully! Definitely worth the effort.
6 tablespoons water
4 tablespoons Spectrum walnut oil, or sweet olive oil
2-3 tablespoons tamarind paste (Panda brand)
2 tablespoons South River Azuki Bean Miso, or your favorite
2 tablespoons green onions, super finely sliced
1 tablespoon balsamic vinegar
1 tablespoon honey
1 tablespoon sesame seeds
1 & 1/2 teaspoons Chinese Five Spice mix
1 clove garlic
Soak tamarind paste in water for 15 minutes. Mix to make a sauce. Strain through sieve to remove pulp, or seeds. Mix in remaining ingredients by hand, using a whisk. Drizzle over patties and greens.

We've gotten into a new rhythm: a protein rich smoothie for breakfast, a super-food drink mid morning, and a big salad for lunch. In the afternoons we have fresh juice, and dinner is usually fresh fruit or a blended soup. Sometimes we want something more hearty, like Patties Nouveau. Because of the daily routine, shopping has become easier, our time in the kitchen is less, and we hardly have to think about what we're going to eat.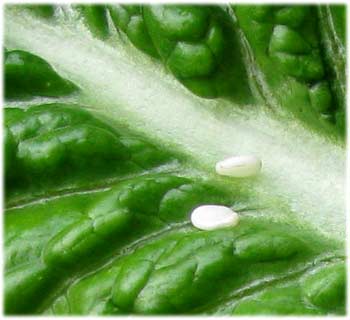 Take our basic lunch salad: If it were a song, the strong and steady base note would be the greens—lettuces, cabbage, collards, spinach, or mixed spring greens. The main melody comes from the other ingredients that rotate with what's on hand, or what we're most drawn to: avocado, carrots, celery, sprouts, paté, green onions, herbs, zucchini, tomatoes, arame seaweed, apples, leeks, tahini, and so forth.

Then there's the dressing—bright and sassy—clearly representing the backup singers! The dressing provides variety and spice, and embraces the whole salad and brings it to a level where it's like one big beautiful song.

If we were to have only one salad a week that we loved, we might wish to make it the same way each time to always enjoy that one taste. When we eat a big salad every day, it involves a creative process as we explore many new frequencies, vibrations, sounds, and colors in the food, combining different ingredients to bring unexpected tastes and flavors.

By keeping the intuitive fires burning, we discover endless variations on a theme, like the one we just invented with Patties Nouveau. These simple, day-to-day pleasures reside in the realm of kitchen yoga where the discovery of a new melody, a new recipe, brings delight, health, and harmony, into our lives.