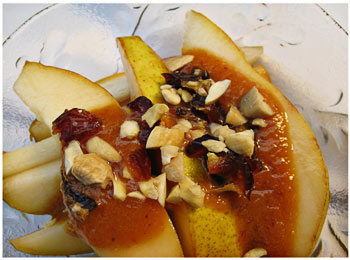 Bartlett pears are back in season, and nectarines are still to be enjoyed. We teamed these two juicy fruits together, putting a little spin on the presentation by making a luscious sauce from the nectarines that was spooned on top of the pears. Garnish with some finely chopped dates and nuts to create a delightful light lunch or dessert that's made in just a few minutes.

Ingredients (Serves 2-4)
2 pears
2 nectarines
2 Medjool dates
2 tablespoons cashews

Directions
Rinse pears and nectarines under cool running water. Pat dry.
Remove core and stem from pears, slice, and arrange in bowl.
Cut nectarines in half, remove pits, chop, and put into blender or food processor with one of the dates, blending until smooth.
Spoon sauce over pears.
Finely chop nuts and the remaining date, and sprinkle on top.

Looking back over the last twelve years since we started to eat raw foods, it's hard to believe all the changes that have taken place. When we first began it was a way to help us get over chemical sensitivities, hormonal problems, the beginning stages of arthritis, and weight gain. We never thought we'd become "raw fooders", yet we did.

Six years ago we wanted the raw food meals to follow the same patterns that we had in our cooked food days. This meant a three course meal for dinner. If we didn't have a salad, an entree, bread of some kind, followed by an evening dessert, we felt deprived! Now, years later, we're content if we eat some fresh fruit for a meal, and we feel great—and there's no emotional baggage getting in the way. Yet before, we would have been starving! So what's happened?

I remember the day, over five years ago, when Rex and I were sitting at the dining room table, basically saying, okay, this is it. We're just going to eat like this (mostly raw) for the next seven years—because we'd learned that the body is completely remade in this amount of time. We didn't want to start any more changes—raw food was enough of a shift, in and of itself. But changes happened without even trying. Our bodies kept letting us know.

We used to need to eat a lot of nuts to keep full. Now we eat very little. Meals have becomes much smaller, and often they are as simple as a big glass of fresh juice, or a green smoothie, which can be utterly satisfying. Before, we never sprouted seeds, or fermented foods, and now we eat a lot of sprouts, and often have small amounts of fermented foods. Our bodies have become accustomed to extracting all the nutrients they need from light, juicy, easy to digest meals. There's less salt, less oil, and less dehydrator foods.

When we first thought about going totally raw, we didn't know that we could listen so keenly to the body—it's an infallible guide. It always lets us know if the foods we're eating are working or not. It will tell us if we need extra nutrients from super foods, like bee pollen, green powders, wheat grass juice, or herbs. It will tell us if we need more water, protein, or more fresh juices. Our intuition will lead us to go on periodic cleanses, or to learn about the health benefits of a certain new food. Listening to our inner guidance, and co-creating with this process has allowed us to reclaim our health and our lives. We've taken control in the most empowering ways. For us, the raw food lifestyle is the most wonderful, pro-active, and naturally preventative way to live.

Given our past, we wonder where this process will lead us to over the next five years. We're staying open to even more changes coming in the future, because we feel that anything's possible. Yet we're grateful to be right here, right now. Getting older and getting better is an unbeatable combination: there's more wisdom from experience, and more health and vitality through super nutrition, no matter how many years go by!