I once had a crush on a boy—he came for dinner and I tried to win him over by making Mom's irresistible strawberry pie with whipping cream. Usually making pies was not my forte, but this time everything worked and he was impressed with the pie, but he didn't love me. Later I found the man of my dreams, and now, we have discovered that we can make pies that aren't cooked—scrumptious raw food pies with nut crusts and fruit fillings.
Persimmon pie is easy to make, and very pretty. The blended fruit makes a glistening, satiny, orange-colored filling which delights the eye. This pie can be a delicious, light, egg-free substitute for pumpkin pie. The no-bake, crunchy nut crust is a perfect contrast to the smooth filling. Nut crust pies are usually fail-safe for non-bakers such as myself! Raw fruit pies are delicious, nutritious, and can be eaten free from guilt!
Naturally sweet persimmons, once blended, will set up nicely. Be sure to leave a few days for the Fuyu persimmons to fully ripen (soft to the touch). The larger heart-shaped Hachiya persimmons can be very astringent and are not recommended.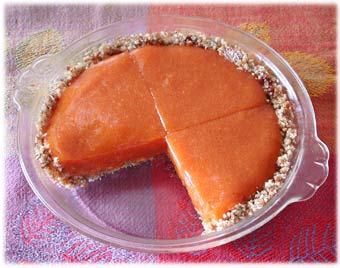 Persimmon Pie
Makes a 7 inch pie: Serves 4
Note:
It's important to make the crust first, because the persimmon filling will begin to thicken almost immediately after the fruit is blended.

1/2 cup dry, raw pecans
1/4 cup raw almonds
3 tablespoons unsweetened shredded coconut
2 Medjool dates
1/8 teaspoon sea salt or Himalayan salt
1/4 teaspoon vanilla extract, or vanilla powder
1 tablespoon agave nectar
Directions for Crust
Put all dry ingredients into blender.
Remove seeds from dates. Put in blender.
Blend until ingredients are finely ground—but not powdery.
Add the agave and blend for several seconds.
Pour into a pie plate and press into shape.
Set aside to make filling.
Filling: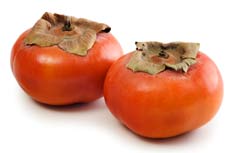 4 ripe Fuyu persimmons
1/2 teaspoon cinnamon powder
1/8 teaspoon nutmeg
Directions for Filling
Rinse persimmons, cut off the tops, and peel skins.
Slice into pieces, and remove any hard black seeds.
Put fruit in blender with spices and blend until velvety smooth—about 15 seconds.
Pour blended persimmons into crust.
Allow to set, refrigerated, for several hours.
After slicing (the filling will be on the soft side), sprinkle with additional coconut.

Adaptations For This Recipe
The Nut Crust Becomes Cookies
The ingredients for the nut crust are so good that they can be made into cookies! By adding another 1/2 (or so) tablespoon of agave nectar, the crust ingredients will hold together to form into nut-balls. These cookies taste almost like candy!
Pudding with Nutty Topping
It's fun to make this same dish using all the same ingredients, simply by putting everything together in a slightly different way. Grind the ingredients for the crust first, pour into a bowl. Blend the persimmons and spices in the blender, and pour directly into pretty dessert dishes. Sprinkle the crust ingredients over the top. (If you have any extra, make a few cookies.) Allow pudding to set for an hour.
A Little Story:
About Pies & Breaking Traditions...

It was Christmas day, 1995, in Connecticut, and our traditional vegetarian holiday dinner was supposed to be marinated baked tofu with mushroom gravy, wild rice with chestnuts, baked yams, Mom's Danish red cabbage, a big green salad, and pies.

On that particular Christmas day I didn't want to cook, and the family didn't want to help with the hours of food preparation. It occurred to me in that moment that my heart had closed, and this was hardly the appropriate mood I wanted to be in while making a celebratory dinner! I looked within to see what I really wanted to make for dinner that would keep the love flow going, and the answer came—pies.

That day I nearly danced around the kitchen for an hour or two with a heart filled with love and made three pies for dinner—pumpkin, apple, and blueberry. Since I'd discovered how to make nut crusts (normally, my whole wheat pastry flour crusts were on the heavy side), the pies went together quickly, and everyone loved them. We set the table with festive dishes, and everyone sat down to give thanks, and to devour the pies. We were all grateful, happy, and within minutes, extremely satisfied.

Without realizing it, a new custom had been set in place—one in which we were free to choose what we most enjoyed doing—even if it meant breaking time honored traditions on a special day like Christmas.

Because when all was said and done, it wasn't about the food...
it was about the love
.

We'll leave you this week with a little poem I wrote after we attended a Christmas concert in the old Congregational Church in Guilford, Connecticut, where one of our sons was part of the holiday performance.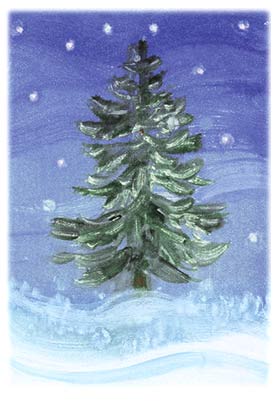 Christmas Blessing

The children are singing,
their faces glowing in the cathedral light.
Our hearts expand, the sound is everywhere
moving all around, filling me.
Eyes with wonder opened wide,
watch the children, feeling pride,
hearing beauty in the music,
golden notes of Christmas giving.
Orchestral playing floods the room,
feeling a joy impossible to contain,
from the resounding melodies of their voices.
Surely, the angels must be near.

J.L.D.