Liver cleansing beets and anti-inflammatory ginger are marinated in apple cider vinegar and pickling spices to create this zestful condiment that is tangy, spicy, and just a little bit sweet. Ginger beets make a delicious and visually stimulating component to any salad.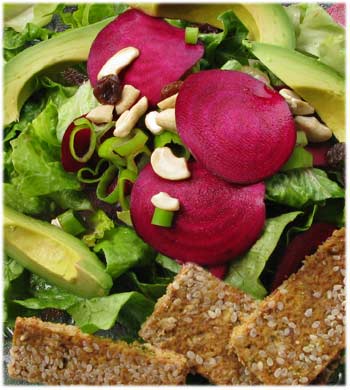 Ingredients (makes 2 cups):
1 cup pure water
1/4 cup apple cider vinegar
1 cup beets, thinly sliced
1/4 cup fresh sliced ginger root, thinly sliced
1 tablespoon pickling spice
1 teaspoon honey
1/2 teaspoon Himalayan salt

Directions
Wash and scrub beets and ginger root well.
Remove any dark spots from the beets, but leave skin on if possible.
Slice beets paper thin. A
mandoline
works beautifully for this, if available.
Tip:
I found that it was easy to slice the beets when I held them by the root which gave me more control.
Slice ginger root paper thin. If ginger is woody, use a knife because a mandoline won't work well.
Put beets and ginger into a mason jar.
Add water, vinegar, honey, salt, and spices.
Pickle for at least 2 hours before using. A whole day is much better because the flavors improve considerably.

Enjoy in salads, wraps, or for a crunchy spicy snack. Go easy if you decide to eat the ginger root—it can be very hot if you take a big bite. And woody ginger root can be quite hard to chew.

Store in the fridge for up to a week.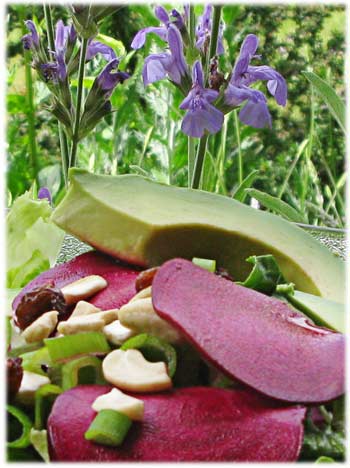 A condiment is a food that is used to complement flavors in a dish. Condiments can range from sauces, chutneys, salsas, spices, mustard, ketchup—even salt and pepper and olive oil are considered condiments. We enjoy a variety of these tasty treats every day and our pickled ginger beets are right up there.

Condiments make an everyday humdrum salad wake up and shine. Condiments keeps us interested in eating salads every day! Much like the spice of life, adding a little zing to our food makes living more enjoyable and fun.

Carry a plateful of salad outside (shown here next to our sage plants) for a quick and easy picnic. When healthful ingredients are used, they add extra layers of nutrition too, packing in more vital elements with every bite we take.

Being outside to eat is a great way to decompress, to breathe deeply while eating foods that are spirited and distinctive, delicious and healthy. This brings about a perfect resonance to strengthen and enhance the body's energy, and peace of mind.