This hearty dehydrated bread is made with sprouted pumpkin seeds, carrots, and sweet onions with a topping of mung bean sprouts, green onions, sesame seeds, and grated carrots, pressed in after the bread is formed. (The photo shows the topping as it is being spread over the dough.) The topping adds extra protein, a delicious taste and texture, and has a beauty that we greatly enjoy. It smells so good too, with a delicate flavor that reminds us of egg fo yung.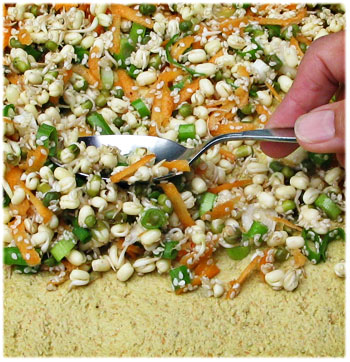 Pumpkin seed bread is a change of season food. Here on our island, temperatures have been all over the place, so there's been little consistency all summer. We remember the sixteen years we spent in Connecticut, when on Labor Day the weather would change like clockwork and become cooler. The high levels of zinc in pumpkin seeds help to strengthen the immune system.

Pumpkin seed bread is nutrient dense and complements soup or salad. Or pile on extra veggies, like a tostada, for a filling lunch or dinner.

Ingredients for Bread (Makes one 12 inch round)
1 and 1/2 cup pumpkin seeds, soaked 6-8 hours
1 cup carrots, scrubbed and sliced
1/4 cup Walla Walla, or Vidalia onions
2 tablespoons pure water
2 tablespoons Spectrum walnut oil, or mild olive oil
1/2 teaspoon Himalayan salt
1/4 teaspoon black pepper

Topping
1 cup 3 day
mung bean sprouts
(To remove hulls, fill jar to the brim with water. Many of the hulls float to the surface. Scoop these off. Repeat process several times.)
1/4 cup carrots, scrubbed and grated
4 tablespoons green onions, finely sliced
4 tablespoons sesame seeds
1 tablespoon Spectrum walnut oil, or mild olive oil
Sprinkle of Himalayan salt, and black pepper
Few shakes cayenne for extra heat, optional

Directions
Soak pumpkin seeds in a one quart mason jar filled to the top with pure water for 6-8 hours, or overnight. Drain, rinse, and drain well.
Put into food processor with carrots, onions, oil, water, salt, and pepper. Process until as smooth as possible.
Transfer to Teflex dehydrator sheet, and spread to about 1/2 inch thick.
Tip: I use wax paper, or one of the biodegradable green plastic bags that I've cut open at the ends and sides and keep just for this purpose. This is laid on top of the dough and then gently pressed by hand. The dough moves so easily this way, and it works perfectly for pressing in the topping too.
Mix the topping ingredients in a bowl. Spoon out over bread, spreading evenly. Press in with wax paper or plastic bag as described above.
Place in dehydrator and set to 110 degrees for 2 hours. Flip over and dehydrate for two hours, or until slightly dry on top.
Store leftovers in fridge.

We had a heat wave with temperatures going into the high 90's. Since this was really hot for the island, I was out in the morning giving the shrubs extra water to tide them over. During the summer I usually water the trees and shrubs on Fridays, but I knew they were going to need more. As I watered it struck me that the extra water would make a difference to them. And this reminded me that there's a big difference between surviving and thriving. The trees would survive without the water, but with it they would continue to thrive.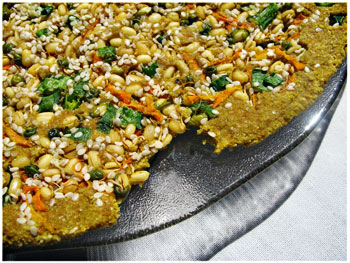 In our own lives, we can feel the difference between surviving and thriving. Sometimes during the day I notice that my body is just purring with an incredible feeling. There are enough nutrients in our diet now to support all the body's functions. Just last month I finally took off the foot brace I've been wearing for years after my foot was injured. That was a milestone. The last few things, such as stiffness, continue to heal increment by increment.

When the injury first took place I thought it would be three months tops for total healing, yet it turned into a five and a half year process. And every step, both literally and metaphorically, has brought us more knowledge, wisdom, and understanding about our health, and the difference between surviving and thriving.

We've known over the last five years that we'd need to keep raising the bar until we reached the level of thriving. Since going primarily 100% raw (after the injury), we've raised the bar again and again, thinking each time we'd be "there". Yet old problems were still hanging on. We finally got it through our heads that to be in thriving mode we'd need to be more disciplined and make sure we got juice and sprouts every day. Once this decision was made we've entered the gates of a new zone where we feel we can truly reach the levels of health we've been dreaming about.

Now we'll continue to build upon this solid foundation, each day contributing to our future where we'll live free from pain, and be filled with zestful high energy for the rest of our lives.

E-mail Glitches!
Occasionally we receive an email from someone who has signed up to receive the weekly announcements, but when we reply, their email bounces back. If you do not hear from us within a few days (I personally reply to each person who signs up), please check your email address, and try again. Thank you!