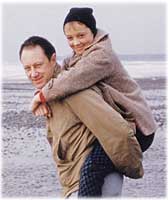 Janet about age 10, with her dad on the Washington Coast
The first time I ate an avocado I must have been seven. But this was not just any ordinary avocado. No, it was extraordinary, because my father made it so.

He stood in the large farmhouse kitchen that always smelled of wood from the blackened cookstove, and of salty air from the sea. The floor creaked when we walked across the room. Windows opened to bucolic views of the gentle inland waters of Puget Sound, a meadow, the old apple tree, and the curve of the beach that was just a walk down the path to the sea.

The light shown softly upon Dad that day. He stood, dressed in khakis or corduroy, holding something green - something very green and egg shaped, and something that he was cutting with a knife. It also looked, to me, a bit gooey. I could tell he was excited, taking one bite at a time, saying, "Mmmmm".

I asked what was that thing was that he was holding, and he replied, eyes lifting and twinkling, like he was letting me in on the biggest secret. "Would you like a taste? It's an avocado." "A what? " "An avocado." "Oh."

"You see", he said, "you hold it in your palm, after you've peeled the skin off. And then you slowly slice it off the big pit, one piece at a time, really thin. Then you sprinkle it with a bit of salt", and he did so, and popped another bite into his mouth. "Man, that's good. Want some?" I wasn't sure. "C'mon," he entreated, "it won't hurt you." His green eyes stared into my green eyes. "Okay, I'll try some."

I watched in fascination as he sliced the green thing, sprinkled some salt on for me, and then handed it to me, right off the knife. I picked the avocado piece up, put it in my mouth, felt creaminess, "greenness", and crunchy salt. I didn't know if I hated it, or loved it, but Dad definitely loved it, so I ate it, and swallowed. I was surprised that I liked the taste that lingered in my mouth. I even had another piece, just to show him that I was grown up. I was prepared then for the sensations - buttery, nutty, smooth, salty crunch, and that "green taste". Down went the second bite, and I thought to myself that I definitely liked avocado!

Every time we have an avocado, after all these years, as I slice it thin, sprinkle on the salt, my thoughts turn to memories of a little girl in a kitchen in South Colby, Washington, when her Dad shared a moment with his daughter. The love inside me grows, and the memory remains.