Here's a grain salad made with high protein sprouted quinoa that can be enjoyed completely raw (or cooked for a transition meal). The tomatoes are warmed in the dehydrator for a couple of hours. This method will make a so-so tasting tomato transform into something incredibly rich and sweet because flavors intensify during the drying time. This is great when really good tomatoes can't be found. And if you don't have any ripe tomatoes, try using a handful of sundried tomatoes, soaked to soften (if needed). Mix in raisins and cashews, and serve with a spicy curry dressing, or your favorite.

Ingredients: Serves 2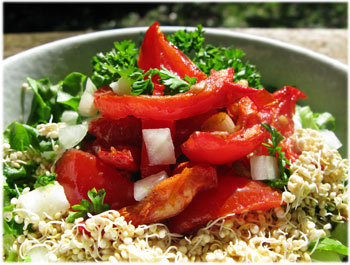 2 cups lettuce, finely sliced
1 cup sprouted quinoa (directions follow)
3 medium size tomatoes, sliced with seeds removed if they're green
4 tablespoons green onions
1 clove garlic, optional
2 tablespoons olive oil
1 tablespoon South River Azuki Bean Miso, or your favorite
handful of raisins
handful of cashews
fresh ground black pepper
sprinkle of mild white onion, finely chopped, optional
4 avocado slices for garnish

How to sprout quinoa
Soak 1/3 to 1/2 cup quinoa in a glass jar with sprouting lid, filled with pure water, for 3 hours.
Drain water, rinse, and drain. Repeat process. After draining, keep jar upside down.
Sprout for 1-2 days until tails are 1/8-1/4 inch, or even longer.
Rinse with pure water and drain well before using.
Can be stored in the fridge. Sprouts last for 3-5 days. Keep moist, but not wet.

Directions
Chop tomatoes and green onions. Put into a bowl.
Add oil, green onions, optional garlic, miso, and pepper, and mix well to evenly coat.
Transfer to a plate or baking dish. Spread out evenly.
Put in dehydrator for 2 hours with temperature set to 105 degrees.
When tomatoes are ready, make a base layer with sliced lettuce.
Spoon quinoa on top, then add the tomatoes, raisins, cashews, fresh cracked pepper, and a little mild white onion if desired.
Add a couple slices of avocado for garnish. Spoon on curry dressing.

Curry Dressing
3-4 tablespoons favorite oil
1-2 tablespoon balsamic vinegar
2-3 teaspoons honey
1 teaspoon sesame seeds
1/2 teaspoon curry powder

Mix all ingredients until velvety smooth.

We had just we posted our latest recipe for banana smoothie, when the following day arrived and I decided to make a change by adding 2 tablespoons of shredded coconut before blending. The result was delicious. My body (instinct) was telling me that morning that I needed a little extra fat which came in the form of coconut.

This is the joy of intuitive eating—working with a flow of ideas, changing and evolving as these ideas suggest new possibilities. When instinct is added in, the results are amplified. Instinct is to the body, what intuition is to the mind. Our instinct can tell us if we need more minerals, fats, proteins, greens, fruits, herbs, and so forth. Intuition gives us ideas on how to make meals that will incorporate the foods the body is asking for.

For us, this is the best possible way to eat. Many elements, such as inner listening (what the body is telling us), paying attention to what our eyes are attracted to (the food in its natural state), and ideas (intuition), all combine synergistically to create a lively, holistic, daily practice.

It's interesting to note that every recipe in the archive section began without a recipe, and later I figured out the amounts of the ingredients so that the recipe could be duplicated again with ease, and shared with friends and family.

Raw food teacher, David Wolfe, writes in his book,
Eating for Beauty
. "Raw plant food is beautiful. Preparing and eating this type of food is an art. Every ingredient is a new color. Each meal is a cloud, a stream, or a flower—a piece of the magnificent painting that you are becoming. Every bite is a detailed brush stroke on your work of art in progress."

Having a place to start is helpful, yet this can be just the beginning of something even better. My father was the one who gave me "permission" to digress from a recipe, and to experiment with foods. He instilled within me a sense of freedom to change ingredients, the amounts suggested, or even to take off in an entirely different direction.

Most especially, Rex and I love to have pleasure and enjoyment while in the kitchen. All the while we're nurturing ourselves on multiple levels with a delicious edible dance.