We know you'll love these delicious beet and cucumber appetizers that are as simple to make as crudites and dip, and are so much fun to eat. They make awesome party food, or a stand alone meal. The curl your toes yummy topping is made from pine nuts (click on the link for an affordable source), ginger, and lemon juice, then garnished with dill, or ribbons of orange zest.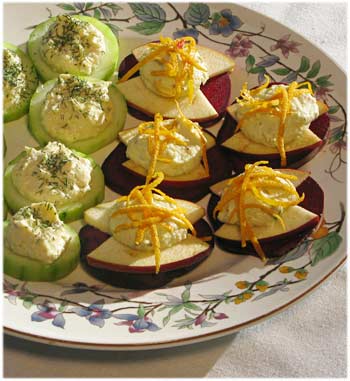 Ingredients:
Makes 12 appetizers
6 slices beets
6 slices cucumber
1/2 apple, sliced
1/2 cup
pine nuts
2 tablespoons lemon juice
1 tablespoon ginger, packed
2 teaspoons pure water
1/4 teaspoon Himalayan salt
Garnishes: dill, ribbons of orange zest (use a zest peeler or grate the peel).
Directions:
Rinse and scrub beets. Remove any bad spots. Slice as thinly as possible.
Rinse and peel cucumber. Slice thinly.
Wash apple, and slice thinly. Cut slices into quarters. Cut off core.
Arrange beets and cucumber on plate. Place apple slices on top of beet slices.
Rinse and scrub ginger root, and grate.
Place pine nuts, lemon juice, water, ginger, and salt into food processor and puree as smooth as possible.
Spoon small dollops onto beet and cucumber slices.
Sprinkle orange zest on beets, and dill on cucumbers.
Eat immediately, or cover and refrigerate for later use.

In one of my fantasy short stories for children,
The Horses of the Dreamworld
, the main characters' guide and mentor, Bluebird, instructs the children to, "Watch and listen, and we will learn."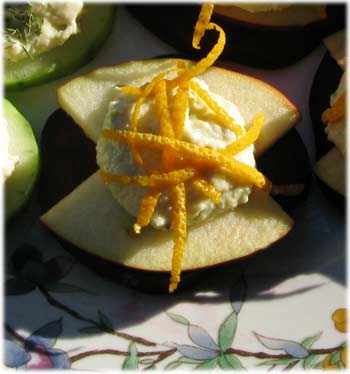 This rings true for us as adults—to listen to inner nudges and guidance using our intuition, and also by developing intuitive
watching
. In other words, what's lighting up before our eyes?

These little energy bursts are cues from the universe, much like coming attractions for the best show ever—our lives! There's always a unique energy "signature" that makes itself known when those moments of connection are happening. We recognize them through feelings of goose bumps, inner knowingness or mental illumination, or as a sudden emotion that moves through the body and enters the heart or solar plexus.

An example of listening came years ago: the seed idea for the recipe you see before you now, happened one summer day when Rex and I had gone to Seabeck (in Washington state) for a spiritual retreat. There we met up with our dear friend,
Rhonda Mattern
, and we were having a ball introducing her to some of our favorite raw foods dishes that we'd brought with us. During the course of our lunch, we spontaneously made sliced apple and beets "sandwiches", and raved at the flavors. I knew we'd eventually do something with that recipe, but until now, it remained in the realm of possibility.

We try to stay on the lookout for these signatures each day through dreams, and comments that people happen to say, or from themes that come through books, movies, and music. These so often provide clues and messages from the greater world that find a home in our hearts, where resonance sparks us into activity which moves us to take the next step in our life.