Most days, our meals are decided in the moment, and creativity plays an important role in our food preparation. Often I will open the fridge, look at the fresh produce (and there's a lot!), the sprouts, or at the bowls of fruit in the kitchen and wonder, What should we eat? So I keep looking, and as my eyes take in all the food - the shapes, colors, and resonance - a mood or feeling will come over me and something will suddenly "light up". This becomes the entry point for creating a dish.
The following recipe, Festive Red Cabbage Salad, was inspired in just this way. (Read more about the creative process after the recipe.) This salad is full of beautiful holiday color and zesty crunch, and it's even better the next day, so you can make extra for handy leftovers. (It's also good with sprouted sunflower seed cheese - click on the archive button.) The finer you can slice the cabbage, the easier it is to chew, and the better it will digest. We find that organic brassicas - cabbage, cauliflower, broccoli - digest better than conventional varieties. Cinnamon and clove are also digestive aids, so these ingredients work beautifully with red cabbage. Fresh sliced pears are a delicious addition to the salad, and round out the meal. As always, feel free to adapt this recipe in any way to suit your special needs.
Ingredients (Serves 4-6):
4 cups finely grated red cabbage (about 1/3-1/2 head,
depending on the size)
1 cup diced fuji apple
4 tablespoons sliced green onion
1+ teaspoon cinnamon powder
1/4 teaspoon clove powder
1/4-1/2 teaspoon salt (sea salt, Himalayan, Celtic, etc.)
2 tablespoons seedless raisins - black or golden
8 walnut haves, or 3 tablespoons pine nuts
Directions: Preparation time: 10-15 minutes
Wash cabbage under cold running water. Drain. Remove any wilted outer leaves.

Cut cabbage in half, and then cut in half again. (Store remaining cabbage in fridge, covered tightly.)
Cut cabbage small enough to push through the feed tube of a food processor - use the slicing blade.
If using a knife cut the cabbage as thinly as possible. A mandoline works beautifully, too.
Place cut cabbage into a large ceramic, glass, or wooden bowl.
Wash apple (peel if necessary), quarter, and remove core with seeds. Cut each quarter in half, and then cut into small pieces. (Or, thinly slice quarters to place around outer edge of cabbage.)
Add apples to cabbage.
Rinse green onions and finely chop. Place in bowl.
Toss in raisins, walnuts, or pine nuts.
Sprinkle cinnamon, clove, and salt over the ingredients. Mix thoroughly.
Ingredients:
1/4 cup walnut oil (Spectrum), or your favorite oil, such as mild sweet olive, or sesame
2-3 tablespoons unpasteurized apple cider vinegar
2 tablespoon agave nectar, or 1 tablespoon unpasteurized honey
2 teaspoons stoneground mustard, or 1/2 teaspoon yellow mustard powder
1-2 tablespoons fresh lemon juice (depending on your taste)
1/8 teaspoon Himalayan, or Celtic salt
Directions
Place oil, vinegar, agave nectar, mustard, and lemon juice in a bowl and thoroughly mix, using a whisk. When ingredients are smooth and satiny, the dressing is ready. Taste for flavors and adjust if needed. Pour dressing over salad and mix thoroughly to coat all ingredients.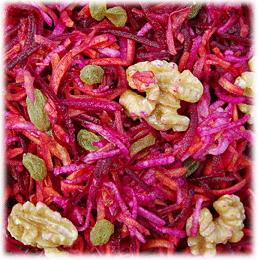 Variation on the Red Cabbage Recipe:
Carrot with Walnuts or Pumpkin Seeds
If this amount of raw cabbage is too much for you, then try this variation using carrots. Replace half of the cabbage with freshly grated carrots. For extra protein, pumpkin seeds are delicious, especially if they are soaked for 6-8 hours. This will soften the seeds and bring out their sweetness. Remember, pumpkin seeds will need to be started in the morning, or the night before. Pumpkin seeds are high in zinc. Assemble this variation as in the above recipe.
More on How This Recipe Was Created...

One day I was scanning the fridge for ideas on what to fix for our next meal, and the intuitive process went like this:
Ah, the red cabbage looks beautiful...
then an idea for a salad came to mind - an uncooked version of Mom's traditional sweet and sour Danish red cabbage recipe. She and Dad had eaten this once in Carmel, California, and when they got home, Mom tweaked and adjusted what she and Dad had remembered eating, making twelve batches until the cabbage had reached perfection!

Now, I wondered,
What to put with it?.... hmmmm..... the rosy red apples look good... and the leeks look good. Mom puts cinnamon, clove, sugar, and vinegar in her cabbage, along with apples and onions. I can do that too, but I'll change a few of the ingredients and use agave nectar, apple cider vinegar, and green onions.

Before I knew it, a salad had been created - which was actually a simple adaptation of a previously existing traditional dish that Mom had cooked during many a holiday season, and it was a dish that we had greatly enjoyed.

Now, it was just a matter of chopping up all the ingredients and putting them into a pretty bowl, making the dressing, serving the food, giving thanks, and enjoying the gifts of life.


A Little Story About Creative Cooking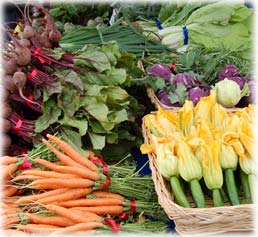 I was standing in line at the local farmers market, just a foot away from two women. Winter weather had moved the market to the homey old Grange building, and inside the mood was celebratory. The tables were overflowing with veggies such as beets, celery, potatoes, leeks, peppers - both hotties and sweeties - tiny seedless grapes, chard, various lettuces, celeriac, colorful squashes, broccoli, spinach, kale, organic eggs, goat cheeses, assorted baked goods, meats, fish, coffee, and more.

We gathered our veggies, enjoying the foot tapping music that one of our local musicians (from Sugar on the Floor) played on his accordion, while a little girl wearing a long swishy skirt danced in a style somewhere between ballet and funk. We soaked up the beauty and the smells of the bounty, recognizing this was one of those special moments. As the ladies next to me talked I couldn't help listening. One woman said she had spontaneously made a new dish with cooked adzuki beans, almond butter, and if memory recalls, some onions and garlic. Her friend ooohed and ahhhed, and then said she had just made the most delicious soup using everything that was left in her fridge. Emoting contentment and happiness, they both commented on how delicious spontaneous meals could be.

When I mentioned this conversation to Rex, he said,
It sounds like people are getting into creative cooking.
I liked that phrase, creative cooking, because it resonated with intuitive eating. In our life, intuition and creativity go hand in hand, and recipes breathe, flow, and change from day to day. This is our process of creative cooking - being in the moment, listening to what our intuition is suggesting, watching to see what's lighting up. The next step is to trust our inner knowingness, follow through in making a dish, and then, reap the gifts of unexpected surprises.

See you next week!