Makes 1 cup rosemary oil. Lasts for several weeks. (You can refrigerate it to help preserve freshness.)
If you have, like we do, rosemary plants in your yard, finding rosemary is easy. Otherwise, buy a couple of rosemary herb packets from the grocery store, or maybe pick some from a friend's yard. We like to pick the parts of the plant that aren't flowering, because we once read in
book (by the Findhorn Garden Community), that plants do not like to be pruned when they are flowering. Our rosemary seems to be flowering almost all the time, but we feel that the rosemary is such a vigorous grower that it's okay to take cuttings from parts of the plant that don't have flowers.
Ingredients:
1 cup loosely packed rosemary leaves
1 cup mild sweet olive oil, or Spectrum walnut oil
Preparation time: about 10 minutes
Drying and infusing time: 4-5 hours

Directions:
Cut about 8-10 rosemary stems, each about 7-10 inches in length.

Rinse under cold running water to remove any dirt.

Shake off excess water. Set on a towel until the sprigs feel dry, about 2 hours.

Empty 1 cup of oil into a clean ceramic or Pyrex baking dish.

Strip the leaves from the stems, starting at the tips, working down. Thank the plant for giving itself to nourish you. The leaves release and peel off easily. Place leaves into the oil as you go. Your fingers will get a little sticky from the oils in the plant.

When all the leaves have been removed, mix into the oil to make sure they are mostly covered.

Put the bowl or glass dish into a dehydrator and set the temperature for 100 degrees. If you don't have a dehydrator, you can place the container in a just-warmed oven, checking to make sure the oil doesn't get hot. You want to warm the carrier oil just enough to allow the plant oils to release. Allow to sit for several hours.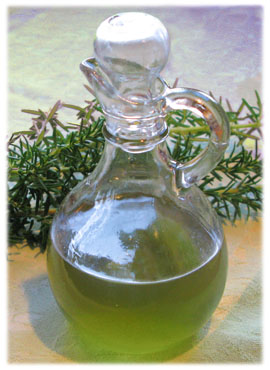 When ready, the oil will turn a lovely golden-green, and smell delicious. Strain the leaves from the oil. The way I do it is to put a strainer over a Pyrex measuring cup, pour the rosemary and oil into the strainer, and allow it to drip. After about 10 minutes, press the leaves to get as much oil out as possible.

Pour strained oil into a glass jar, bottle, or container, and put a label on if you like. Pretty vinegar bottles with corks or lids are usually available at healthfood or grocery stores, and these work well.

Rosemary oil is pungent, so you only need a little at a time, just a teaspoon or so.

The flavor of the oil works beautifully with the flavors and tastes of Thanksgiving. When I see the finished product, it brings on a special feeling of gratitude. Drizzle over your favorite foods and enjoy the gifts of rosemary. Try rubbing some of the oil into your skin - you may feel a warm glow, and you will smell delicious too!
Extra Things to Do with the Rosemary

If you have extra leaves you can dry these at the same time you are making the infusion, and bottle up in a spice jar. The stems can be used as baking wands, or bound with string to make smudge sticks.
Note:
This infused oil is not to be confused with rosemary essential oil that you can purchase, which, according to Wikipedia, is too strong to be taken internally.

Thanks Giving, by Janet
Clothe me in the beauty of Thy light.
Humble my desires, so I may walk the quiet path.
In Thy flame, the illumination of my heart is restored.
Soul is here to love.