This breakfast brings a wonderful, vital, life giving energy. Creamy, cultured, calcium-rich, hi-protein sesame yoghurt (1 ounce of sesame seeds contains 6.5 grams protein), is easy to make, and has a natural smoky flavor that's inherent in the seeds. When served with delectable soaked dried apricots and golden raisins, which complement the flavor, it makes for or a satisfying and filling way to start the day. Sesame's smoky flavor goes well with tomatoes or bell pepper dishes too.

Ingredients: serves 2-4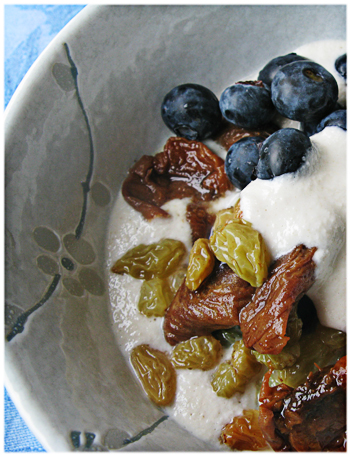 1 cup hulled white sesame seeds* (8 ounces, for 52 grams of protein!)
3/4 cup pure water*
1/2 teaspoon
Body Ecology Kefir starter
, or 1 capsule
PB8 probiotic
1/2 cup mixed apricots and golden raisins, soaked
Enough pure water to just cover fruits
1/2 cup blueberries, optional (highest fruit source for antioxidants)
*Note:
We just made a larger batch using 1 1/2 cups sesame seeds and 1 1/8 cup water using the same amount of Kefir starter — it came out fantastic!

Directions:
Start yoghurt and dried fruits 24 hours before serving.
When making ferments, be sure the blender and the jar are clean.
Put sesame seeds in coffee mill, grinding until as powdery as possible, and transfer to a blender. Or use a high speed blender from the start.
Add water and blend on highest speed for one minute.
Add starter and blend on low speed for 3-5 seconds.
Transfer to a 1 pint jar, and cover with cheesecloth, securing with a rubber band.
Set on counter top in warm place for 12-24 hours, depending on how much "zing" you like.
When ready, yoghurt will be filled with little bubbles and will have a nice tang.
Serve with fruits listed above, or your favorites, like oranges, mangos, etc.
Refrigerate yoghurt. (We usually eat ours within a day, so we don't really know how long it will last.)

To Soak Dried Fruits:
Put into a jar with lid, barely cover with water, and secure lid. Put into fridge, and let soak for 24 hours. The soak water makes a delicious syrup to use in place of honey or agave.

A Little Story: Breakfast of Champions! Natural Ferments versus Culturing with a Starter.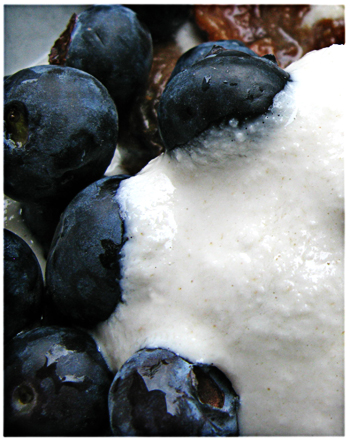 Back in the days when we ate dairy products we'd make yoghurt from cow's milk. Sometimes it would thicken up, sometimes not. When it didn't, it was a disappointment. Not so with this seed yoghurt. It starts out thick and just gets thicker.

We've always been a little nervous about making fermented foods without using a starter, and we made sesame yoghurt three times this way with good results. But when I made almond yoghurt without a starter I had to throw it out because the flavor tasted off, and it didn't feel right in my tummy.

We found that when using kefir grains or a probiotic (we like PB8), we get a tastier, sweeter yoghurt without any of the worries. It even has a better "look" to it. The flavor differences between the starters are subtle, but we feel that the kefir is the best overall, and tones down the smoky flavor, which Rex likes.

By using 1/2 teaspoon of kefir grains per batch, one packet will make about four pints, thus keeping the cost down. PB8 is a good broad-spectrum probiotic that doesn't need refrigeration, and is available at most health food stores, or online, and it works well as a starter. We have yet to try making this yoghurt with rejuvelac.

The advantage of adding a starter, is that friendly bacteria begin to act immediately on the yoghurt, and protect from rogue bacteria getting in and spoiling a batch, or disrupting one's digestion.

This meal is a real energy booster. We have to laugh though, because it's incredibly better than Wheaties, known as the "Breakfast of Champions". I ate boxes of this stuff as a child, drowning the cereal in milk and heaps of brown sugar. Because it was brown, my mother thought it was good for us, so my brother and I piled on about a quarter of a cup or more of sugar with each bowlful! No wonder we didn't feel well afterward.

But not so with this breakfast. We feel power coursing through our bodies and remain energized for hours with this wholesome, whole food nutrition. Sometimes I have it with some 24-36 hour sprouted oats to feel really fortified. This meal could be eaten for lunch or dinner too. Enjoy!