Springtime asparagus finds its way into our kitchen this week. Fired by memories of Chinese food stir-fry, we looked for ingredients that would mirror those flavors and tastes. Asparagus can be eaten raw, or lightly steamed, for a transition dish. Serve over a bed of your favorite greens, or put into whole leaves of green leaf lettuce for a delicious wrap. For a full meal, serve with
miso soup
.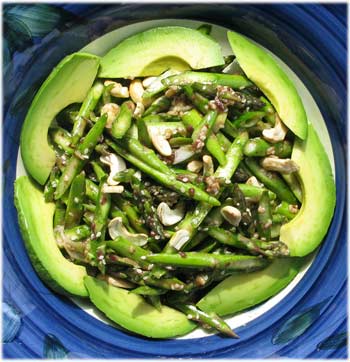 Ingredients (Serves 2):
1 1/2 cups asparagus, diagonally sliced
8 slices Haas avocado
4 tablespoons green onions, diagonally cut
4 tablespoons raw cashews
1 tablespoon South River Azuki Miso, or wheat free tamari
1 tablespoon Spectrum cold pressed sesame oil
2 teaspoons sesame seeds
2 teaspoon honey
2 teaspoons Spectrum unseasoned brown rice vinegar (use lemon juice if you can't eat vinegar)
1/2 teaspoon Chinese Five Spice seasoning
1 small clove garlic, pressed

Directions:
Rinse asparagus* and green onions in cool water. Pat dry.
Slice both diagonally, making thin cuts, and place in bowl.
Add all remaining ingredients and mix thoroughly.
Place in center of serving dish.
Slice avocado and arrange around edges.
Serve with greens. No dressing is necessary.

*Tip:
When I was a girl, my mother taught me how to tell which part of the asparagus was woody. Simply take a spear, holding the top with one hand, and the bottom with the other hand, and bend it. It will snap off just at the place where it's woody. Use the bottom portion in juice, or blend into soup.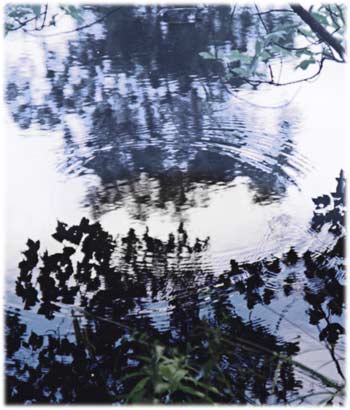 Sometimes we feel like we're living in our own world, and that what we do has little effect on the macrocosm at large. It's hard to imagine that who we are and what we do can actually make a difference—yet it does.

Vibrations of love move through the cosmos, and touch, ignite, motivate, and inspire us. A most recent example of this came from the good energy of a friend, Terrie Lambert of
Dancing Tiles
, which rippled through my world during a phonecall. Her spirit became a part of me, and lit up something within. This then became a new wave, with renewed light that emanated and touched down, and became a part of this story.

We're looking for ripples that expand the heart, that move us into deeper and larger realms of experience. Each new wave, however large or small, builds upon the preceeding one. They act like stepping stones for growth, and create circles of passion that uplift and amplify our desire to live a more expressive life.

A heartfelt story, a beautiful ripple, came to us from one of our readers,
Janette Warren
(massage therapist), who sent us a link to this inspirational short video. It's a story about how a teacher inspired her students with a project in which she shared with them during class how much they each meant to her. The students were then instructed to go out into the community and tell three other people that they were the most important person in their lives. The results may have you reaching for a hankie—I was moved to tears. This video is a shining example of what can happen when we share the love we truly feel about each other. We won't give the startling ending away—here's the link to watch,
Who I Am Makes A Difference
.

Ripples of color and sound, and waves of feelings and physical touch travel through the universe as blue, gold, rose, and emerald, in whispers and songs and sighs. Ripples from kisses, embraces, and a healer's touch, sooth my world. One small voice of truth rings out, and suddenly, there's thunder in the valley!