Spinach, Mushroom, & Zucchini Salad or Topping for Focaccia
2 cups fresh spinach, chopped
1 cup super fresh white mushrooms (or your favorite), sliced
1/2 to 3/4 cup zucchini, very thinly sliced
(we use a Mandoline)
3-4 tablespoons green onions, thinly sliced
2 tablespoons olive oil
2 tablespoons pine nuts or cashews
1 teaspoon each: fresh minced sage, rosemary, and thyme
1/4 teaspoon Himalayan or Celtic salt

Directions:
Rinse veggies and mushrooms under cold water.
Pat dry.
Remove stems, or any wilted parts from spinach. Chop, and place in bowl.
Slice mushrooms, zucchini, and green onions.
Place in bowl and add olive oil, green onions, nuts, herbs, and salt.
Gently mix until all ingredients are coated.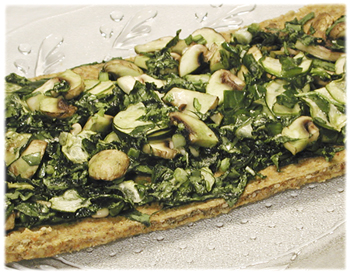 To Make Sprouted Buckwheat Focaccia:
Follow the recipe for
Focaccia
.
Total drying time, 4 hours.

Form dough into a large rectangle using a Teflex sheet on a dehydrator tray.
Start with the temperature set to 145 degrees for 30 minutes only, then turn down to 110 degrees.
Flip over after 2 hours, and dry for 1 more hour.
Add toppings. Dehydrate for 1 additional hour.

The veggies will soften, and the taste is out of this world!
Cut into pieces for a perfect entree, or delightful party food.

A Little Story: Tender Moments

It was Christmas Day, time for dinner. We weren't really in the mood to fix much, so I made the
Easy Holiday Apple Cream Pie
from last week's
Healing Feast
, and we ate by firelight, thinking of the snowlight, sipping on mint tea, listening to soothing music.

We'd had a quiet day alone, making phonecalls to loved ones. Our friend, Gordon, and my Uncle Don, had passed into their next life during the previous twelve days, so we were still feeling tender. Rex and I kissed each other, saying
Merry Christmas
, then savored the pie, the warmth, and the special sweetness of a moment that we'd remember always in our hearts.

We'd like to close this week's Healing Feast with the beautiful lyrics from the Enya song,
Last Time by Moonlight
, from her new CD,
And Winter Came
. Next week will be 2009—this year has just flown—and the words of Tiny Tim, from
A Christmas Carol
, ring through: "God bless us everyone."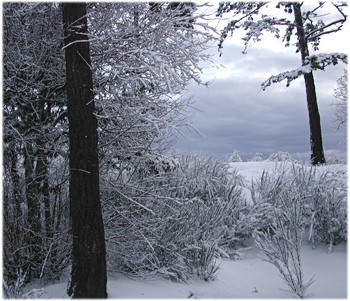 The winter sky above us
was shining
in moonlight,
And everywhere around us
the silence
of midnight.
And we had gathered snowflakes;
remember
the soft light
of starlight on snow.



Oooh, remember this,
for no-one knows
the way love goes.
Oooh, remember this,
for no-one knows
the way life goes.



We walked the road together
one last time
by moonlight,
as underneath the heavens
the slow chimes
at midnight,
but nothing is forever
not even
the starlight
at midnight
not even
the moonlight...



Oooh, remember this,
for no-one knows
the way love goes.
Oooh, remember this,
for no-one knows
the way life goes.