Our little sprout farm is up and running again! After a summer of instinctively not wanting hardly anything but fruits (they are nature's cleansers) as I went through the tooth infection crisis for 7 weeks, after the tooth was removed, and the infection was gone, and I could chew again, my body began to seriously crave the minerals and protein in greens, seaweeds, and sprouts.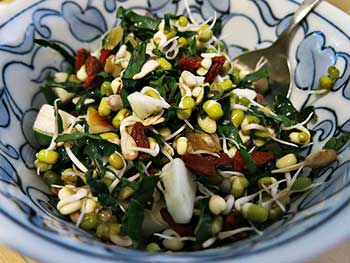 This lovely bowl of nutrition was a spontaneous creation that bubbled up one morning. I realize it's a far cry from the "Wheaties: The Breakfast of Champions" that I grew up on, as well as millions of other children in America. Wouldn't it have been wonderful, if as a child I'd had foods like our recipe here to build an amazingly healthy body and strong teeth in my formative years? My whole life would have been different.

I hope you enjoy our delicious, hearty breakfast for your morning meal, or for lunch or dinner—it's restorative in the deepest sense, with foods that will fuel the body for hours!

Ingredients: Serves 2
2-3 leaves dinosaur kale, depending on size, chiffinade cut (directions follow)
1 cup (or more) home grown mung bean sprouts (directions follow), or your favorite sprouts
1/2 cup sunflower and pumpkin seeds, soaked several hours, drained and rinsed, and sprouted overnight
1/2 apple, chopped
4 tablespoons Goji berries or raisins, soaked for a few minutes
Lemon juice squeezed on top, or a couple of teaspoons apple cider vinegar and sesame oil for dressing
Tiny sprinkle of cayenne, or finely grated ginger root for heat
For added nutrition, if you love seaweed, cut up a nori sheet into tiny pieces and add in.

Directions
Rinse and shake dry kale. Remove tough inner stem.
Stack leaves and roll tightly. Slice to make sliver-thin ribbons - this is a chiffinade cut. Place in a bowl.
Add sprouts.
Chop apple (peeled or unpeeled, whatever you like) and add to bowl.
Give sunflower and pumpkin seeds and final rinse off, drain, and add to bowl.
Add goji berries.
Add optional cayenne, and seaweed.
Mix all ingredients well.
Squeeze fresh lemon juice or other dressing on top, and mix again.

To Sprout Mung Beans:
The reason we grow our own mung bean sprouts is because they taste the best, and, we read that the ones from the store have been treated. Home grown sprouts are the freshest, to be sure—they're still growing and vibrant when you eat them, plus no packaging either!

Place 1/4 cup dry beans in a one quart jar with a tiny pinch of kelp powder. Cover with pure water, and attach sprouting lid.
Soak for 8 hours. Drain liquid and rinse a couple of times. If possible, make sure the final rinse is with pure water. I've noticed our sprouts grow better with the pure water.
Drain, set out on your kitchen counter placing jar upside down on an angle (a kitchen draining rack works perfectly) to sprout.
Repeat process each day, rinsing and draining in the morning and in the evening.
Tails will appear after about a day, and will be ready when they are 1/4 to 1/2 inch long. (When they get too long the sprouts can loose their sweetness.) At this point, refrigerate, continuing to rinse and drain well daily.
They will keep well for days. Note: if they ever smell bad, discard.
The Little Story: Renaissance of Health
Renaissance—the beginning of something new—literally meaning "rebirth". Every day we have the opportunity to reinvent and rebirth ourselves through our thoughts, feelings, and actions, that become stepping stones to reach higher levels of living. We can become a part of a global transformation, much like the flowering that took place during the 14th-17th centuries, when European culture made a quantum leap in consciousness, seeding the world with new ideas, art, music, politics, and literature. It was Leonardo da Vinci who coined the phrase, "Renaissance man".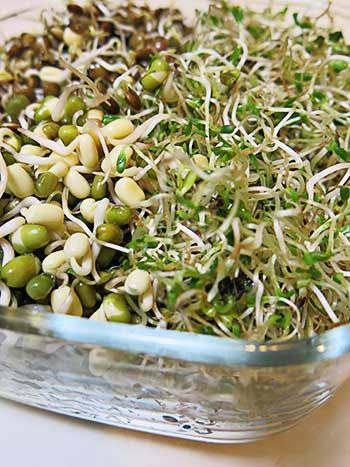 Ancient legends prophesied that we will enter a time of becoming "homo luminous", awakened beings. Despite the turmoil that plays havoc with billions of people, a great deal of enlightenment and positive solutions are rising up, taking place every day. Often this transformation comes through crisis, hardships and challenges, when we finally can't stand a situation any longer and must begin to create a new roadmap for a better life.

As humble as our Breakfast of Champions is, it fits right in with a simple approach to transformative health. Sprouted foods contain the highest amount of life-giving nutrients and energy and bring an increase of life—and this can lead to breakthroughs and shifts in our personal consciousness and behavior.

Ann Wigmore writes in The Sprouting Book, that sprouts are "biogenic"—alive—capable of transferring their life energy to our body. And, that "Biogenic foods are foods that when planted will create new life. All raw, unsprouted seeds, beans, grains, and nuts are biogenic. When they are sprouted and eaten, they provide the body with a form of living energy—a composite of vital food factors not yet isolated by scientists, but proven to be of value in nature's laboratory of day-to-day life."

Ann's words sound like a renaissance to me, a recipe for rebirth, to feel good and be active, to learn, to accomplish more, to share more, and to spread more love and all the "good stuff" that makes life worth living! Without energy, there's little desire to branch out, to try something new, or to take a new path or endeavor.

Sprouts are bringing me back from depletion—oh what a gift this is! They may take some time getting used to, but it's worth the effort to develop a taste for them. (Home grown sprouts taste better than any we've ever bought.) I hope you enjoy this savory dish. It's off the beaten path for a breakfast meal, but forges ahead with the promise of bringing vigor and strength—qualities that will help put the sparkle of life in your eyes!

===================

To Learn More: For recipes on Raw Sprouted Oat Granola, Avocado and Sprouted Mung Bean Salad with Cilantro-Lime Juice Dressing (we not longer use stevia),
Click Here
.
Or check out
this post
for making juice with sprouted mung beans, and learn more about what Dr. Ann Wigmore gave to people who came to the Hippocrates Health Institute to achieve profound healing and health, with sprouts, juices, fermented foods, wheatgrass and more!

Announcement! We're excited to share with you a
free 28 page preview
of
Celebrate! The Feast Is On!
This will give you an idea of what's inside this beautiful holiday raw food book. It's 8"x10"—a lovely size, filled with gorgeous photos, stories, poems, and of course the menus for making sumptuous foods to enjoy for the whole fall and winter season! It might just bring the inspiration needed to make a whole Renaissance feast!