This is a warming, change of season salad that is really satisfying. It fortifies and nourishes, and is filled with minerals, protein, and an array of pleasing tastes, textures, and colors. Beautiful, sienna-colored wehani rice has a super crunchy texture, with a nutty, butterscotch flavor, and the salad is complemented by a tahini-honey-mustard dressing.

Ingredients (Serves 2)
1 cup cabbage (or lettuce), finely sliced
1/2 cup mung beans, sprouted
1/4 cup wehani rice, sprouted
1/4 cup dry arame seaweed
4-6 cherry tomatoes
4 tablespoons green onions, finely chopped
3 tablespoons cashews
2 tablespoons freshly grated ginger root

Directions
Wehani rice and mung beans will both take 3 days to sprout.
*See directions below.

Begin by soaking arame for 15 minutes in a bowl, with just enough water to cover it.
When soft, drain, quickly rinse with pure water, and drain again.
Super finely grate the ginger root and add to the arame, mixing in well.
Rinse cabbage, drain, and slice as thinly as possible. Arrange on plates.
Put arame-ginger mix on top of cabbage.
Rinse wehani rice with pure water, drain, and place on top of arame.
Rinse mung beans with pure water, drain, and put on top of rice.
Rinse tomatoes, slice, and place on top of sprouts.
Finely chop sweet onions, or green onions, and sprinkle over salad, along with cashews.

Tahini honey mustard dressing:
1 tablespoon each: tahini, honey, stoneground mustard, coconut vinegar, and 4 tablespoons pure water. Mix well.

*
Sprouting directions:
It's super easy to sprout wehani rice and mung beans. Using individual mason jars with sprouting lids, soak 1/4 cup each rice and mung beans for 10-12 hours. Rinse and drain twice daily for three days. When ready, tails should be about 1/4 inch. After sprouting, store in fridge, rinsing daily. They will keep for a week.

There's something to be said for fine tuning the diet to work with the seasons. We find that when the temperatures go from hot to cool, or vice versa, our desire for certain foods comes into play almost immediately. Summers find us eating lighter foods, and more fruits and berries.

As soon as the temperatures drop into the 50's, and nights become chilly, we start craving denser greens like cabbage, chard, and spinach, instead of the lighter, more delicate, lettuces. We begin to have more seaweed, sprouted wehani rice, and a few more nuts. These cool weather foods feel just right on early fall days.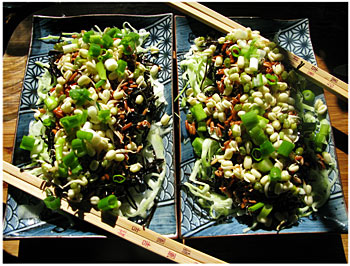 Astragalus is touted to be one of the best immune enhancers, and builders of "chi", or life force, with no known side effects. We've also read that astragalus helps to remove excess moisture from the body—so helpful in damp and cold weather. Because of this we often make what we've come to call "chi balls", a mix of 4 tablespoons each powdered astragalus and powdered bee pollen, with 2 tablespoons of honey, a pinch of salt, and just enough water to hold the "dough" together to roll into 18 balls. Or we enjoy our salads with a cup of tea made with astragalus, honeybush, and just a little cinnamon added for sweetness and warmth. The chi balls have an unusual taste (and may take a little getting used to), yet we really enjoy them, and they give our bodies a super boost of energy.

Listening to the body's needs, working with the seasons and making adjustments as our intuition suggests, will help to keep us healthy and strong no matter what the weather may be outside. The body isn't static—it constantly changes. Eating with the seasons (and eating what's available locally) is a wonderful practice, one that ensures that a variety of foods will keep coming our way.

Another aspect of changing seasons, for us, is metaphorical—the powerful shifts that are happening worldwide, touching the lives of our beloved family and friends. It seems to me that we have become one very large, extended, planetary family. All the wounds and hardships are felt collectively. And the precious moments of beauty, healing, and successes, are felt too, and celebrated.

Being here for each other, and doing what we can to cherish moments of joy, laughter, and love in the midst of these challenges, is a practice that Rex and I are finding is helping to build spiritual strength, stamina, and balance—and this is carrying us into greater states of understanding, nurturing, and compassion.

On the cusp of a cosmic tide, the leaf turns to face the white star.
The fearful heart empties, and the darkest of nights is absorbed into love.