Fresh organic corn has come to the local coop, and we're so happy to have this summer food again! Rarely, if ever, do we eat conventional, GMO corn. This is a super fast and easy dish to make—just corn, avocados, tomatoes, green onions, and lime juice, with some salt and pepper on top. Add this salad to your favorite greens for a more substantial meal, or serve as a raw component to a Mexican food dinner. The flavor combinations are awesome!

Ingredients: Serves 2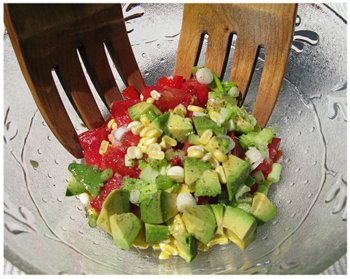 1-2 ears raw corn, husked, corn silk washed off
1 avocado, pitted, peeled and chopped
1 cup fresh tomatoes, chopped
4 tablespoons green onions, finely sliced
Salt, and freshly cracked black pepper to taste

Directions:
Cut corn off cob. Hold the big end with one hand, and slice kernels off with the other.
(I cut directly over a bowl.)
Add avocado, tomatoes, green onions, and gently mix.
Pour dressing on top.

Dressing:
Juice of 1 lime, squeezed using a citrus press (if you don't have a press, you may need to use more lime juice to taste)
1 tablespoon olive, or Spectrum walnut oil
1-2 teaspoons honey
1 clove garlic, peeled and pressed, optional
Combine ingredients in a small bowl, mixing with a whisk until velvety smooth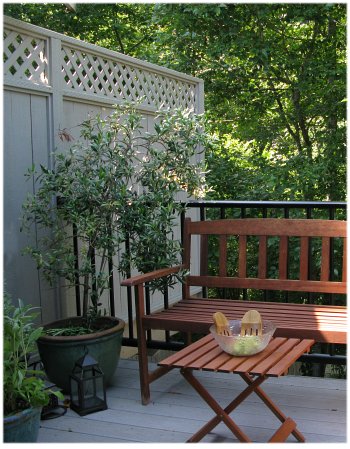 Oh my. It was quite an ordeal getting off the island, and trying to fit our things into a much smaller place. And we're far from finishing our tasks. Because of a moving debacle with the truck, it took three days of going over and back before all our belongings were moved—I'll spare you the details!

Every day we make new discoveries in the Fairhaven district of Bellingham that is now our new home. It's a sweet seaside village that has a European atmosphere. We've been hearing lots of wonderful live music; have gone to our first monthly art walk downtown where I met my new art teacher,
Trish Harding
(life drawing classes start this week, and I'm so excited!), and checked out many of the beautiful parks and trails that are here for the community to enjoy. We've gone to the theater, the museum, cafes, some shops, and to the beach. Not to mention eating an abundance of natural, organic food—there's two farmers markets (Wednesdays and Saturdays), and two fabulous co-ops!

Our condo backs right up to lovely Fairhaven Park with walking and biking trails, so we can literally just head out the door any time we want, and be out under a canopy of green. The trees come so close to the condo, it feels like we're living in a tree house! (The photo is of our little upstairs deck.) We never thought we'd find such beautiful trees here, but there's more moisture in the soil than on the island, so the foliage is incredibly lush. All in all, it's a happy, bustling place, and we think we're going to enjoy living here.

One problem we've had to work with since moving in are smells from perfume and a dog, which got into everything. Even though the carpets were cleaned, the smell has been pervasive. We heard through an island friend, Joan, that a solution of white vinegar and water will get rid of these odors. So I mixed up a spray bottle with 2/3 water, and 1/3 organic white vinegar, and started to apply it to the worst areas. Much to our relief, it's started to help.

Joan also gave us a gift book just before we moved,
Clean: The Humble Art of Zen-Cleansing
, by Michael de Jong. It tells how to use five basic, non-toxic, environmentally friendly, natural ingredients to do all of one's cleaning: white vinegar, borax, salt, lemon juice, and baking soda. I've never used white vinegar before as a cleaning solution. Because it's so distilled, I always considered it to be in the "white" category (white flour, white sugar, anything super processed, etc.), and stayed away from it. Now I'm learning it's useful for so many things which have nothing to do with eating.

Another friend, Joanie, sent an email sharing how she uses white vinegar on stubborn stains and animal smells. She wets a towel with a solution of half vinegar and half water (not soaking wet), places it over the stain, covers the towel with plastic, then weights it down with something heavy (she uses bricks), and lets it sit overnight. (She says the weight is the key to making it work.) The towel is then removed, and a clean dry towel is placed on the spot with a weight on it to absorb excess moisture. Joanie says it works like a charm. Stains disappear, and the smells are gone. (She suggests checking for color fastness before trying this.)

Nine years ago, we never thought we'd leave Friday Harbor, and the San Juan islands. Yet here we are. Change is good. It's stimulating, and brings newness on so many levels. Rex and I are eager to explore! It's one of our favorite things to do. I'm trying to make a mental note to my future self to not resist big changes, because for us, it's all about our life, and what we need to live it to the fullest expression. It's about doing what we came here (Earth) to do, and what it is we most deeply wish to learn, experience, and become.

Thanks for your patience during the move! We should be back on schedule now with our bi-weekly Healing Feasts, and look forward to sending out our next edition in two weeks!