Summer ripe corn combines with velvety soft heirloom tomatoes and zucchini "pasta" for an incredibly quick salad. Add a few slices of avocado, some diced Bubbies sour pickles, a sprinkles of herbs, and a little honey mustard dressing and you've got a fabulous meal—perfect for indoor or outdoor dining.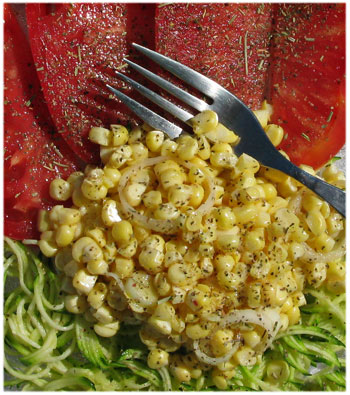 When we first ate raw corn, we were absolutely delighted with how good it tastes. It's crunchy and sweet, and full of natural juice. In the north here on the island, we wait all year for the corn season to come so we can enjoy this delicacy.

Ingredients (Serves 2)
2 ears corn, kernels cut from cob
1/2 large heirloom tomato, sliced
several slices of leeks, separated into rounds
1/2 small zucchini, run through
Saladacco
to make "pasta"
2 tablespoons olive oil
salt, pepper, and Italian seasoning herb mix

Directions
Remove husks from corn. Rinse cob under cool water to remove silk.
With a good knife, cut kernels off cob. (Hold the cob diagonally, and slice lengthwise.)
Put kernels into bowl.
Add oil, leeks, salt, pepper, and Italian herbs. Mix well.
Slice tomatoes. Arrange on plate.
Put zucchini into Saladacco, and spiralize. Arrange on plate. Spoon corn on top.
Sprinkle with additional salt, pepper, and Italian herbs.

Serve with a
honey mustard dressing
, or your favorite.

This year the gifts of summer continually surprise us. Two beautiful days unexpectedly arrived, which filled our hearts with joy.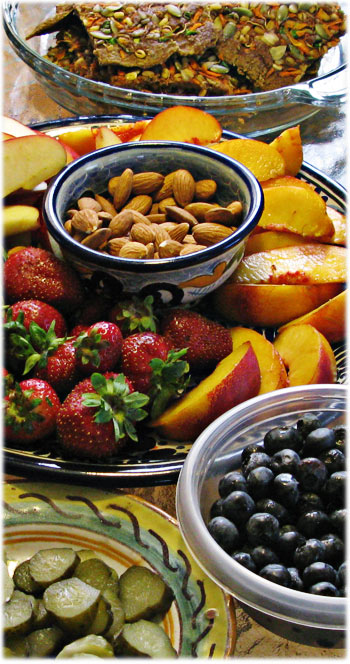 One day we went blueberry picking at a bucolic farm on the island, tucked away down a sweet country road. There was a picture perfect old barn and lake complete with blue heron sunning on a raft. A white donkey, and a wonderful black dog were part of the family. Like the heron, we too basked in the sun as we picked, and came home an hour and a half later with a half-flat brimming with the freshest berries ever—all for $14.00.

Contrast this with a night at the movies which costs the same for two adults. It seemed amazing that for this small amount of money we could have a wonderful experience of being outside in nature, creating a memory which will nurture us for weeks to come as fall approaches. We loved being on the sweet earth, plucking fruits, taking in the quiet, hearing the bees buzzing, and the sheep braying in the fields next to us.

After we got home with our blueberries, we went to our small community food coop. The coop has been placing wholesale orders through
UNFI
, and once again we returned home laden with another haul of food. This time it was with organic sundried black mission figs for $4.00 a pound. Cases of perfectly ripe pears, apples, and nectarines had also arrived and were on sale for just $1.00 a pound! What a gift.

We felt utterly grateful, and were filled with a sense of bounty and goodness as we stocked up on these delicious treats. Thirteen and a half pounds of fresh fruit for only $13.50! Buying wholesale like this cuts the costs of food and household items down so much—with savings of about 50% compared to our supermarket prices.

The following day we ferried over to Orcas Island to visit our friends Jess and Denise. Jess was the first person we met who introduced us to
juice feasting
, and Denise is a talented writer and
photographer
.

The photo at right is a portion of what we had to eat for our potluck lunch that day. Not showing are a wonderful kale-avocado-green onion-cucumber salad with lime juice, and a Sun Gold cherry tomato-broccoli-cucumber-red onion salad with olive oil and dill—a summer feast to be sure.

We ate and ate and ate, and were fed on multiple levels of our being through our friends, the beauty of the food, music, great conversation, and all the energies that were taking shape in and around us.

September is one of my favorite months and is so often filled with days that feel precious, days that we want to savor. There is the lingering light, lengthening shadows, and the sun's warmth that is infused into the bones of the earth—all of which radiates into our hearts. It seems to be the perfect time to share a meal with friends. The simplicity of the seasonal food and superb taste cannot be matched.

On a special note, as we come to yet another anniversary of 9/11, may your hearts be filled with peace.