We've been singing the praises of one of summer's most beloved foods—fresh, ripe, robust, tomatoes from the garden. Those dazzling red and gold pop-in-the-mouth cherry tomatoes are sweet bursts of transmuted sunlight and juice. Some of our favorite ways to have these lusty little fruits are to eat them au naturel, or with olive oil and Celtic salt, or blended into quick raw salsas with onions, parsley, or cilantro.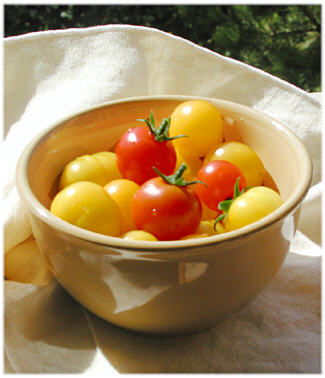 Another favorite recipe is to make dehydrator tomatoes with the taste of a cooked dish but with the benefits of raw. During the three hour drying process a transformation happens—the flavors intensify, and all traces of "rawness" in the tomato completely leave. The finished product is something akin to a soft sundried tomato, with a sweet taste and delightful texture.

Recipe for Dehydrator Tomatoes:
Serves 4
4 cups sliced tomatoes (beefsteak, heirloom, or your favorite).
3 tablespoons olive oil
1/2 - 1 teaspoon Celtic, or Himalayan salt (or 2-3 teaspoons South River Aduki Bean miso, or your favorite brand)
1/4 teaspoon black pepper
1 clove garlic, pressed

Directions:
Slice tomatoes in 1/4 inch rounds.
Cut each round in half.
Put tomatoes in a bowl. Add oil, salt (or miso), pepper, and garlic. Mix gently by hand. Lay tomatoes in a large casserole dish (or any non-metal plate) and place in dehydrator for 3 hours at 110 degrees. Serve with wraps, flatbreads, veggie dishes, or salads.

If you don't have a dehydrator, this recipe is delicious as is—or the tomatoes can be warmed in an oven for just a few minutes using the lowest temperature—however, the texture of the tomatoes won't change the way they do when prepared in a dehydrator.

A Little Story: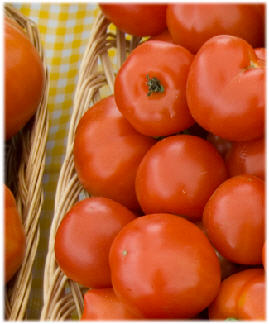 I remember my first cherry tomato, picked fresh from the plant. I was about eight, and this experience took place on Mercer Island, in Washington, where my parents dearest friends, Clint and Mary, lived. A neighboring girl stopped by and showed me how to have the ultimate tomato treat.

She asked if I'd ever eaten freshly picked cherry tomatoes, and when I said no, she was surprised, but quickly proceeded to show me her system on how it was done: First you pick a perfectly ripe tomato, then go into the kitchen for some mayonnaise, spoon some on the fruit, and pop it in your mouth. We did just that, and I remember an explosion of flavor that knocked my socks off! I was totally hooked.

Now I enjoy sitting outside on a weather-beaten garden chair, reaching my hand into the tomato plants and plucking out a few precious jewels to eat on the spot. I sit as close to the vegetables as possible, communing, feeling the sun, watching the bees and dragonflies, and wondering what it would be like to live outside day and night, as plants do.

The tomatoes whisper to me when they're ready to be harvested, and tell me where to find the most hidden and sweetest fruits in the thick foliage. As I pull the tomatoes off the plant, or take a few leaves off the kale or lettuces, I try to remember to say
thank you
, patting the plants with affection. I feel a small, yet perceptible shift in the energy field, a little swell of love coming back.

Despite my imperfections, or on days filled with challenges, these difficult times or parts of myself can melt away in a moment of humbleness and stillness, when I am grounded in a sundrenched garden, and as the circle of life completes itself in a single breath of gratitude.