Here's a simple breakfast that's so easy to prepare we know you'll love it: soaked sundried fruits, with a burnished, sungold, inner glow, and delicate sweet flavor! We made a jarful of these luscious treats earlier this week to have on hand for yummy breakfasts.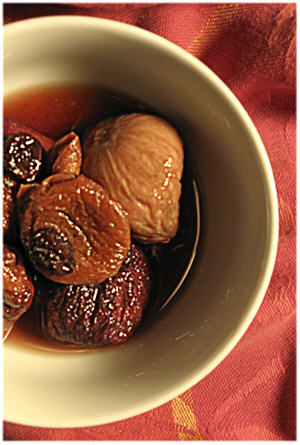 Directions:
Put dried fruits into a mason jar.
Pack tightly.
Cover with pure water.
(The fruits will turn the water into an amazing raw syrup.)
Secure the lid.
Place in the fridge for 24 hours to soften.
Keep refrigerated for up to one week.
Eat as is, or with tangy kefir or seed cheese.
Tip: the syrup also makes a delicious natural sweetener for tea!

A Little Story: Keeping the Juices Flowing

The day I was just starting to get tired of our morning smoothies (even though we still love them), wishing that we could have something different to eat (but what?), a shipment of sundried fruit that we'd ordered the previous week arrived from
Raw From The Farm
.

We'd been having winter fruit cravings, and these would increase the variety of organic fruits that are available on the island. Prior to this time, we hadn't been able to locate an affordable source for organic sundried fruits, and this company provides a wonderful assortment.

The box was filled with seven pounds of organic, non-sulphured, sundried peaches, nectarines, Black Mission figs, Calymara figs, nectarines, Thomson and Flame raisins, all wrapped in eco-friendly cellophane bags. And the company had even more sundried fruits to choose from—apples, cherries, dates, and tomatoes—delights to look forward to.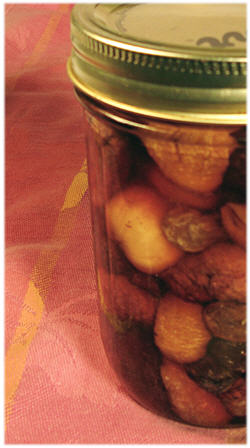 When we unpacked the box, a vision of a jar filled with soft, succulent, juicy fruit, just aching to be spooned into a bowl for breakfast, flooded my imagination. Some of the fruit was too dry to eat without soaking, but reconstituting dried fruit is always a good idea because it's better for our teeth!

The arrival of this food was a simple example that impressed upon me the way that life continually surprises us with fresh ideas and new ingredients that often come from unexpected places, bringing source materials that contribute to keeping our juices flowing!

We'd forgotten that we'd placed the order, yet there it was, being hand delivered to us by our smiling postal carrier. Within hours, mineral and vitamin rich fruits, bursting with sumptuous flavors, were eliciting responses of oooh and ahhhh, filling us with a sense of well being.

Here was yet another manifestation, small as it may be, that spoke to me in a silent, inner language, about gratitude, and trusting in the abundant flow of life!