Our recipe this week is a pale green, thick and luscious hummus made from sprouted seeds and herbs. It's super delicious for tomatoes, crudités, soups like Gazpacho, or to spoon over salads or other veggies. Because the seeds have been sprouted, the hummus is loaded with living food enzymes, healthy fats, and protein. And another plus—it's easy to digest!

Ingredients: Serves 4
2/3 cup dry sunflower seeds, soaked (seeds will expand once soaked)
1/3 cup dry pumpkin seeds, soaked
1 cup parsley florets, gently pressed into a measuring cup
1/2 cup green onions, chopped
1/3 cup pure water
5 tablespoons lemon juice
3 tablespoons Balsamic vinegar
1/4 teaspoon Himalayan salt
1/4 teaspoon freshly cracked black pepper
Tiny pinch cayenne powder, optional
Fresh herbs to garnish. (Our photo shows lemon thyme that's blossoming, and rosemary.)

Soak seeds for 8 hours in a one quart jar filled to the top with pure water.
In the evening, pour water and seeds through a strainer and rinse well.
Cover seeds and let them sit overnight in the fridge to finish sprouting.
(Put a clean plastic bag over the seeds and strainer, and wrap the end of the bag around the handle.)
In the morning, rinse again, and drain well.
Put into Vitamix or blender with all remaining ingredients.
Blend until creamy smooth.
Taste test to see if you want to add a tiny bit more salt, or another tablespoon of lemon juice.

Note: Skins of sunflower seeds oxidize to a brown color. You can leave them on, or remove them by placing the seeds in a bowl with 1-2 quarts of water, and rub vigorously between palms for about one minute. Most of the skins will float a bit and can then be poured off. Repeat process a few times. Once done, pour seeds into a strainer and give them a final rinse with pure water and drain.
The Little Story: Colors to Nourish!
Colors just knocks my socks off! There is so much visual beauty to be found in the world, and colors with their vibrations nourish us on so many levels and in so many ways. The gorgeous richness of summer fruits is capturing my attention right now, as well as flowers, the colors of a salad just begging for us to dig in, the changing colors of the sea just a mile away, tapestry napkins that grace the table, the green of the forest trails, a sunset aflame with pink and gold, or any hundreds of other things that greet my eyes.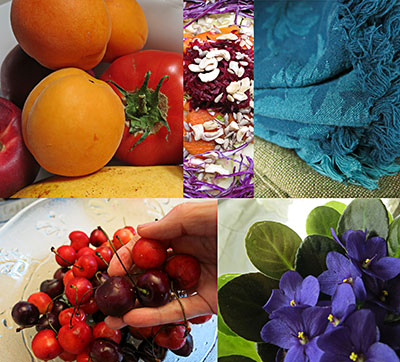 Color has been affecting me in a deeper way of late, and I'm not sure why, but it's something I love and enjoy every day. Let foods draw you in with their tempting hues for health and enjoyment, and let them help you in deciding what to eat at any given time. For me, the colors in foods are usually the first indicators in choosing what's next in the realm of intuitive food preparation.

I wrote this years ago for Temple Food and it remains as truth for me.

Color and beauty are in the rainbow hues,
and in the shapes and textures of celestial expression.

The colors in foods are mirrored by the colors of our chakras.
We blush, we glow! Our auras shine!
We are pure iridescence and radiance!

Crimson-red apple. Coral-pink peach.
Persimmon-orange brilliance. Lemon-joy yellow.
Emerald-heart lime. Cobalt-blue berry.
Purple-indigo plum. Golden-glow honey.

Only the Creator could make such beauty
with a fusion of elements to entice the eye.
The ripeness of the fruit is so luscious that we long to eat it, and cannot resist, and reach out to pluck it.

Feel the textures, breathe in the aromas.
Is the food pungent, fiery, perfumed, crunchy, silky, or smooth?
Oh, such a cornucopia of earthly delights!
Chop the fruits and vegetables with a grateful hand
and savor the gifts of their giving.
Pulsing energy is passing between our skins,
penetrating energy fields,
touching each other, shimmering with life essence!