Yummy Tahini, made from scratch. It's light, white, and oh so much more fresh than tahini in a jar. It tastes great and feels healthier too—not heavy or oily. Our recipe this week pairs calcium-rich tahini with Vitamin C-rich tomatoes for a classy dish, perfect for special occasions.

Tahini is a versatile substitute for sour cream, and is delicious with sliced apples, or added by the dollop to tomato soup. The smoky flavor also works beautifully with soaked arame seaweed that's prepared with ginger, garlic, a pinch of Himalayan salt, and sesame oil. For a quick pick-up, try a couple of tablespoons of tahini with a teaspoon of ground bee pollen and a tiny drizzle of honey—amazing!

Tahini is easy to ferment, which adds a distinctive flavor and aids digestion. Just let the jar sit out on the kitchen counter for 8-12 hours, covered with cheesecloth, then refrigerate.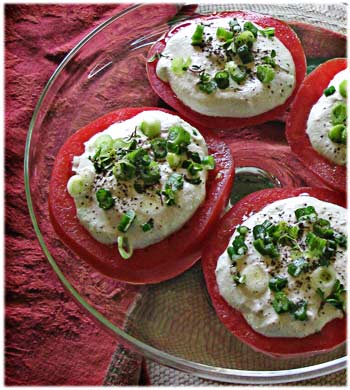 Ingredients for Tahini (Makes 3/4 cup):
1/2 cup raw sesame seeds, ground (will make 1 cup after grinding)
1/3 cup pure water
2 tablespoons Spectrum sesame oil
1/4 teaspoon Himalayan salt

Directions:
Pre-grind sesame seeds in coffee mill.
Put in Vitamix or blender with water, oil, and salt.
Blend until as smooth as possible.
Transfer to a glass jar with lid. Use immediately, or store in fridge. Keeps well for 3-5 days.

Ingredients for Tomato Dish (Serves 2):
1 large tomato, sliced
3 tablespoons green onions, finely sliced
2 tablespoons fresh thyme leaves, minced
Fresh ground pepper
Squeeze of fresh lemon juice

Directions:
Rinse tomato and slice into thick rounds.
Put a dollop of tahini on top.
Add green onions and thyme leaves.
Grind fresh black pepper, and squeeze a splash of lemon juice on top.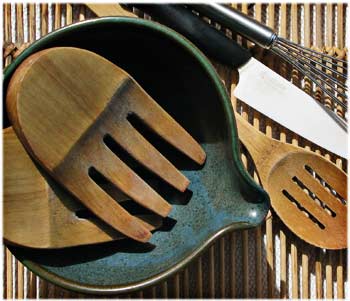 For us, there's nothing quite like the magic that comes from food that's lovingly made from scratch. The food becomes infused with positive energy, bursting with flavors, aromas, and ingredients that are fresh and invigorating.

Our tahini recipe is so simple to make, and it takes only a few minutes—not much longer than it takes to walk to the aisle in the grocery store where jars of tahini are lined up. Jars that may have been sitting there for a long time.

There's the added bonus of making food with my hands: the accompanying feeling of deep satisfaction. Just knowing that I've made an edible creation fuels my heart to want to make more, just to experience that elation once again.

Food made from scratch is imbued with the energy and caring of the person who prepares the food—what a special gift this is! And what an opportunity to be of service to friends and family—or to ourselves if we're alone, and are making food for one person.

Food from scratch also reduces our carbon footprint: there's less packaging, less waste, less trucking, less space taken up in a store, less electricity needed—in short, resources are saved all around.

We're heartened to know that readers of The Healing Feast—from nearly fifty countries around the world—people from five hundred cities!—are taking the time to make nourishing food, caring for the body and Soul. For Rex and me, it's worth the effort, every minute, every day, every time.