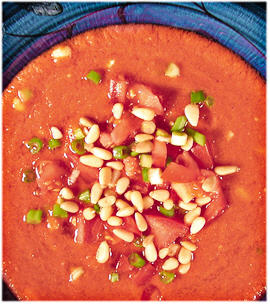 Ingredients: serves 2

1 1/2 cups filtered water
1 cup fresh tomatoes, loosely chopped
1 cup carrots, chopped
1/4 cup sundried tomatoes
1/4 cup celery
2 tablespoons sweet onion, loosely chopped
2 tablespoons green onion, loosely chopped
1 tablespoon Spectrum walnut oil,
(or favorite oil)
1 clove garlic, peeled
1/4 teaspoon Himalayan salt
1/2 teaspoon coriander
1/4 teaspoon cumin
1/4 teaspoon black pepper
1/4 teaspoon fennel powder
1/4 teaspoon fenugreek powder
dash of cayenne
Garnishes to Complete the Soup
Miso* - add a small spoonful to each bowl and stir.
1/2 cup tomatoes, chopped
2 tablespoons green onion, finely chopped
2 tablespoons pine nuts
2 tablespoons finely chopped red bell pepper
*Our favorite miso is
South River Azuki
(soy free)
Directions
Put sundried tomatoes into a dry blender.
Blend until tomatoes are broken up into tiny pieces.
(Or, soak for 1-2 hours before blending - use soak water.)
Add water, and continue to blend for about 30 seconds.
Add tomatoes, carrots, celery, sweet yellow onion, green onion, oil, garlic, salt, coriander, cumin, black pepper, and cayenne and blend until as smooth as possible.
Tip:
If you have some chia seeds, 2 tablespoons, finely ground, will make the texture of the soup more "velvety".
To Warm: Pour soup into a pot and place over medium flame. Using a cooking thermometer, stir the soup, warm to 115 degrees, and ladle into bowls. Or, use the "finger test". As soon as the soup begins to feel hot to your finger, immediately remove from heat. Tip: If the bowls are preheated, the soup stays warm longer.
Finish the Soup with Garnishes: Sprinkle the chopped tomatoes, bell pepper, pine nuts, and green onions over the warmed soup. Serve with a green salad, or Sunflower Seed Cheese.