These napa cabbage veggie boats make a yummy summer meal to enjoy while soaking up the sun and breathing fresh air. They remind us of the days when we used to eat submarine sandwiches, only for us they're even better!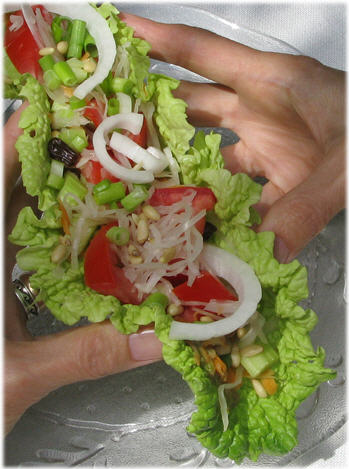 Technically, this is a salad—yet we eat it with our hands (shown here before folding the sides of the leaves in), which for some reason feels much more fun, and the food tastes even better. Each leaf provides the base for any number of toppings bursting with satisfying flavors and crunch—and our imagination holds the key to creating infinite possibilities.

Napa cabbage is mild tasting and firm, and holds up well even when piled high with toppings, so it's easy to eat without spills. One boat can make a complete meal that's light, yet filling.

Right now, we often eat these twice a day—they're so fast to make (10 minutes tops), taste so good, and involve a minimum of cleanup.

If you're pressed for time, or don't like to fuss with making meals, this recipe may be the perfect answer. It can be simplified by using fewer ingredients than in our recipe, and it will still taste great! Let intuition be your guide.


Directions (serves 2):
2 napa cabbage leaves, rinsed and patted dry
1 avocado, sliced or mashed
Squeeze of fresh lime juice over avocado
1 tomato, rinsed and chopped
1/2 cup carrots, scrubbed and grated
1/4 cup celery, rinsed and diced
1/4 cup sauerkraut—homemade, or Bubbies brand
4 tablespoons green onions, rinsed and chopped
Slices of sweet Vidalia or Walla Walla onions
1 tablespoon raisins
1 tablespoon pine nuts
1 teaspoon Azuki Bean South River Miso (or your favorite)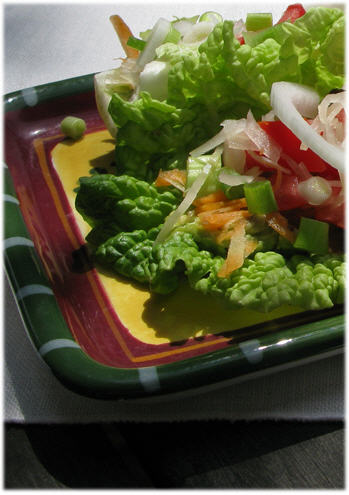 Assemble with a base layer of avocado and miso, then pile on all the grated and chopped veggies, and top with a sprinkle of pine nuts, raisins, and onions.

More Ideas...
Olives
Stoneground (or your favorite) mustard
Freshly minced herbs: choose one or more: parsley, cilantro, oregano, marjoram, etc.
Sprinkles of raw cashews, chopped almonds, or sunflower seeds
Lemon or lime zest (skin of organic fruit, finely grated)
Favorite sprouts, such as alfalfa or mung bean
Jicama, peeled and grated
Apples, diced
Snap peas, whole or sliced
Pickles
Sundried tomatoes, soaked and sliced
Extra greens: finely chopped kale, chard, collards, green cabbage, or beet tops
Drizzle of favorite dressing, olive oil, or apple cider vinegar
Leftover salad from the day before.... the list goes on and on!

Note:
It's not always possible to find organic napa cabbage—if you can't, substitute any of the following: romaine, butter lettuce, collards, chard, or large spinach leaves.
Raw food cuisine excels in many ways to make a variety of dishes using the same ingredients. For example, fresh tomatoes sliced whole have a completely different texture and taste than when sundried. Likewise, grated cabbage is transformed when made into sauerkraut.
shares her insights about raw food cuisine, saying that we've all learned to cook by heating our food—it's simply the way we were taught.
Preparing food in its raw state greatly expands our options. We can chop, puree, shred, ferment, blend, warm, grate, juice, or dehydrate just about any ingredient!
This advantage lends itself to making many variations on a theme, ensuring that we won't ever get bored with our food.
We're encouraged to follow those inner nudges that ignite the imagination, and listen to our intuition day by day—reaping the rewards of healthy food choices, glowing with the zest of vibrant living!