Warmed, Marinated Veggies
Ingredients: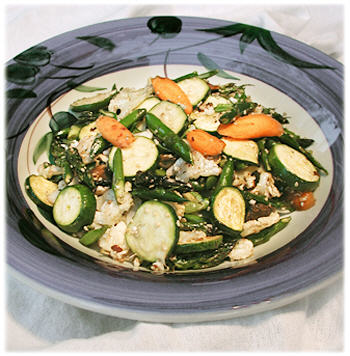 5 cups of the following in any combination that you like:
asparagus
zucchini
green onions
carrots
cauliflower
mushrooms
Optional Veggies:
Swiss chard, broccoli, fennel, spinach, kale, tomato
Marinade
3 tablespoons oil
1 tablespoon miso
2-3 teaspoons balsamic vinegar
2 teaspoons sesame seeds
1-2 cloves garlic
Directions:
Serves 2 as a whole meal, or 4 as a side dish
Wash all veggies. Break tough stems off the asparagus (use for juicing). Cut in one inch diagonal slices. Peel carrot if necessary and slice diagonally as thinly as possible. Thinly slice zucchini in rounds. Cut cauliflower into very thin slices. Cut mushroom in half, then slice. Cut green onions in 1/4 inch diagonal slices.

Put oil, miso, sesame seeds, garlic, and balsamic vinegar into bowl and mix well. Pour over veggies to evenly coat. Spread veggies onto a glass cooking tray, or ceramic plate. (Casserole dishes will work but the high sides make the warming process take too long.) Place in dehydrator at 135-145 degrees for one hour. Even using that high of a setting will just warm the veggies after an hour, but will not have cooked them or lost enzymes.
Tip:
If you warm the plates in the dehydrator it will help keep the veggies from cooling.

Optional non-dehydrator method:
One day I was so hungry and didn't have time to wait for an hour for the veggies to warm more slowly. I tossed all the ingredients into a frying pan over very low heat with 1/4 cup water, constantly flipping the veggies on the bottom of the pan to the top, using a pancake turner, until veggies were warmed—about 2 minutes. The food was about 90% as good as the dehydrator method—some enzymes may have been lost, but it was still delicious.

A Little Story: Why Raw? It's More Than Food...

The continual liberation process that has accompanied this raw food diet fosters and nourishes a new approach to how we live. Without the constant blanket of comfort food—which had spread out to living a comfort life and keeping things the same—we have been awakening to deeper levels of our personal truths. This lifestyle has put us in touch with exciting aspects that are as important to us as healing the body.

Some of these benefits are lightening our carbon footprint by buying regional produce and growing our own food, and freedom from the effects of eating lifeless GMO factory food that is laden with pesticides and chemicals. An unexpected plus has been a reduction in the cost of healthcare: the diet tends to augment the natural healing processes because there is less "dross" that might create illness. If additional expert care is needed, the diet helps us to move as quickly as possible through the treatments. Becoming healthy now, and doing our best to stay this way in the future, will further the reduction in healthcare costs as we get older.

Living foods may be a solution to feeding a hungry world—especially through the use of protein-rich sprouts and protecting our land through growing organic plant crops. Living food pioneer, Ann Wigmore, made several trips to India and established healing camps where her efforts restored the health of starving children in one month's time, using sprouts and fresh fruit. This remarkable story is told in her book,
The Sprouting Book
.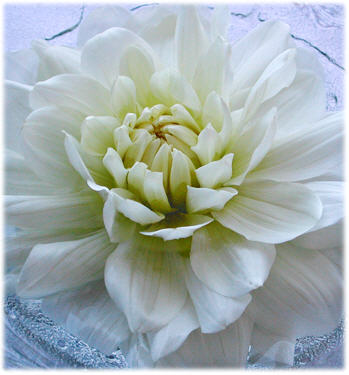 We are drawn to everything life-growing, life-affirming and life giving—such as organic foods, clothing and bedding, a clean environment, the beauty of nature, and the expression of love. TV, news, radio, and newspapers feel out of place with their barrage of negative information, and are no longer a part of our lives (internet news is plenty of information to stay current). Our desire for nonessential "things" has dropped immensely, while tools for bringing increased energy and a better life are usually what we spend our money on now. Example: we'll be buying a portable composter in the near future, and learning how to "grow" soil, making full use of our food scraps, and helping in a small way to replenish the earth's diminishing supplies due to erosion and poor land use.

This diet and lifestyle encourages independent thinking and action, self-sufficiency, and a freedom from what we are often told to do by so-called authorities. It's holistically revolutionary! And as Rex says,
We don't have the luxury of being hypnotized anymore!
Undoubtedly, we still have some blind spots, yet we're learning every day. And this transformation is an aid to facilitating the opening of the body-heart-consciousness in the evolutionary shift that is taking place on a planetary level, where humanity is changing (with many growing pains) from being
Homo sapiens
, to becoming
Homo luminous
—awakened spiritual beings.

In the book,
Fresh, The Ultimate Live Food Cookbook
, by Sergie and Valya Boutenko, Valya writes: "The freedom I feel from living a nondestructive life is empowering. In taking care of myself, I care for the world; and in taking care of the world, I care for myself."

These are only a few of the unexpected realizations and gifts that Rex and I have been experiencing. We often wonder how can the world collectively change,
unless we change
? What would you do if you knew that all of your dreams and choices really do make a difference? Every day, every moment, right now, breath by breath.