Our lives,
so seemingly small,
ripple out
to the whole universe
as tiny whispers
like the sounds
of butterfly wings,
and the clear voice
of the living truth.
-J.L.D.


If you have been wondering what raw foods to make for a complete dinner, or to surprise guests, this meal is bursting with colors, tastes, and textures. This pasta dish, "spaghetti nouveau", comes from sweet yams and tender zucchini. The piquant marinara sauce is made from both sundried and fresh tomatoes, basil, and garlic. Our friend, Megan, says, she likes living pasta better than traditional wheat pasta, "because there is no starchy taste!" And, it's easier on the waistline. There are three steps to making this dinner.
Step One: Living Zucchini & Yam Angelhair Pasta - serves 4
Ingredients: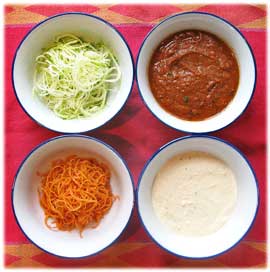 2 cups angelhair pasta from 1 large zucchini
2 cups angelhair pasta from 1/2 medium size yam
2 tablespoons finely chopped green onions
Directions:
You'll need a
Saladacco
to make the angelhair pasta. Otherwise, use a salad grater—but it won't be the same as having those long strips of "pasta" to twirl with a fork on a spoon!

Wash zucchini, yam, and green onions under cool running water.
Peel zucchini and yam if needed.
Cut zucchini into 2 inch pieces. Place in Saladacco and adjust setting for angelhair pasta.
Process zucchini until you have 2 cups. Set aside.
Slice yam into 2 inch sections. Repeat process until you have 2 cups. Set aside.
Hint: Taste the yam pasta before making the full 2 cups. If you don't like it as much as the zucchini, then make less yam, and more zucchini. Sometimes the yams just won't cooperate in the Saladacco. In this case, use a vegetable grater.
Arrange pasta artistically on dinner plates. If pasta seems too long, cut into manageable lengths.
Sprinkle green onions over yam and zucchini. Set plates aside while you make the sauce and cheese.
Step Two: Marinara Sauce: Makes 3 cups
Ingredients:
3/4 cup very loosely packed sundried tomatoes
2-3 ripe tomatoes, equivalent to 1 1/2 cups chopped
2+ tablespoons chopped green onion, or mild sweet onion
1/4 cup lightly packed fresh basil leaves (use more if you're crazy about basil)
4 teaspoons balsamic vinegar
4 teaspoons olive oil
1/2-to-1 teaspoon powdered bay leaf (a coffee mill will work to grind the leaves in a pinch)
1 clove garlic
1/2 teaspoon Himalayan salt
1/4 teaspoon black pepper
Directions:
Soak sundried tomatoes in just enough water to barely cover them for 2 hours.
Tip: If you don't have time to soak, put tomatoes in a dry blender and process until they are broken into tiny pieces. If you opt for this method, then add 1/2 cup cool spring water after dry blending, and run machine for about 30 seconds.
If you've soaked the tomatoes, put into blender with soaking water.
Add onion, vinegar, olive oil, garlic, salt, pepper, bay leaf, and blend until smooth.
Wash fresh tomatoes, and cut into chunks.
Add to blender. Pulse until coarsely mixed.
Add basil, and pulse until leaves are the size of small flecks.
Step Three: Pine Nut Cheese
Ingredients:
1/2 cup pine nuts (make sure nuts are fresh!)
1/4 cup filtered, or spring, water
2 tablespoons freshly squeezed lemon juice
1 small clove garlic, peeled
1/2 teaspoon Himalayan salt
Directions:
Put pine nuts in blender with 1/4 cup water, salt, lemon juice, and garlic. Blend until creamy, scraping down sides of blender periodically.
Tip: If you don't have time to make the cheese, use whole pine nuts, tossed over pasta at the end.
Final Presentation:
These dishes create a synergistic taste experience! Spoon marinara sauce over pasta. Put a dollop of pinenut cheese on the top. Add a few chopped olives. Drizzle with a little extra olive oil if you like, or a sprinkle of freshly ground salt, or pepper. Serve pasta with some greens for a full spectrum meal.

A Little Story: Learning the Rhythms of Raw Food Preparation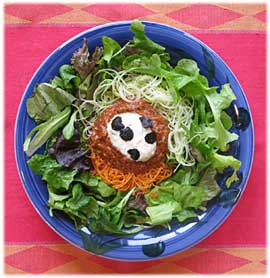 We wish we'd known years ago about Alissa Cohen's 3 hour, instructional DVD,
Living on Live Food
, in which she makes twenty recipes—it would have saved months of uncertainty in the kitchen. In the DVD, two utterly delightful women, completely unfamiliar with raw food, act as taste testers, and devour each dish with relish and gusto! It was through Alissa's DVD that we first learned about making anglehair pasta from zucchini with the handiest little gadget—a Saladacco—and how to make raw marinara sauce. Suddenly, we felt liberated to be able to have pasta again, without any of the problems of wheat!

Three years earlier, I had been aimlessly wandering around the kitchen, wondering,
What is there to eat?
The fridge was packed with perfectly good food, the counters displayed bowls of beautiful, ripening fruits. Nuts and seeds filled many a cupboard. But we didn't yet understand the rhythms of raw food preparation—soaking, sprouting, dehydrating (on occasion), or warming the food. We were still accustomed to, and comforted by, sauteing, baking, steaming, stir-frying, and the smells and sounds of cooking. It took time to understand the nuances of preparing raw food cuisine. Soon the chopping, blending, juicing, grating, and dehydrating began to replace the way we'd worked in the kitchen, and after several months these practices became joyful and natural.

Perhaps you are wondering, like we did,
What is there to eat on this strange new diet?
As we moved more into conscious eating, there were questions we asked ourselves: Did a meal leave us tired, or energized? Did it bring a sense of well being, and digest well? Was there rationalization during the preparation—or a clear knowing that whatever we were choosing to eat, in our heart of hearts, was the very best? Our intuition acted like light beams that cut through the fog of uncertainty.

So listen, act, and evolve with ease into greater levels of health and harmony. The beauty of the intuitive approach is that the unfoldment process never stops, nor will it ever need to, because the law of life compels us toward steady growth that is in perfect accord with our true potential!