Ever wonder what to do with all the zucchini that's overflowing in the garden? This time of year people are nearly begging their friends to take some of this prolific growing, and sweet tasting summer squash off their hands.

Our story this week mirrors this scenario: A couple of weeks ago we were given several very large zucchini from our friends, Ellie and Eric, and I wondered how we were ever going to use them up! Utilizing this recipe, we've make a serious dent in our zucchini supply, because it's so yummy and easy to prepare. It makes great finger food too!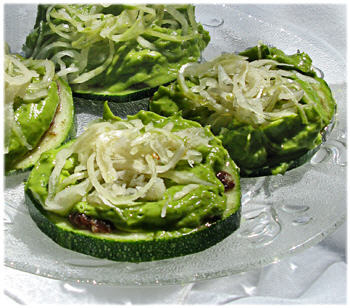 Ingredients: Serves 2
10 slices of large zucchini
(If using smaller zucchini, slice more rounds)
1 large avocado
1/3 cup Bubbies sauerkraut, or homemade kraut
3-4 tablespoons sweet white onion, chopped
2 tablespoons red bell pepper, chopped
4 stalks cilantro (optional), chopped
2 tablespoons South River Azuki bean miso (or your favorite)
2 tablespoons Spectrum walnut oil (or your favorite)
1 clove garlic, pressed
1/2 teaspoon fennel
1/4 teaspoon Celtic, or Himalayan salt
Pinch of cayenne

Directions:
Rinse zucchini and slice into rounds. Keep thickness to less than 1/4 inch.
Arrange on plates.
Slice avocado in half, peel skin and remove pit. Chop, and put into food processor.
Add red bell pepper, cilantro, onion, and salt, and puree until smooth. Set aside.

Mix oil, miso, and garlic in small bowl. Spread a little bit on top of each round.
Sprinkle on fennel and a tiny pinch of cayenne.
Spoon on avocado mix.
Top with Bubbies, or homemade kraut.

A Little Story: Healthy Cravings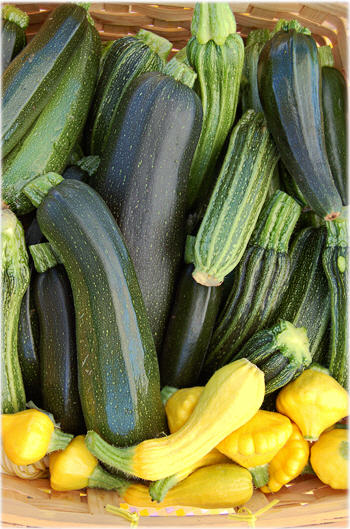 We've decided to not stress over the cravings that sometimes pull us in like a siren's song—those taunting mental calls come and go. With a little patience, most pass. We've come to realize that craving a certain food is not that different from being too cold or too hot for a few minutes. The sensations are fleeting and are often tied in to a subconscious feeling, or to being thirsty—and usually leave after drinking some water. Sometimes we lose the craving game, but most of the time we succeed in finding a healthy alternative to eat or drink.

What I learned in a fresh new way this week was to pay attention to healthy cravings—nutritious foods that light up when I think of, or see them—foods like greens, blueberries, or bee pollen—and not to give much attention to the old bugaboos! Recognizing the foods that triggered a healthy response (a good craving) in the body, then following my intuition on how to proceed to make a little meal with those foods, always brought feelings of empowerment and success.

Here's an example of how the healthy food cravings worked with my intuition: On Tuesday I didn't have a clue what to fix for lunch, but I was hungry. I looked in the fridge and the Bubbies jar was "calling" to me. Foraging through the vegetable crisper bin, I saw a bag that held half of a zucchini, some red bell pepper, and half of a sweet white onion. Looking at those foods awakened a healthy response (the good craving), and made me feel hungrier, but how to fix them?

Suddenly I got the idea to slice the zucchini into thin rounds (like a baguette) to pile guacamole and Bubbies on top. From past experience we've learned that avocado and sauerkraut work beautifully together, so that part lined up. The miso was enticing me too, and I began to imagine how it would taste mixed with a little oil and garlic, spread like a marinade on top of each round. Yum.

As I worked in the kitchen, the smell of fennel wafted in—I'm sure the muse must have brought that, because I wouldn't have thought of fennel. Yet I could sense immediately that it would meld with the other ingredients, and bring a hidden and surprising flavor to the dish. And sure enough, everything merged in a synergistic array of complex tastes and flavors, from sweet to salty, tangy, crunchy, smooth, and delightfully spicy.

We were happy that another inspired recipe had come to us from "out of the blue", a little gift, creating a meal that we'll enjoy and want to serve to friends for many years to come!