We've been enjoying these velvety, sweet and simple banana smoothies all week. They're so simple to make, and oh so easy to drink. Bananas are a natural source of carbohydrates, and combine with nutrient dense bee pollen, and chia or hemp seeds, both of which are high in the essential fatty acids and protein that we need. Blend in seconds for a silky-smooth, and satisfying smoothie!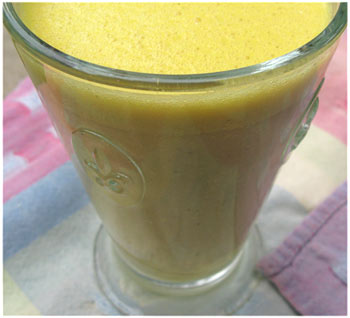 Ingredients: Makes 4+ cups
3 or 4 cups pure water, depending if you use soaked chia seeds (see below)
3 bananas, peeled and broken into chunks
2 tablespoons
bee pollen
*
1-2 tablespoons
chia seeds
soaked in 1 cup pure water overnight.
2 tablespoons
hemp seeds
: alternative to chia, or use both.

Directions
Put water, chia seeds (and soak water) and/or hemp seeds, bananas, bee pollen, into a VitaMix or blender.
Blend for about 30-60 seconds on high speed.
Pour into glasses and drink immediately.

*If you think you may be sensitive to bee pollen, take one granule of pollen to check before using.

Many of you may have already seen the real-time posts from Anne Thomas in Sendai, Japan. They've been circulating the internet, giving us a chance to have a perspective about the situation through her eyes. She's brought the world a very special gift—a viewpoint that we'd never have had. Rex and I feel indebted to her for writing.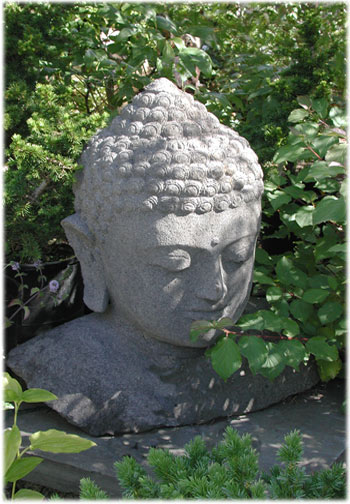 What we didn't know at first was that there have been quite a few of her letters posted to
Ode Magazine
. One was about her decision to stay in Japan when given the opportunity to leave. Her courage and state of consciousness amazed us, and her words really touched our hearts in a profound way.

She wrote: "I realized I was not going to jump into the tidal wave of fear and panic that was literally sweeping the entire world. I did not want to add to that kind of energy. Whether I was right or wrong, lived or died, I knew that I wanted to be part of something that was more constructive towards life itself and the world as a whole.

I also sensed that
for me personally
to leave would be like a person suffering from emotional, psychology agony and trying to run away from it. I have found from personal experience that that does not work. For me I have to wrestle with and within excruciating emotional experiences, not necessarily to "get through them" because maybe we never really do, but rather to be able to consciously incorporate them into who we are."
Click here
for the whole story.

Her story is steeped in the courageous heart. All we can do is hope that we'd emulate this level of spiritual awareness should we be in a similar situation. For now, as we navigate through a rapidly changing world that is filled with challenges and difficulties, we feel that these experiences are bringing us into a greater sense of community and compassion for people, not just for our families and friends, but to all the people around the world as part of a manifestation of global awakening.

---

Anne's story inspired us to donate to
ShelterBox
, a non-profit disaster relief organization that works worldwide. The following information is taken directly from their website, but doesn't show the pictures:
Shelter
At the heart of every ShelterBox is a disaster relief tent for a family of up to 10 people. It is custom made for ShelterBox by Vango, one of the world's leading tent manufacturers, and is designed to withstand extreme temperatures, high winds and heavy rainfall. Internally, each tent has privacy partitions that allow recipients to divide the space as they see fit.
A smile
A children's pack containing drawing books, crayons and pens. For children who have lost most, if not all, their possessions, these small gifts are treasured.
Warmth and protection
In addition to the tent, there is a range of other survival equipment including thermal blankets and insulated ground sheets, essential in areas where temperatures plummet at nightfall. Where malaria is prevalent mosquito nets are supplied, as well a life saving means of water purification. Water supplies often become contaminated after a major disaster, as infrastructure and sanitation systems are destroyed, this presents a secondary but no less dangerous threat to survivors than the initial disaster itself.
Self sufficiency
A basic tool kit containing a hammer, axe, saw, trenching shovel, hoe head, pliers and wire cutters enables people to improve their immediate environment, by chopping firewood or digging a latrine, for example. Then, when it is possible, to start repairing or rebuilding the home they were forced to leave.
Fit for purpose
Every item is durable, practical and brand new. The box itself is lightweight and waterproof and has been used for a variety of purposes in the past—from water and food storage containers to a cot for a newly born baby.
A heart to the home
Key items are either a wood burning or multi-fuel stove. The multi-fuel stove can burn anything from diesel to old paint. Some boxes also contain our specially designed wood burning Frontier Stove, pictured below. This provides the heart of the new home where water is boiled, food is cooked and families congregate. In addition, there are pans, utensils, bowls, mugs and water storage containers.
Adaptability
We keep a broad range of equipment in stock so we can adapt the contents of a box to a specific disaster. For example, following the Javanese earthquake in 2006, when some resources were available locally or could be salvaged from buildings, the overwhelming need was for shelter—so we just sent tents, packing two in each box.